Exclusive offers for you and your home
Samsung and Currys have partnered to bring you a selection of exciting and exclusive offers. For a limited time only, you can get up to £300 off when you purchase an SUHD Quantum dot TV, as well as free delivery, installation and collection on a range of the latest super smart fridges. You can also enjoy £40 off wireless printers and £20 off our stunning monitors. You're welcome! Just simply copy and paste the code from myGalaxy into the online checkout, or show it to the cashier when you pop into a Currys store.
To redeem your TV reward, simply purchase your product here, and visit Samung.com/rewards to claim your cashback.  Enjoy.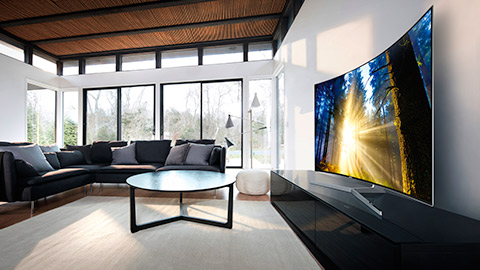 View legal terms & conditions
SAMSUNG ELECTRONICS (UK) LIMITED MYGALAXY & CURRYS DOMESTIC APPLICANCE ("PROMOTION")
TERMS AND CONDITIONS
Anyone participating in this Promotion ("Participants") agrees to be bound by these terms and conditions (the "Terms and Conditions"). Any information or instructions published by the Promoter about the Promotion at https://www.currys.co.uk/gbuk/samsung-my-galaxy-1314-commercial.html?intcmp=App-Samsung-MyGalaxy-landing (the "Website") form part of the Terms and Conditions.
The Promoter:
1. The Promoter is Currys
Promotion Period:
2. The Promotion will commence at 16:30 on 12th July and will continue until 23:59 on 24th August 2016 (the "Promotion Period").
Offer
3. Participants who during the Promotion Period purchase a brand new Samsung TV, Fridge, Monitor or Printer listed below from Currys (either in store or online) in UK ("Participating Retailer") shall be entitled to free delivery, installation and collection (for TVs & Fridges) and a £20 cash discount for Monitors and £40 cash discount for Printers ("Reward").
The following products are included in the offer:
TVs:
UE49KS7000
UE55KS7000
UE60KS7000
UE65KS7000
UE43KS7500
UE49KS7500
UE55KS7500
UE65KS7500
UE49KS8000
UE55KS8000
UE65KS8000
UE75KS8000
UE49KS9000
UE55KS9000
UE65KS9000
UE78KS9000
UE65KS9500
UE78KS9500
UE88KS9800
Fridges:
RR35H6610SA/EU
RZ28H6150SA/EU
RR35H6110WW/EU
RZ28H6100WW/EU
RR35H66107F
RZ28H61507F
RB29FWJNDSA
RB31FEJNDSA
RB31FDJNDBC
RB29FSJNDWW
RL4362RBASL
RB38J7635SA/EU
RB37J5330SA/EU
RB37J5025B1/EU
RB31FDRNDSA
RB31FERNBSS
RB29FSRNDSA
RB29FWRNDBC
RSA1RTPN
RS7677FHCSL/EU
RSG5UUMH
RF23HTEDBSR/EU
RF24HSESBSR
RF56J9040SR/EU
RH56J6917SL/EU
RS53K4400SA/EU
RS53K4400BC/EU
RS58K6487SL/EU
Printer:
SL-M2070W
SL-C430W
Monitor:
LC24F396FHUXEN
4. Purchases from PC World or Carphone Warehouse are specifically excluded from this Promotion.
Eligibility
5. To be eligible to participate in the Promotion, Participants must be a UK resident aged 16 or over.
6. This Promotion is only available to Samsung myGalaxy users (e.g. not to any business or reseller).
7. The offer is subject to availability
8. The offer is not valid in conjunction with other offers a part from Samsung Rewards and Big Chill offers
Redemption
9. To redeem, customers must use the relevant product category online or in-store code as displayed in the myGalaxy app content.
10. In order to participate in the Promotion and redeem, Participants must visit https://www.currys.co.uk/gbuk/samsung-my-galaxy-1314-commercial.html?intcmp=App-Samsung-MyGalaxy-landing to purchase and enter the relevant product category promotional code displayed in the myGalaxy app content at the checkout, or visit a Currys store and show the app displaying the product category code to a member of store staff.
General
11. The Promoter's privacy policy applies to this Promotion and to the use of the Website. This is available at: https://www.currys.co.uk/gbuk/privacy-on-currys-321-commercial.html
12. The Promoter may use any personal information submitted by the participant to advise participants of future promotions and to provide information about products of the Promoter that might be of interest. The participant may withdraw consent to such use of personal information by writing to the Promoter or by using the opt-out process outlined in the Promoter's privacy policy. Other than as set out in these terms and conditions or for the purposes of operating the Promotion, the details and information provided by the participant when entering the Promotion will not be used for any promotional purpose, nor shall they be passed to any third party.
13. Applications on the Website that are incomplete or damaged will be deemed invalid. No responsibility is accepted by the Promoter for lost, delayed or damaged data which occurs during any communication or transmission of applications. The Promoter reserves the right at its absolute discretion to refuse Applications which it considers do not comply with these terms and conditions.
14. The Promoter shall have the right, where necessary, to undertake all such action as is reasonable to protect itself against fraudulent or invalid claims including, without limitation, to require further verification as to proof of purchase, as well as the identity, age, and other relevant details of an participant.
15. The Promoter shall not be liable for any interruption to the Promotion whether due to force majeure or other factors beyond the Promoter's control.
16. The Promoter reserves the right, acting reasonably, to vary the Terms and Conditions of the Promotion.
17. The Promoter will not be responsible or liable for: (a) any failure to receive submissions due to transmission failures; (b) any late, lost, misrouted, or damaged transmissions, applications, claims or any loss or damage caused to the Device when it is posted; (c) any computer or communications related malfunctions or failures; (d) any disruptions, losses or damages caused by events beyond the control of the Promoter; or (e) any printing or typographical errors in any materials associated with the Promotion.
18. Participants will be solely responsible for any and all applicable taxes and any other relevant costs or expenses incurred in participating in this Promotion.
19. By participating in this Promotion, you agree, to the maximum extent permitted by applicable laws, to release and hold the Promoter harmless from any and all liability whatsoever for any injuries, losses or damages of any kind arising from participation in or in connection with the Promotion. The above limitation of liability shall not apply to death or personal injury caused as a result of Promoter's negligence.
20. The Promotion is governed by English law.