SD™, microSD™, and CompactFlash® memory cards
We're here to help
Choosing the right memory card is key to getting the most out of your device. We've summarised some of the key formats available below and highlighted what the symbols mean to help guide you to make an informed choice.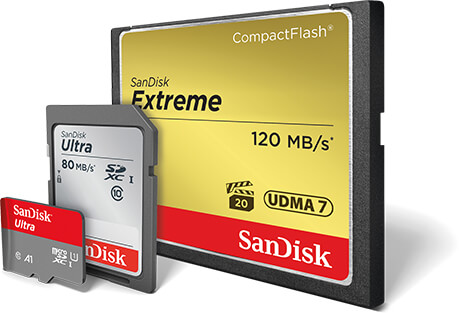 SD™, microSD™, and CompactFlash® memory cards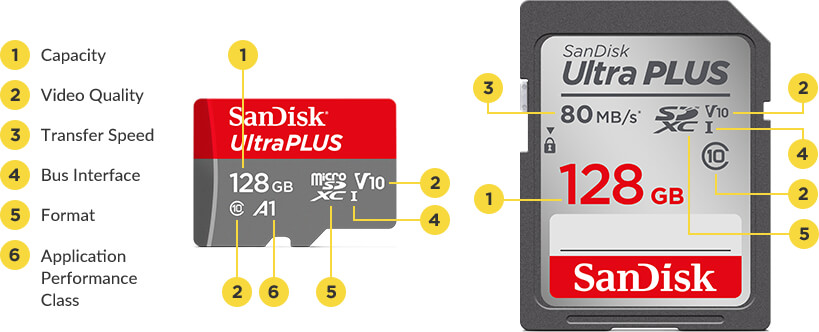 Capacity
The amount of storage available to hold your content. See SanDisk's capacity charts to see how many photos and/or minutes of video each capacity can store.
Shooting lots of photos or video requires more space than ever. Choose higher capacity cards to ensure you've got enough memory to last you through your holiday or next adventure.

Video Quality
There are three kinds of video speed classifications: Speed Class, UHS Speed Class† and Video Speed Class . These indicate the minimum sustained write speed necessary for video recording, so that minimum and constant speed is guaranteed for camcorders and cameras. Speed Class is designated as Class 2, 4, 6 and 10. UHS Speed Class is designated UHS Speed Class 1 or UHS Speed Class 3. Video Speed Class is designated V6, V10, V30, V60 and V90.
Higher class rated cards support high bit-rates of video and higher quality video recording. Check your camera/camcorder for the recommended class rating.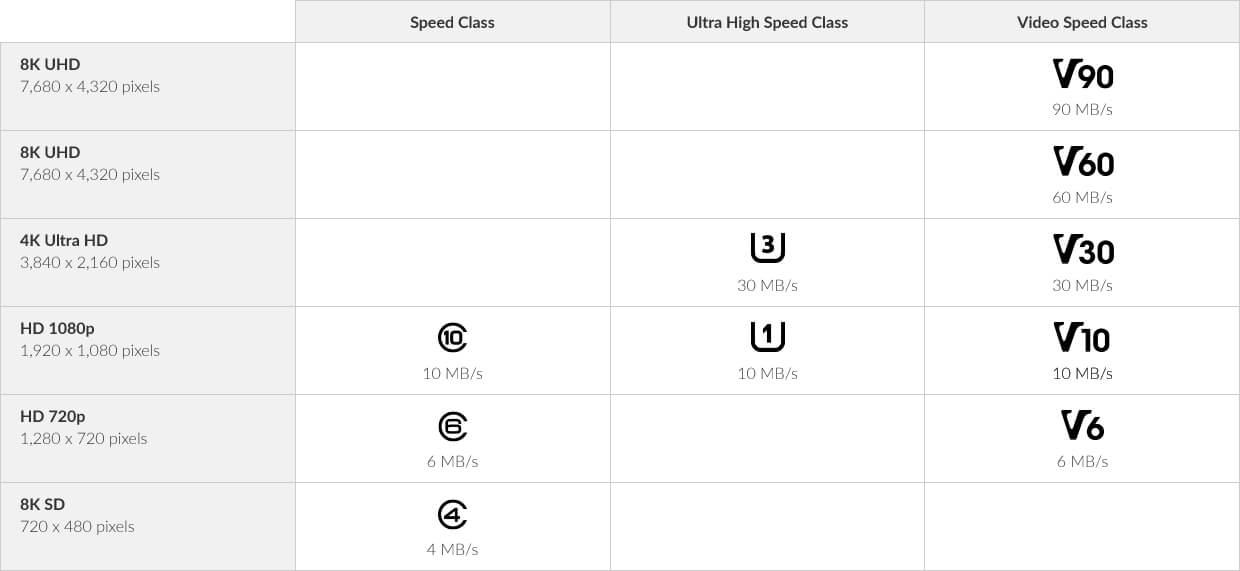 Transfer speed
Transfer speed is made up of two components:
Read speed
How fast the photo can transfer to the computer from your card. This is the figure shown on the front of the card in MB/s.
Write speed
How fast a photo can be written to the memory card so that you can take faster continuous shots.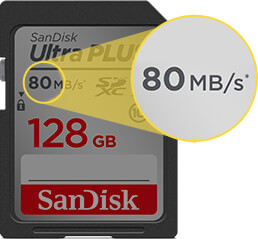 Bus interface


UHS-I
UHS stands for Ultra High Speed. SDHC and SDXC products that are UHS-I enabled offer bus-interface speeds, capable of supporting theoretical data transfer speeds of up to 104MB/s, four times faster than the previous possible transfer speed of 25MB/s. (UHS enabled host device required to realise the higher performance). Cards supporting UHS-I are fully backwards-compatible in non-UHS hosts, although performance in non-UHS hosts will be limited by the host's bus-interface capability.

UHS-II
UHS-ll is the latest and fastest SD card interface available to communicate to camera/camcorder hosts and to computers with maximum bus interface speeds up to 312MB/s. Cards supporting UHS-ll are fully backwards-compatible in UHS-l hosts, although performance in UHS-l hosts will be limited by the host's bus-interface capability.
Normal and high-speed cards can also be used with UHS-I host devices. Higher performance enabled by a UHS-II host device can only be achieved with a UHS-II memory card.
Format and compatibility
Select the card appropriate for the host device.
SanDisk offers: SDHC™, SDXC™, microSDHC™ and microSDXC™ card formats.

Application Performance Class
(only for microSD cards)

Most of today's Android™ smartphones and mobile computing devices allow application data to be saved on microSD cards. App Performance specifications define a combination of minimum random and sustained sequential performance levels under certain conditions.
When Google released Android™ Marshmallow, it expanded microSD memory card support by offering Adoptable Storage Device capability, allowing users to load and run applications directly from the installed memory card. When using memory cards to run applications, there are some basic performance requirements based on a combination of random and sequential memory access that optimize user experiences.
A2 App Performance Class
4000 Random IOPS Read
2000 IOPS Write
For consumers, the A2 logo allows easy matching of A2-enabled host devices and memory cards.
CompactFlash®

Format
SanDisk offers: CompactFlash® and CFast 2.0™ card formats.
Capacity
CompactFlash cards are available in capacities right up to 512GB. Pick a card that can hold everything you need for a prolonged shoot.
Max read speed
This is the maximum read speed of the card usually given in Megabytes per second (MB/s). Note that cards rarely are able to sustain these speeds for long periods of time.
Minimum sustained write speed
The slowest the card will write. This speed (represented in MB/s) is most important for videographers, since sudden drops in writing speed can cause dropped frames.
For CompactFlash cards, look for Video Performance Guarantee (VPG). VPG-20 means Video Performance Guarantee enabled to ensure video recording at 20MB/s minimum sustained write speed. VPG-65 is Video Performance Guarantee enabled to ensure video recording at 65MB/s minimum sustained write speed. Performance may be lower depending on host device. 1MB=1,000,000 bytes.

UDMA rating
The UDMA rating determines the maximum bus speed at which a card can read, assuming the memory in the card is fast enough to match it. UDMA 1 supports speeds up to 16.7 MB/s. UDMA 7 is ten times that speed, maxing out at 167 MB/s.

Screen resolutions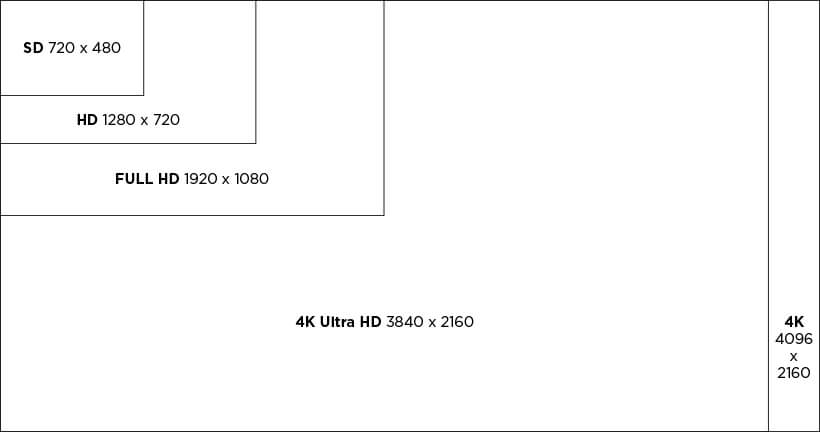 HD Video*
High-definition video (HD Video) refers to videos of higher quality and resolution than standard-definition video. This involves display resolutions of 1,280 x 720 pixels @ 30 FPS for 720p HD Video. Video support may vary based on host device, file attributes and other factors.

Full HD Video*
Full high-definition video (Full HD video) refers to videos of an even higher quality and resolution than HD video. This involves a display resolution of 1,920 x 1,080 pixels @ 30 FPS for 1080p Full HD Video. Video support may vary based on host device, file attributes and other factors.

4K Ultra HD Video*
4K resolution is a generic term for display devices or content having horizontal resolution on the order of 4,000 pixels. Several 4K resolutions exist in the fields of digital television and digital cinematography. In the movie projection industry, Digital Cinema Initiatives (DCI) is the dominant 4K standard. Video support may vary based on host device, file attributes and other factors.
Ultra High Definition (UHD) is an umbrella term that encompasses higher resolutions (more pixels) than HDTV, as well as more realistic color and higher frame rates.
When used in a home context, 4K/UHD means the TV's screen has a minimum resolution of 3,840 pixels wide and 2,160 pixels high, making it the equivalent of two 1080p screens in height and two in length. This resolution was originally known as Quad HD.
Another resolution, known as 4K x 2K (4,096 x 2,160 pixels), is used by some projectors and many professional cameras. It also falls under the umbrella of 4K/UHD.
With the arrival of 4K, there are four main resolution standards for use in the home: standard definition (480p/540p), high definition (720p), full high definition (1080p) and ultra-high definition (2160p).