Solid State Drives
Looking for another level of computing experience?
Whether you're a gamer or graphic artist wanting to boost the performance of your PC, or a photographer or videographer in need of greater reliability and transfer speeds out in-the-field, our range of internal and external SSDs (Solid State Drives) deliver the durability and efficiency you're looking for. Faster, quieter and more powerful, they deliver a performance upgrade at just a fraction of the cost of a new computer.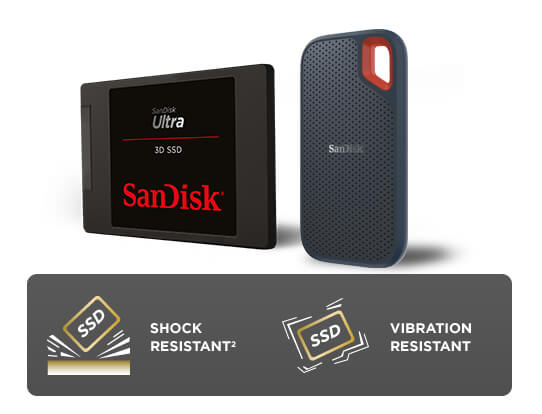 Explore our SSD range
SanDisk Extreme® Portable SSD
Life isn't always smooth. But with an IP55 rating2 , the SanDisk Extreme® Portable SSD can handle whatever you throw at it. Built to withstand rain, splashes, spills and dust, it's ideal for taking out and about – whether it's to an outdoor photoshoot or you're off on your travels. Read speeds of up to 550MB/s** make light work of even the highest resolution photos and videos. And with capacities of up to 1TB*, you'll have more than enough space for all your images or backing up your portfolio.


SanDisk Ultra® 3D SSD
Upgrade your PC with a SanDisk Ultra® 3D SSD for faster boot-up and blazing-fast gaming and graphics. 3D NAND and nCache 2.0 technologies deliver a better experience. Sequential read speeds of up to 560MB/s** mean applications, games and videos load in an instant. Performance is quieter and more efficient; you'll be able to play or work longer without recharging. And because the drive has no moving parts, your data is protected from accidental knocks and bumps – even if you drop your computer.