How do live product demos work?
Just jump on your phone, tablet or laptop to join in. Our experts will guide you through the tech, cut the jargon, and answer your burning questions.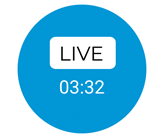 The Fake-away takeaway battle
Wednesday 3rd March at 6PM
Join us this Wednesday at 6pm in our ShopLive Kitchen with special guests Emma Louise Connolly and Oliver Proudlock. They'll be battling it out to create one of the UK's favourite takeaways as a fake-away, using the amazing new Ninja Health Grill and Air Fryer.
About Olivier Proudlock
Brit entrepreneur and TV personality, Ollie has been busy carving out a hugely successful fashion career working with leading brands such as Hugo Boss, YSL, American Vintage and Daks – not to mention launching his own line of men's jewellery and clothing Serge Denimes, and even a premium saké brand called Four Fox Saké, which is now sold globally. Alongside his fiancée (model Emma Lou Connolly) Ollie has also launched YouTube interiors series 'From Crib to Casa'.
About Emma Louise Connolly
British model and influencer, Emma Louise Connolly has fronted some of the biggest fashion and beauty campaigns, working with YSL, Clinique, Ralph Lauren, Kerastase, Estée Lauder, as a global ambassador for PUMA and Calzedonia, and has helped design collections with some of the world's top fashion brands; including H&M. A keen foodie and a cocktail aficionado, Emma's also worked with Johnnie Walker, KFC, Alpro, Masterchef AU, Oreo and many more.
Explore what's in-store from your home
No need to trek to the store to check out great tech – you can do it all over video call!
Ask questions and get real-time answers from the experts
Whatever you want to know, our colleagues have all the right answers.
Previous events
See tech you love? Don't miss the expert's take with our live demos.
How to use a smartwatch
In this broadcast, we talk about smartwatches, and how they're the perfect tool to help you meet your New Years resolutions, even during lockdown. We feature the Garmin Venu Sq smartwatch, and how you how some of it's unique features can help - including Body Battery, Sleep Tracking, Built-in workouts and Stress Tracking.
Shop Garmin Venu Sq smartwatch
Supercharging your PC Gaming
Got a PC gaming question? Our Tech Expert Jake's here to help, covering everything from what you need in your set-up to how you can upgrade your gaming rig. Plus, he'll be chatting to PC Specialist on how to get more power in your PC tower and win a brand new PC!
Shop PC Specialist Tornado R7 Gaming PC