Smart Home Buying Guide
With the latest technology you can easily make your home smarter
Smart home devices connect to your home WiFi and are controlled via an app on your smartphone, tablet, or PC. Some connected home devices also work with voice control assistants such as Google Assistant, Alexa, or Siri so you don't even need to pick up your smartphone
Smart devices are all about simplicity and function – we understand your first venture into smart home may seem daunting or confusing, so we've put together this guide on how this technology can work for you.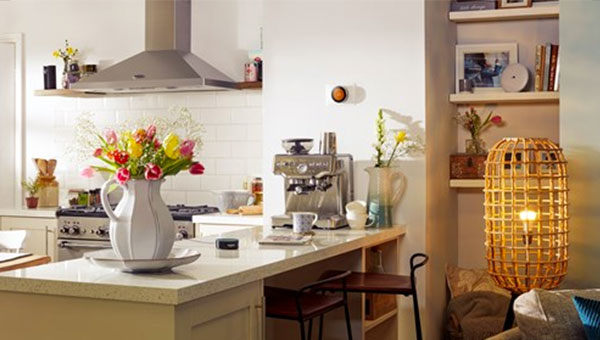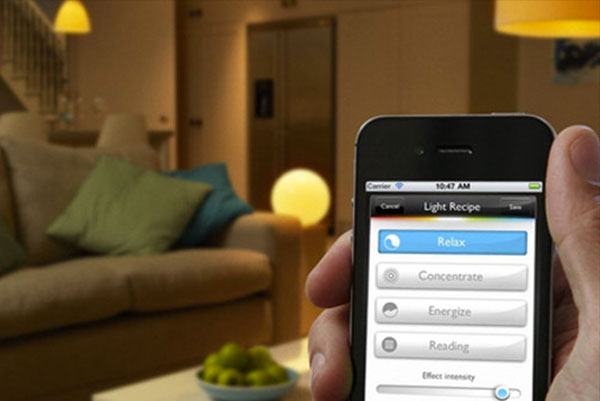 Smart Home
More and more of the devices we use to control our home are becoming 'smart'. This means that they're connected to your Wi-Fi, connected to each other and, most importantly, connected to your routine.
Smart homes are designed to make your home life easier and your house as efficient as it can be. They let you control your heating, lighting, home security and more from your mobile device, wherever you may be.
Many people waste power by leaving their devices plugged in when they leave the house. With a smart home, however, you can programme your devices to turn on and off at specific times, or just whenever you need to – keeping your energy usage (and energy bills) low.
What are the benefits of a smart home?
Save energy and money
Do you know how much it costs to heat your home every day? Or how much energy your TV uses while it's on standby? Choosing a smart device such as a smart thermostat that monitors your energy usage or a smart plug which switches off your appliances can help save you money in the long run.
Make your home safe and secure
Smart home security and monitoring devices let you check on your home whilst you're away, either via live video streaming or an alert when activity occurs. Lighting schedules can make it look like someone is at home, even when you're away.
Make life easier
Controlling your devices using your smartphone or voice gives you the freedom to control your devices wherever and whenever you like – your house works to your schedule rather than the other way round.
Are smart home products easy to set up?
You don't need to be a technical wizard to set up smart home products – they're designed to be easy to use for everyone. Installation is simple – all you need to do is download the associated app for your smartphone or tablet and follow the instructions to get connected to your home WiFi.
Some products may require or include professional installation, but this will be clear before you purchase. Knowhow offer installation services for selected devices.
What will I need?
While most smart devices use minimal bandwidth, you should check the individual WiFi requirements for each device before purchasing.
It's recommended you have dual-band wireless and check for any WiFi black spots in your home as this can affect the quality of usage – Whole Home WiFi products can help improve coverage.
Smart cameras tend to use more bandwidth than other devices, so you may want to invest in a decent router to optimise the performance of your setup.
Some smart devices require a specialist hub which connects directly to your router which is then used to pair the product to your app or voice controlled speaker.
Shop Whole Home WiFi
How secure is it?
Just like all devices that connect to the internet, you need to consider how to keep them secure. Smart devices will use many layers of security, such as encryption, secure passwords, and authentication to keep them safe.
Not all devices connect directly to the internet. Some ecosystems use their own separate secure wireless network – for example Samsung SmartThings and Philips Hue use Zigbee.
There's things you can do to help keep your network secure as well – ensure your WiFi network has a secure password in place and look for a router which offers high security.
Suppliers will periodically release firmware updates with bug fixes, new features, and sometimes critical security patches, so be sure to install any security updates as soon as they come out.
Can different brands work together?
Many different brands work together and synchronise so you can get the most out of your smart home. For example, Philips Hue lights are compatible with Nest products – if your Nest Protect detects a problem, your Hue lights can change colour to alert you and help you see through any smoke.
Voice control products such as Google Home are constantly expanding their range of compatible devices. They currently work with heating, lighting, and power brands such as Nest, Philips Hue, and WeMo.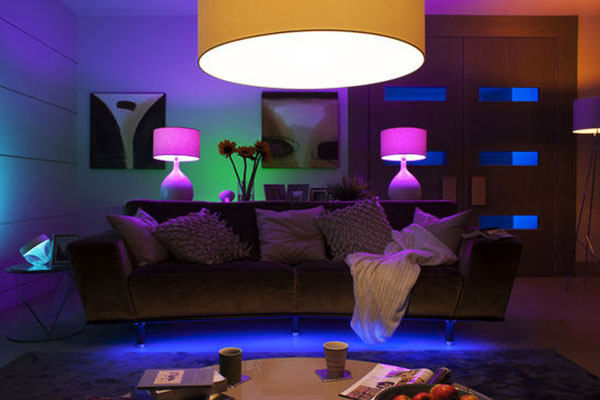 Smart Lighting
Smart lighting lets you adjust the brightness and colour of your lighting to suit your mood or environment – dim the lights for a movie night, wake up to refreshing bright light, or create a party atmosphere - all from your smartphone or smart speaker.
Adding elegance, ambiance, and convenience, smart lights also offer home security and better energy efficiency.
How can smart lighting save you energy and money?
Smart lighting helps reduce the amount of energy you are using, and therefore save you money on your energy bills. With instant smartphone control wherever you are, you can easily see if you have left a light on at home and switch it off. Because you're not lighting an empty home, you can ensure your household is more efficient.
You can also link your smart lights to motion sensors – for example Philips Hue lighting is compatible with Samsung SmartThings sensors. Lights can automatically come on when you walk into a room and motion is detected – for example a dark hallway when you arrive home – then switch off again after you have left, making sure no one leaves the lights on.
LED lights are far more efficient than traditional bulbs and are therefore cheaper to run. They also have a much longer lifespan making them great value for money. Some smart lighting will even monitor the bulb's energy usage so you can see how much you are using.
Shop Smart Lighting
How does smart lighting make life easier?
Imagine walking through the door and the lights are already on as it's past sunset, or sitting on the sofa asking your voice assistant to dim the lights so you can watch a movie – smart lighting lets you do this and much more.
You can automate lights to come on and off whenever you like – set a light to get gradually brighter to wake you in the morning, or dim slowly at night when you go to bed.
Home or away – you can check which lights are on or off from your smartphone for peace of mind.
Shop Smart Lighting
Can smart lighting help with security?
Smart lighting can help make your house more secure – you can easily program your lights to come on and make the house seem occupied when you are out the house or away on holiday.
Some lights use your phone's location to tell when you're on your way home and switch on certain lights for you when you arrive, meaning you never return to a dark home again.
Shop Smart Lighting
What are the different bulb types and colour options?
Smart bulbs are available in most popular fittings, including E27, B22, GU10, and E14 so it's easy to replace your existing bulbs without any special adapters.
Bulbs are available in white or colour versions. White bulbs differ in colour temperature and let you adjust the brightness. Colour bulbs offer a wide array of dimmable colours – ideal for instantly changing the atmosphere of the room to suit your mood. Bulbs can be grouped together to create scenes of coordinating or contrasting colours.
How easy is smart lighting to install?
It's simple – download the app for the brand of lights you have purchased, fit the new bulbs in the same way you would replace any other bulb, and then follow the instructions in the app to link them to your WiFi.
Some lighting brands such as Philips Hue also require a hub for the lights to connect to – check the product page or ask an in-store colleague for more information before you buy.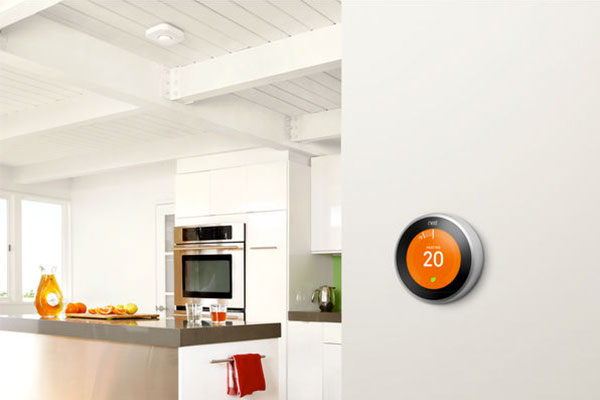 Smart Thermostats
Smart thermostats let you remotely monitor and set your home temperature and central heating schedule via your smartphone or tablet. They provide you with a more efficient heating system, with easily accessible controls and a user-friendly interface.
They should not be confused with smart meters, which digitally send your meter readings directly to your energy supplier for more accurate bills but cannot control your central heating.
How do smart thermostats work?
There are three components to a smart thermostat – the first plugs directly into your boiler, the second is the thermostat and main control which replaces your existing thermostat and connects to the first component via WiFi, and the third is your smart device with downloaded app. The app allows you to control your heating from wherever you are.
Shop smart thermostats
What are the benefits of a smart thermostat?
Some people find traditional thermostats confusing and are reluctant to changes any settings in case it causes issues. With a smart thermostat you get complete control with a user-friendly interface – you can adjust settings within the app or on the thermostat itself.
Setting heating schedules via an app is easy to do and fits in with busy lives. If your plans change and you're going to be late home, you can easily adjust your thermostat rather than heating an empty home, and if you're going to be earlier than planned you can switch the heating on so you arrive home to the warmth.
Learning thermostats like Nest go a step further, learning your routine and preferences to customise your heating and hot water schedule.
Shop smart thermostats
How can thermostats save you energy and money?
Smart thermostats give you the power to switch the heating on and off at the tap of a smartphone screen, so you're never heating an empty home – even if you're late home from work or plans change.
Some thermostats learn your preferences and will automatically adjust the temperature to suit you throughout the day, or they can be programmed to come on when you're on your way home from work. They learn how long it takes to heat your house, so you always walk into a warm home.
While a smart thermostat won't immediately save you money like switching your energy supplier can do, it can provide you with reports and insights about your home so you can start to understand your energy usage and adjust your behaviour to heat it in a more efficient way. This should help save you money in the long run thanks to reduced energy bills.
Shop smart thermostats
Is my boiler compatible?
Smart thermostats will work in most homes with an existing thermostat and boiler, but we advise you check compatibility before purchase.
What about installation?
Some manufacturers may offer installation included in the price or as an optional extra when you purchase your new system. Knowhow offer professional installation for selected thermostats.
Learn more about KnowHow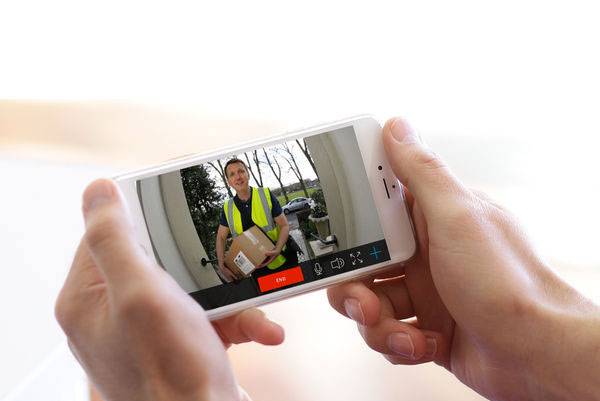 Smart Home Monitoring
We know it's important to keep your family and home safe at all times – smart home monitoring devices let you keep an eye on your home even when you're away. You can check cameras remotely, switch off plug sockets, get alerts for alarms being triggered, and even see who's at the door.
Lots of smart home monitoring products work together with other smart devices – for example a motion sensor can trigger a smart plug to switch on. A smart home starter kit is a great way to discover how compatible products can work in your home and includes everything you need to setup your smart home.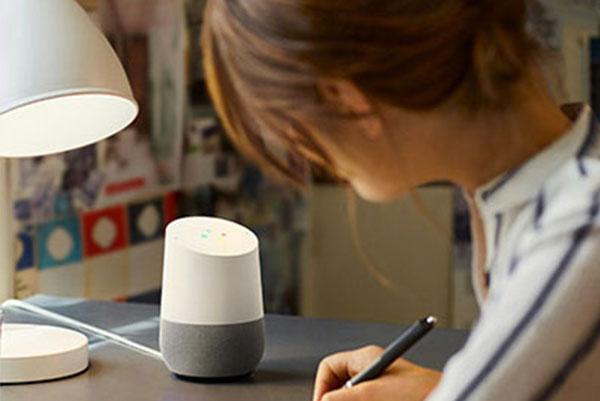 Smart Home Voice Control
Control your smart home products using only your voice with a hands-free smart speaker like Google Home. They allow you to use smart products with a single voice command and provide helpful assistant features. Ask what the weather's like, check your diary, set a timer, and even play fun family games.
Each smart voice control speaker has a "wake word" so that when you speak to the device it will listen and respond to your request. Google Home, for example, responds to "Ok Google" or "Hey Google".
What are the benefits?
Voice control speakers let you use your smart devices without the need for a remote, and because you can link multiple devices, you can turn on groups of lights or speakers with just one command.
Connect to your music on streaming platforms like Spotify or play the radio with web-based services like TuneIn without needing to connect a thing. Simply say "Alexa, on Spotify play the Acoustic playlist" or "Ok Google, turn on BBC Radio One".
Using the Voice control assistant functionality you can set an alarm for the morning, check your calendar, check the traffic, and much more, all without having to touch your phone.
Shop Smart Voice Control
How easy are they to set up?
It only takes a few minutes to set up a smart speaker. Simply plug the power cable in and open the companion app – you'll be guided the rest of the way on there.
Jargon buster
WiFi | A wireless connection that allows devices to connect to the internet or communicate between each other.
Bluetooth | A short-range wireless connection that can be used to transfer data between devices.
IoT | Stands for the Internet of Things. It's another term, like "connected devices" or "smart devices" used to describe devices that work together using the internet.
IFTTT | Stands for If This Then That. It's a free web-based tool that lets you create 'applets' which can be used to automate smart devices using apps or websites. For example an email from a certain correspondent could trigger a light to switch on.