Picture Quality
Sound Quality
Smart Features
Design
Gaming
Picture Quality
Full Array LED with X-tended Dynamic Range
™
Cinematic contrast with accurate deep blacks and bright highlights
With Full-Array LED TVs, the backlight is segmented into multiple zones. The brightness and contrast in these zones are individually controlled by Sony's X-tended Dynamic Range™ technology to deliver superb contrast. The end result is that you see brighter whites, and darker darks. A truly cinematic viewing experience.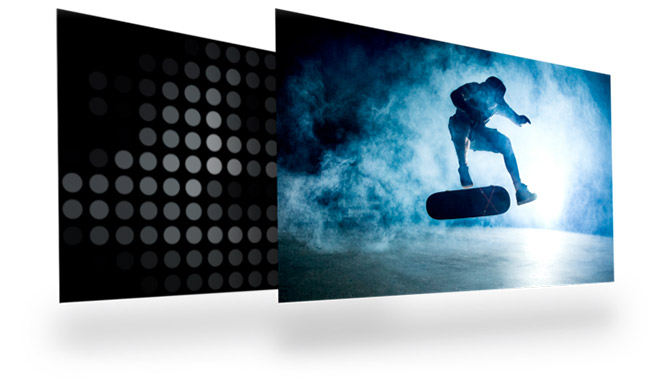 Full Array LED vs Conventional LED
The real benefits of Full Array LED with local dimming are that you get more realistic peaks of brightness, more accurate shadow detail and deeper, inkier blacks.
A good example of this would be seeing the moon in the night sky. On an Edge-lit or Direct-lit TV, you would sacrifice the brightness of the moon for a blacker night sky (or vice-versa) and the blacks would still likely stray into blue or grey.
On a Full Array LED TV with local dimming you get a beautiful, natural picture, with a clear, bright moon and a dark, authentic night sky.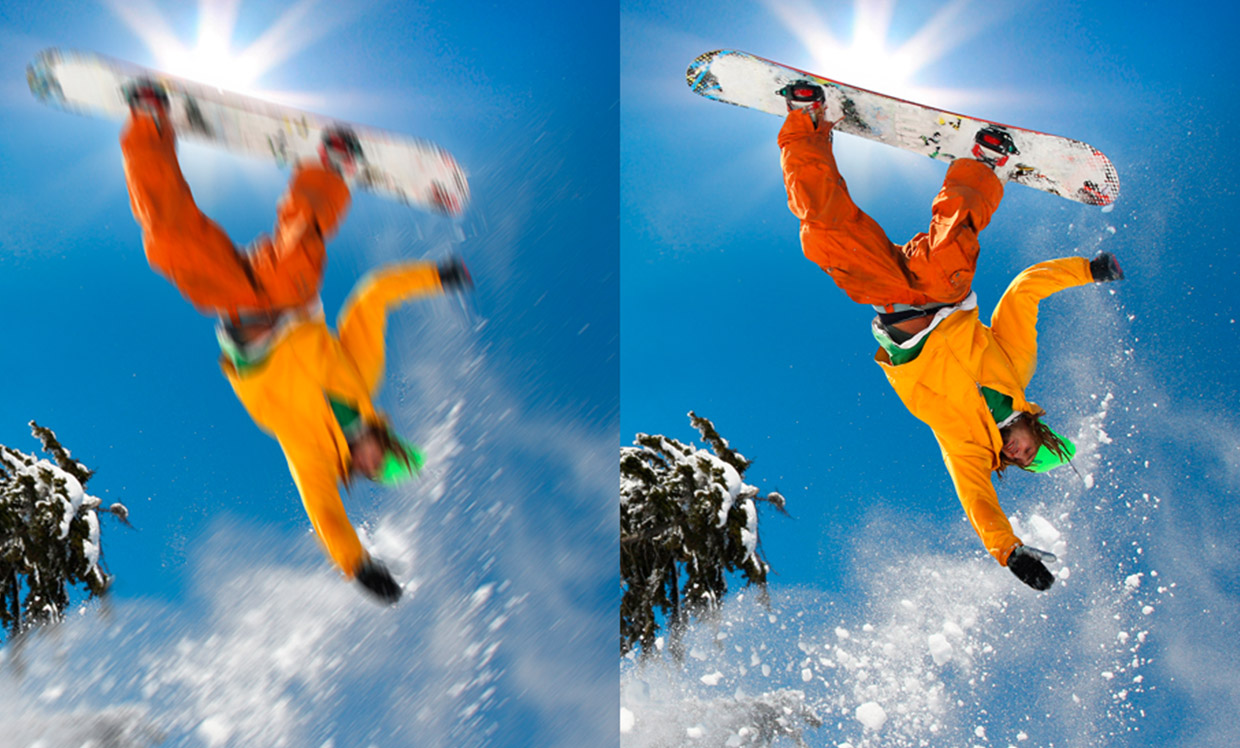 Every movement, beautifully clear
Our X-Motion Clarity™ technology keeps fast action smooth and clear. Moving images are precisely controlled to minimise blur. Even during high speed scenes, pictures stay true with no loss in brightness and clarity.

See what makes our processors extraordinary
XH95 & ZH8
Picture Processor X1™ Ultimate
Sony's Best Ever Processor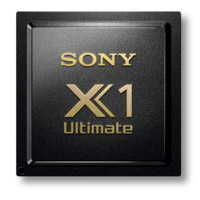 With unmatched processing power, the Picture Processor X1™ Ultimate detects hundreds of different objects on screen and intelligently enhances brightness, detail and colour so everything you watch is clear, bright and incredibly realistic.
Features include:
Object-based Super Resolution
Object-based HDR remaster
Super Bit Mapping HDR
Dual database processing
Dynamic Contrast Enhancer
Precision colour mapping
XH90 & XH92
4K HDR Processor X1™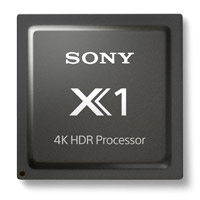 The 4K HDR Processor X1™ enhances the colour, contrast and clarity of what you watch giving you more depth, a more natural texture and more vibrant colours.
 
Features include:
Object-based HDR remaster
Super Bit Mapping HDR
Dynamic Contrast Enhancer
4K Upscaling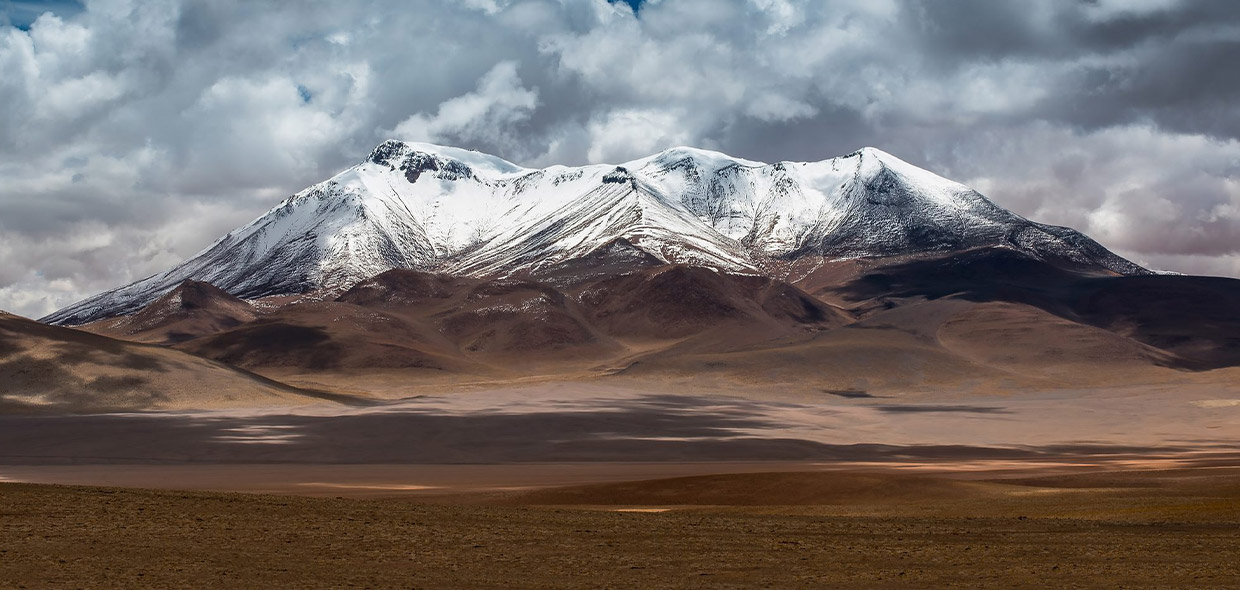 The true beauty of 4K in every picture
With Sony televisions, everything you watch is sharpened and refined with the latest detail enhancement and noise reduction technology for amazingly realistic pictures.


Redefining realism
A variety of noise reduction techniques are used by 4K X-Reality™ PRO to sharpen and refine images.
See how scenes become clearer, smoother and more natural.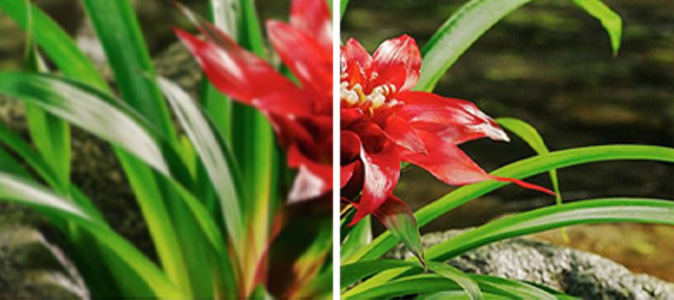 Lines become clearer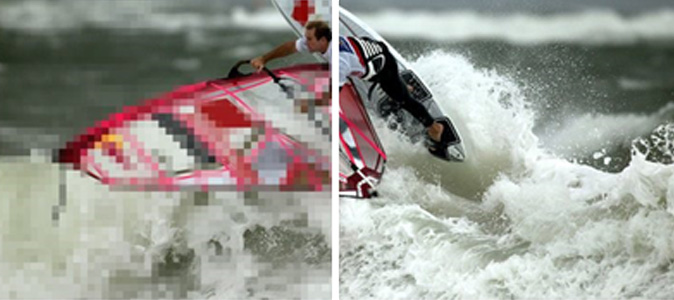 Action stays smooth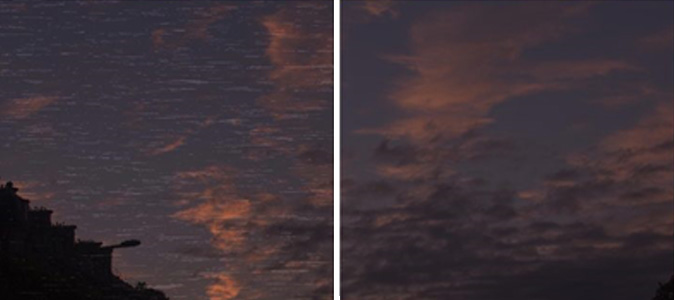 Dark scenes stay clear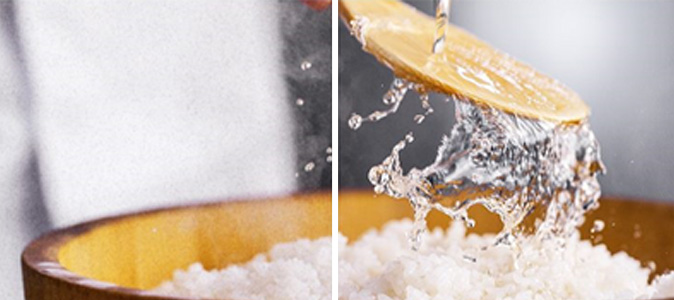 Streamed video is sharper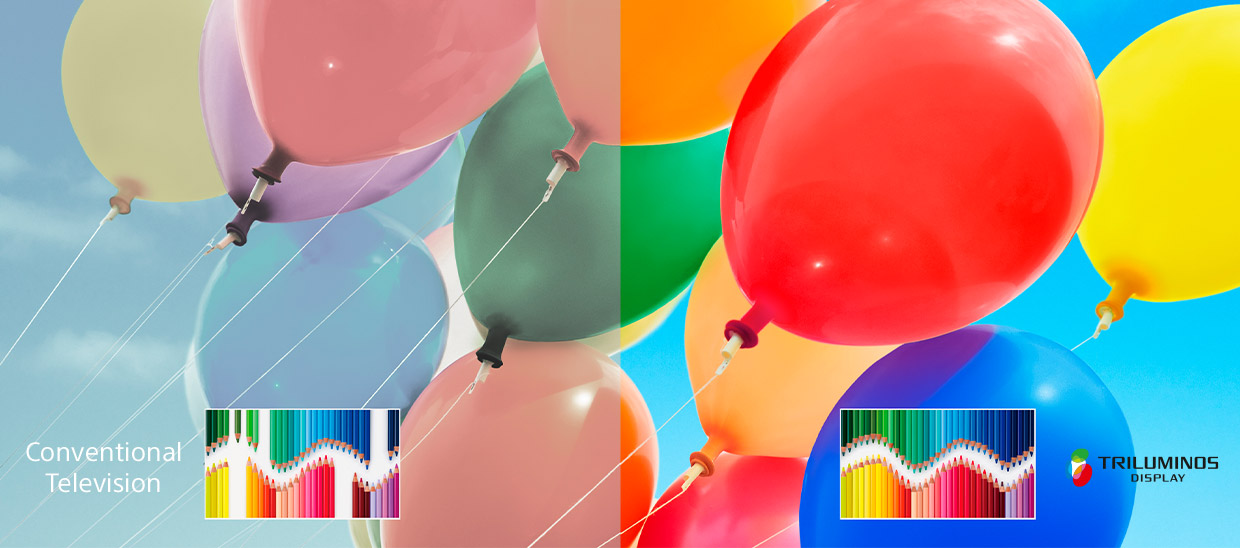 By widening the colour spectrum, TRILUMINOS™ powered by our X1™ processors reproduces more colours than a conventional television. It analyses and processes data in every image to make colours even more natural and precise, so pictures are closer than ever to real life.

Transform your viewing with Dolby Vision™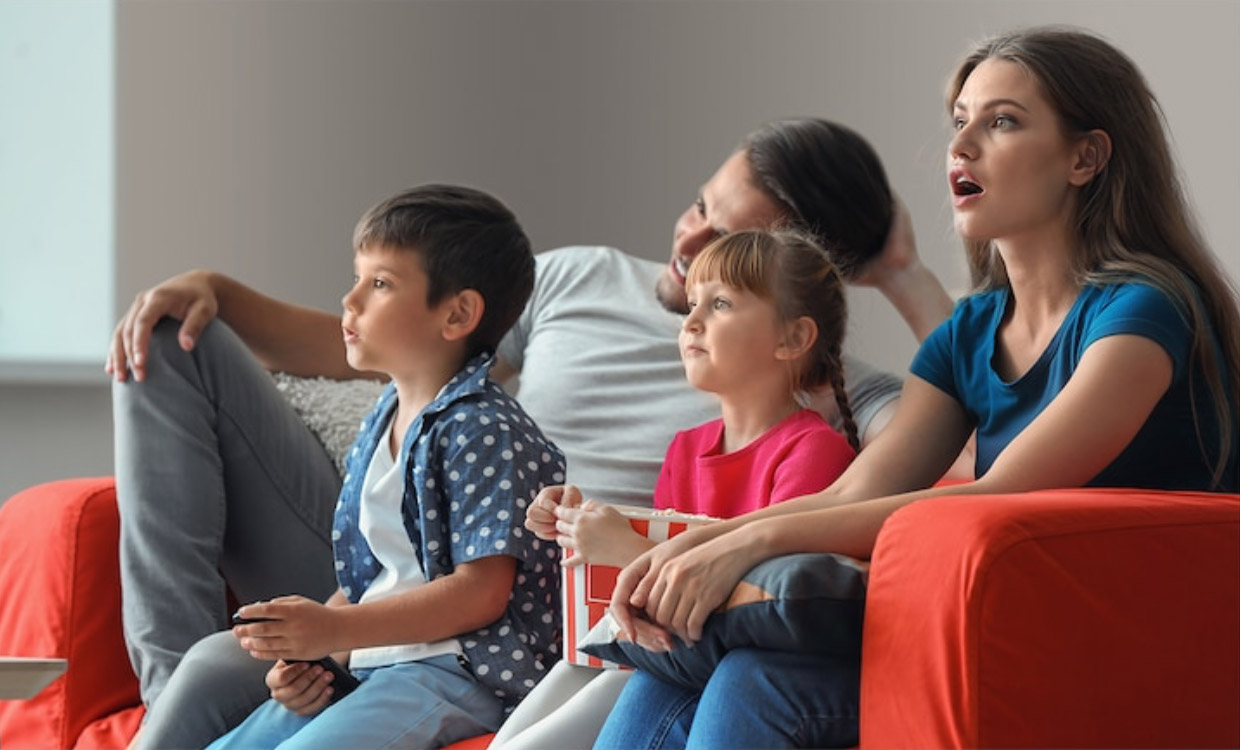 Bring scenes to life with striking highlights, deeper darks and vibrant colours. Dolby Vision™ is an HDR solution that creates an immersive, engaging cinematic experience in your home.

Ambient Optimization - Light Sensor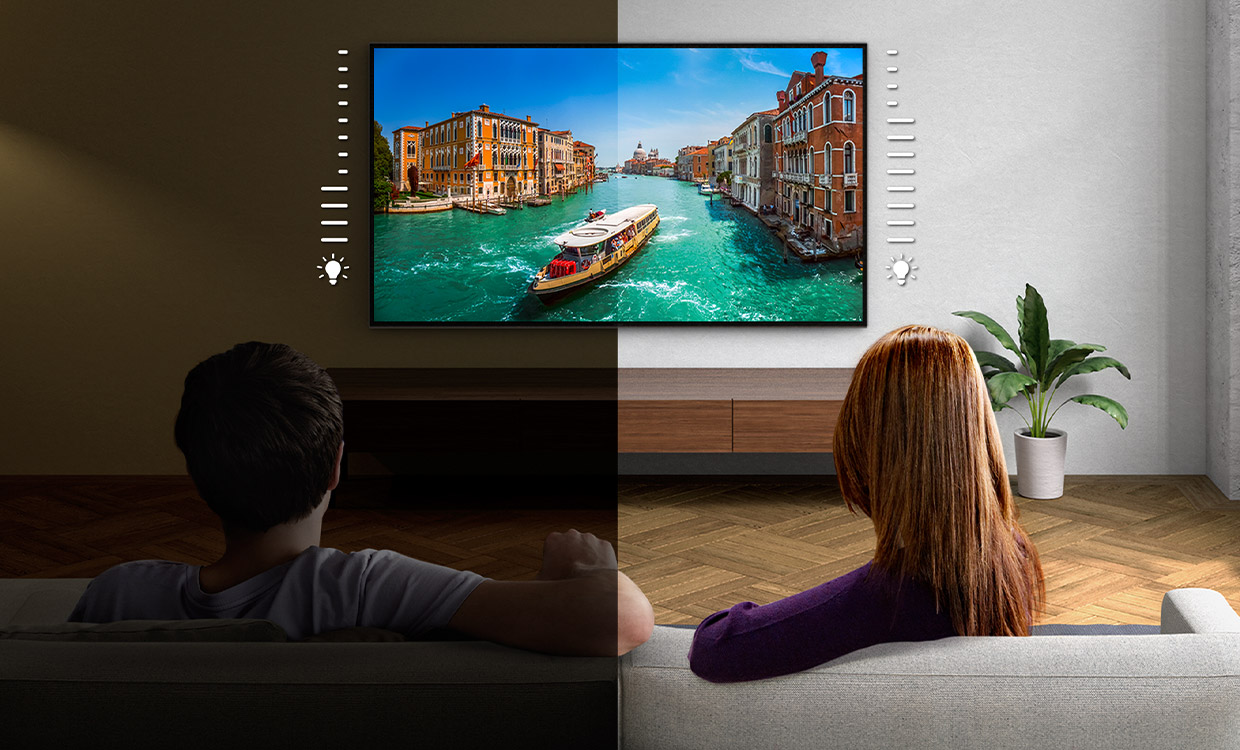 On conventional TVs, brightness stays the same regardless of light in a room, resulting in pictures that are too dark or bright. Sony Premium LED TVs include an embedded light sensor that optimises picture brightness to room conditions, boosting brightness in light rooms and reducing it in dark ones, so you always get the perfect view.
X-Wide Angle
Vibrant shades of colour from any viewing angle
See vivid real world colours, even from the sides, on this wide-angle TV. Our X-Wide Angle technology allows the faithful shades and hues of the TRILUMINOS™ Display to be enjoyed from any angle.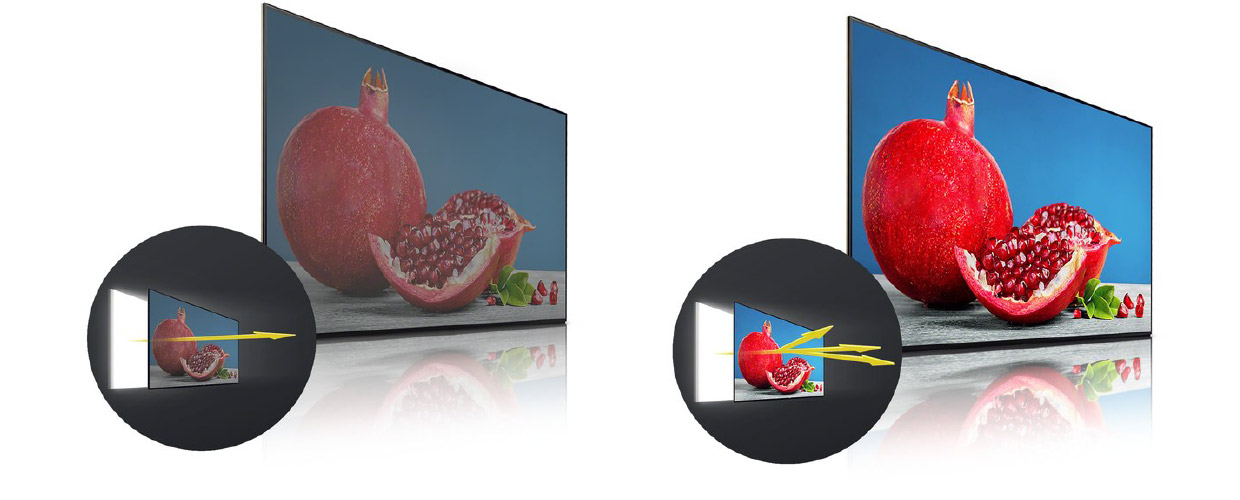 Our most realistic picture ever
With over 33 million pixels, our 8K HDR technology powered by our acclaimed Processor X1™ Ultimate gives you four times the resolution of 4K for an incredibly immersive viewing experience.
Pictures fill your field of view with extraordinary depth and texture. Get close and enjoy the fine details you could never see before.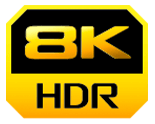 The power behind our 8K upscaling
8K X-Reality Pro is Sony's unique image processor which boosts the quality of all content to close to true 8K resolution. Sony draws from its vast experience of producing professional studio cameras - used for major sporting events, TV broadcasts and Hollywood movies - to create an algorithm which can accurately upscale content to add breathtaking 8K realism.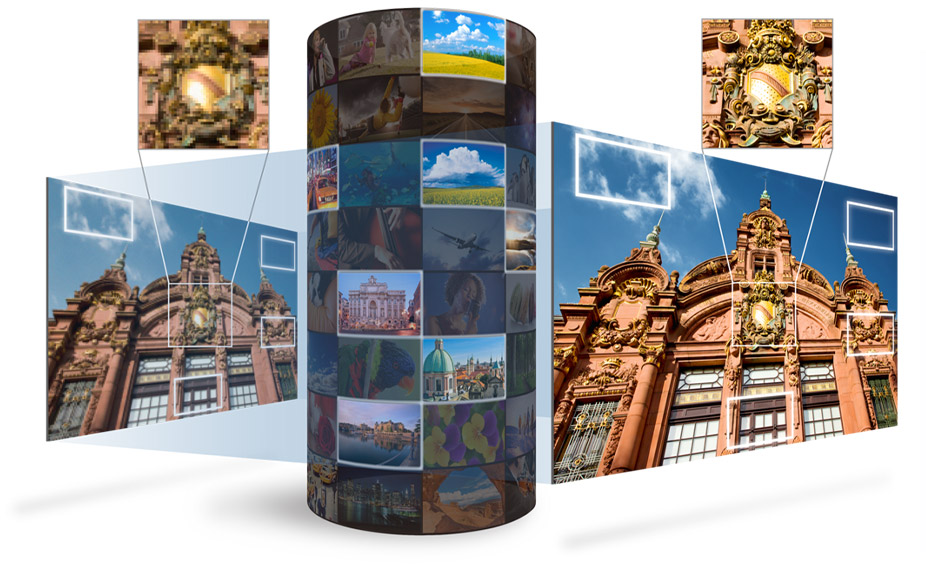 Sound Quality
Our Acoustic Multi-Audio™ system adds two sound positioning tweeters in the rear of the TV to the bass reflex speakers for Sound-from-Picture Reality™.
With action and sound precisely aligned, your viewing becomes so much more immersive.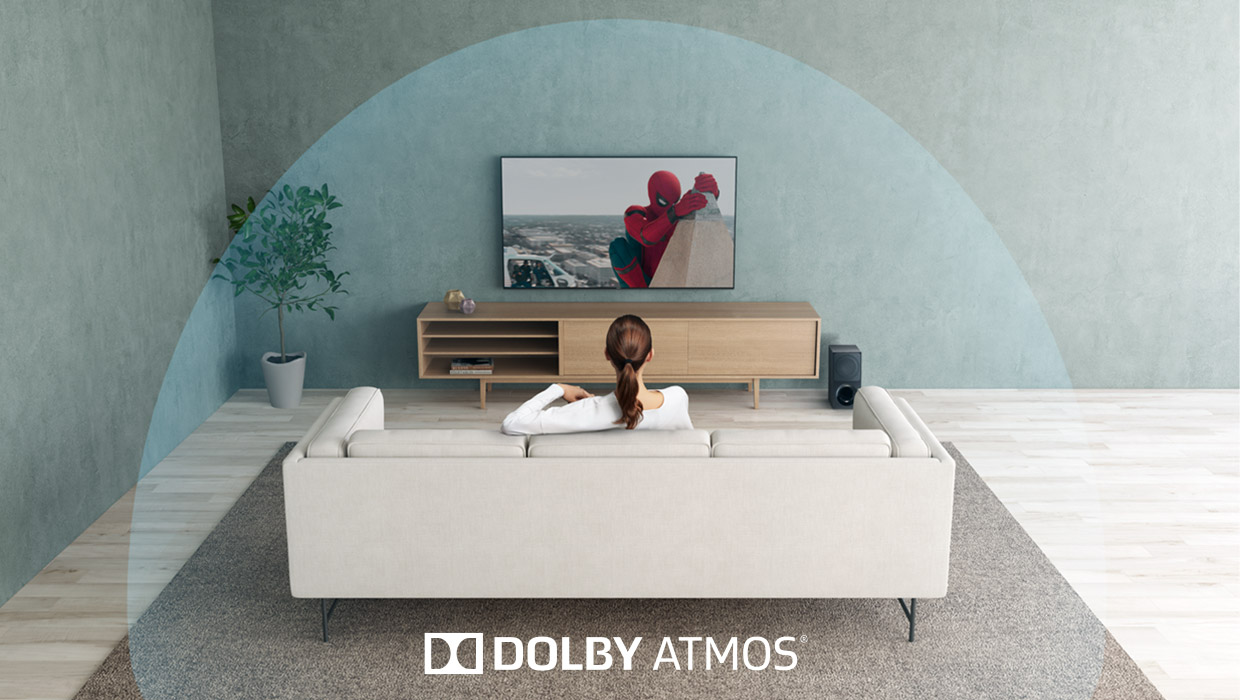 Be surrounded by sound as if you are right there in the scene. With Dolby Atmos®, sound comes from above as well as from the sides so you can hear objects moving overhead with more realism for a truly multi-dimensional experience.
Ambient Optimisation - Sound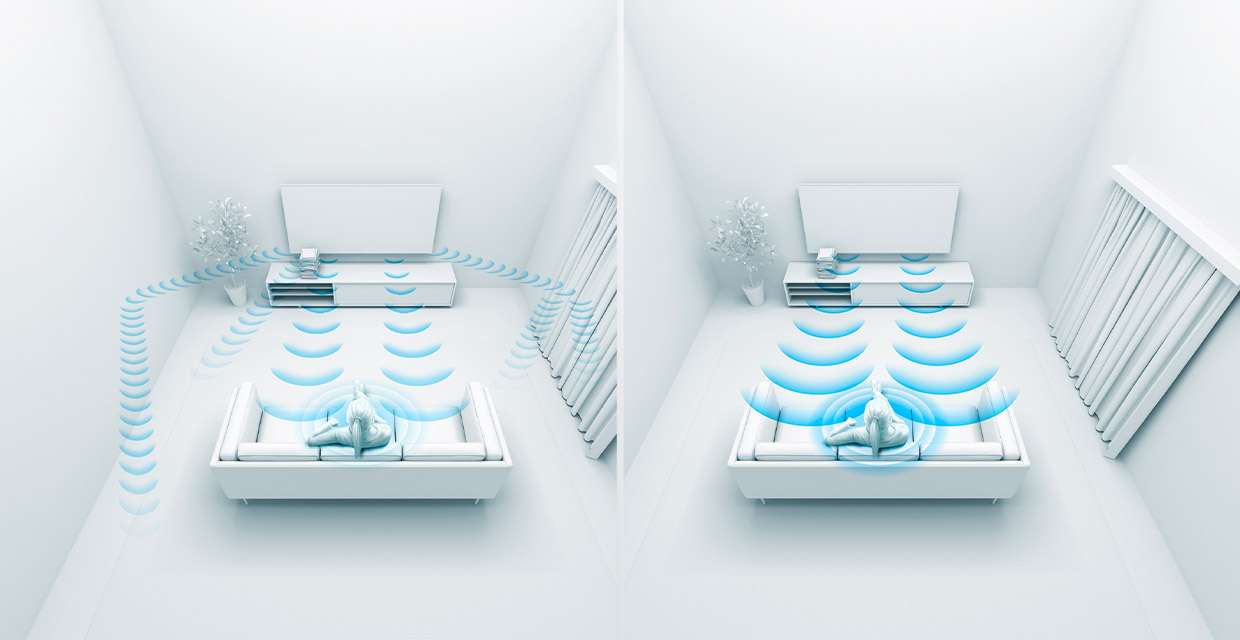 Sound experience can change depending on your room environment. Curtains, for example, absorb sound while walls can be highly reflective, compromising the quality of what you hear.
Sony Ambient Optimization detects objects and adjusts the sound of the TV accordingly, delivering an enhanced audio experience tailored for your room.
Smart Features
Your entertainment at your fingertips
Now you can access all your streaming apps in an instant, directly from your remote. With over 5000 apps available, more than any other SMART TV platform, it is easier to watch all the latest original content, classic films and series from streaming services such as Netflix, Disney+, Amazon Prime Video, NOW TV, Google Play Movies and many more.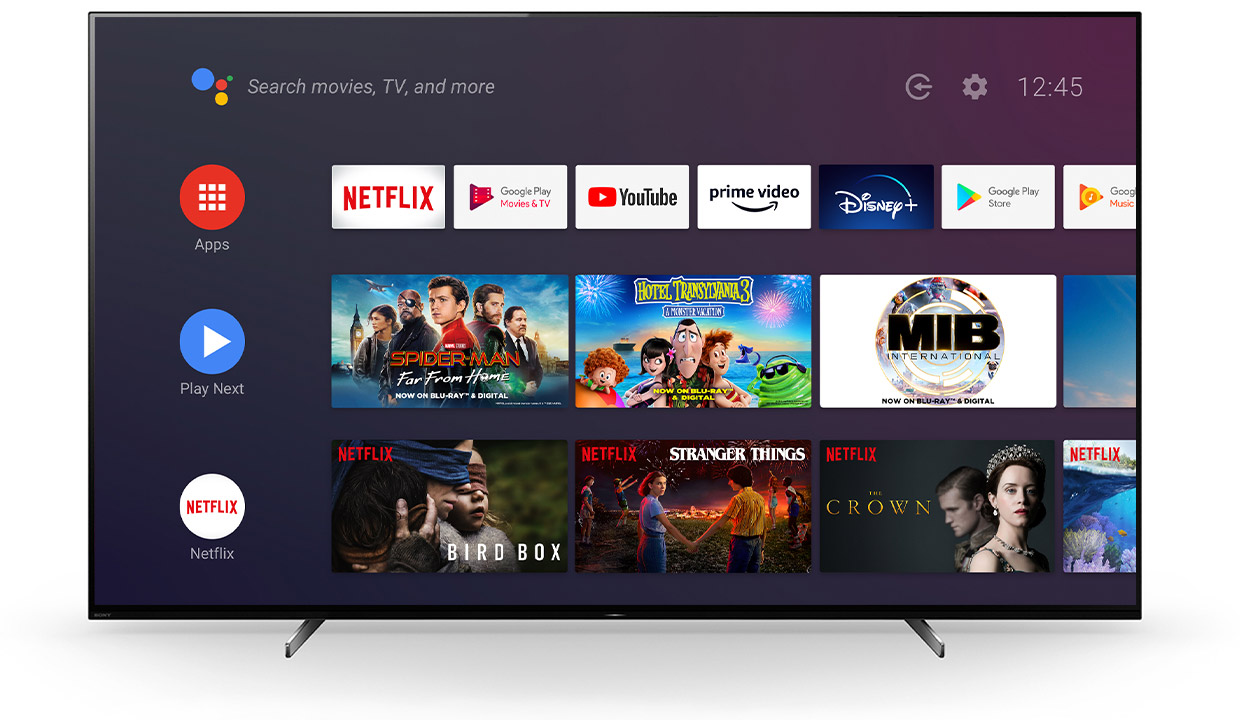 Smarter control with the Google Assistant
With a voice remote and Google Assistant, your Sony Android TV™ is always at your command. Talk to the remote to find your favourite online programmes and films, change the channel, switch apps or have your questions answered. You can use the remote to control your other smart home products too; for example, set the mood in your living room by dimming your existing smart lights.

Hands-free voice control with integrated mic
With a built-in mic your Sony XH95* or ZH8 is always at your command. Talk to your TV to find your favourite online programmes and films, change the channel, switch apps or have your questions answered.
You can even control smart home products; for example, set the mood in your living room by dimming your existing smart lights with your voice.
You can also connect your Alexa-enabled devices to the TV for hands-free control – turn your TV on, control the volume and more, all with only your voice.
*Available on 55', 65' and 75' only


Netflix Calibrated Mode
This mode was specially developed to enjoy Netflix originals and reproduce the same picture quality on a TV as on a studio evaluation master.
With Netflix Calibrated Mode, the creator's vision and intent is faithfully preserved.
Live TV & Catch up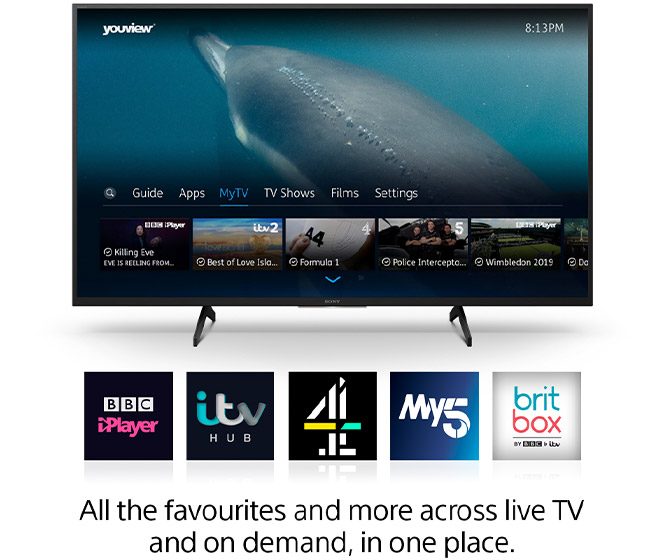 Design
The shape of quality
Innovative design is par for the course with our LED televisions. The unique wedge shape of select models saves space and increases speaker capacity for enthralling sound.
Big screen, designed for immersion
With its minimalist one slate design and thin bezel, this 8K LED TV brings home the big screen 8K experience. Be totally immersed in your entertainment without distraction.

"The Sony ZH8 is the best LED⁄LCD television we've reviewed in 2020."
HDTV Test, August 2020
Flush surface, no distractions
A slim and flush design with discrete stand and thin aluminium bezel keeps you focused on what's important - the picture.
"The XH95's all new performance has set the 2020 benchmark for 49" TVs."
What Hi-Fi?, May 2020


Minimal design immerses you in the picture
A narrow aluminium bezel keeps you focused on the screen for a truly cinematic, immersive viewing experience. The slim aluminium frame gives the TV a luxurious look and feel.

"Bright, beautiful and effortlessly smooth- this is one of the best LCD TVs around."
What Hi-Fi?, Oct 2020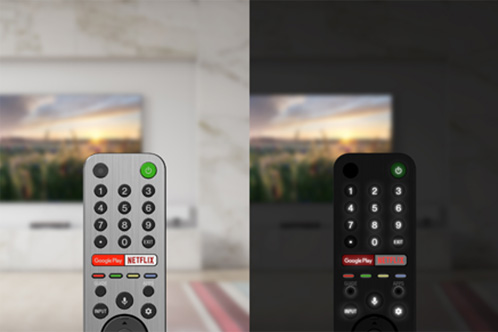 Visible in the dark with backlit remote
Simply hold up the remote with integrated backlight to change channels and volume when watching the TV in darkness. Available on ZH8 and XH95 (55', 65' & 75').
Adjustable stand to fit narrow furniture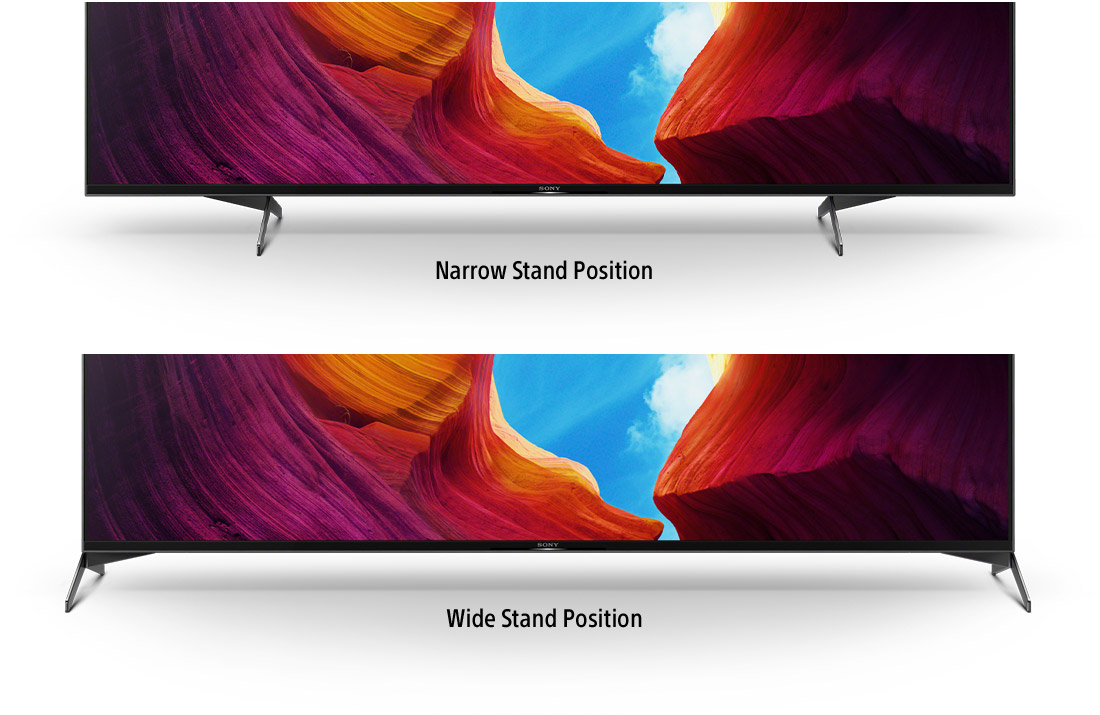 The ZH8, XH95* and XH92 all have adjustable stands which allow the TVs to sit comfortably on a wider range of furniture.
*55', 65' & 75' only
Gaming
Using advanced picture and audio technologies, Sony BRAVIA® brings games to life, delivering vibrant, vivid visuals with three-dimensional, atmospheric sound.
Captivating gaming contrast
Conventional TVs use just one row of LEDs; Sony's Full Array LED places them across the whole screen, each zone individually controlled to make dark areas darker, light areas lighter, and reveal every detail of the alternate universe you've stepped into.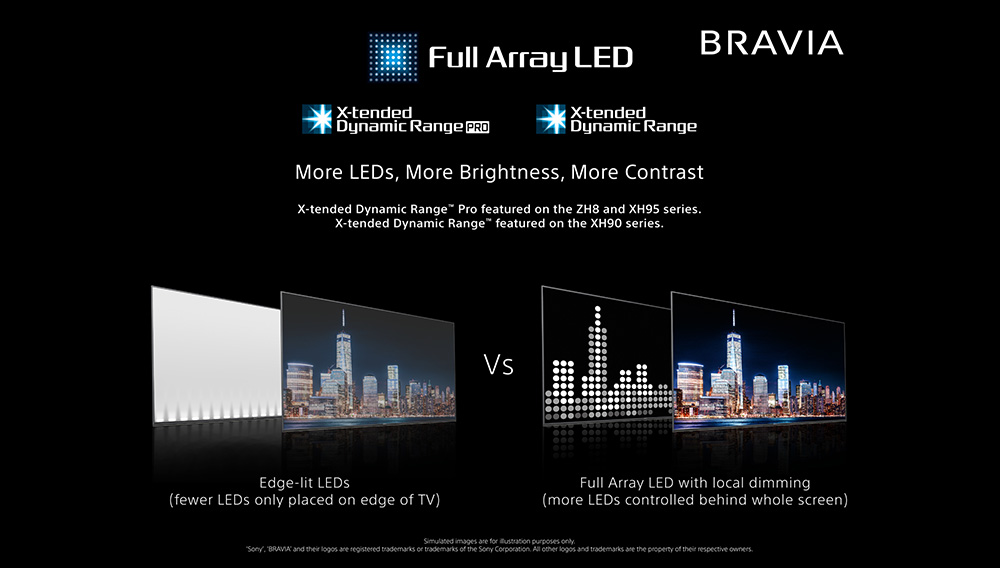 Multi-dimensional sound
Our revered Acoustic Multi-Audio™ technology uses sound positioning tweeters to deliver precisely controlled, high-quality audio from the exact point it's happening within the scene. The result is immersive, dynamic gaming, with everything you see matching up to what you hear.*
Acoustic
Multi-Audio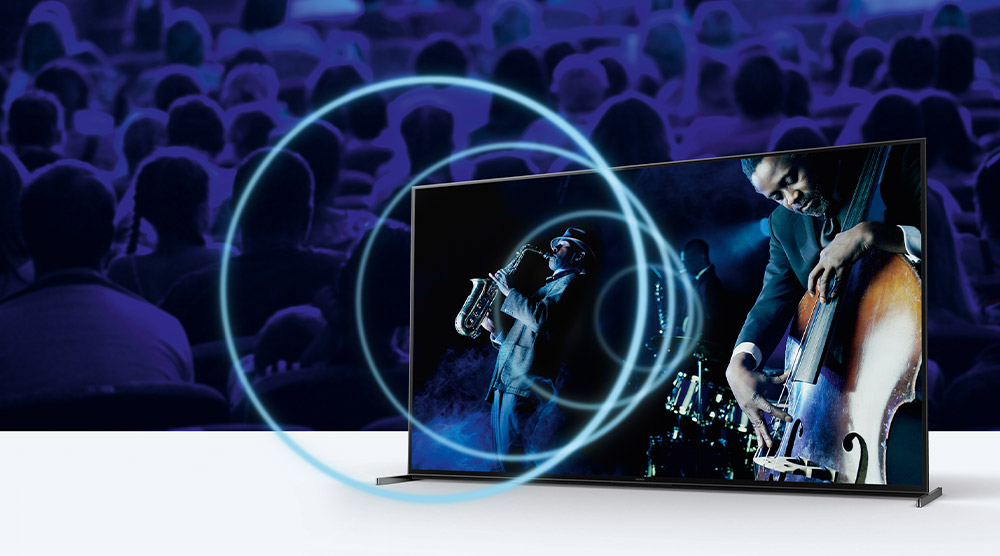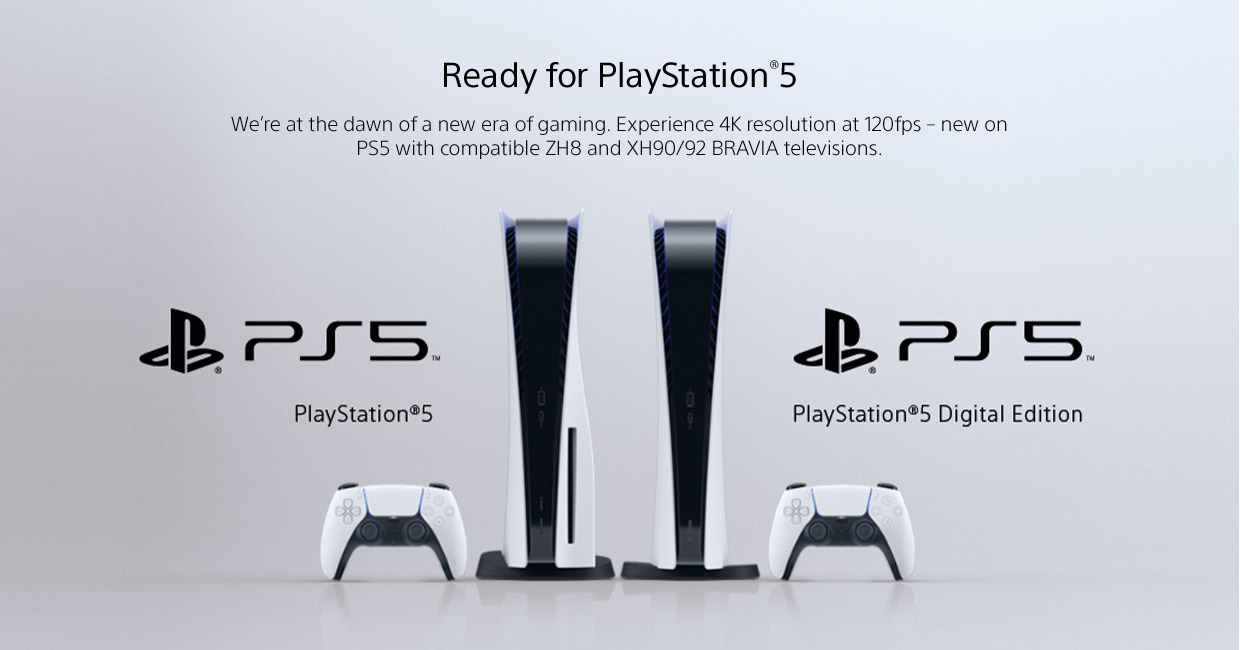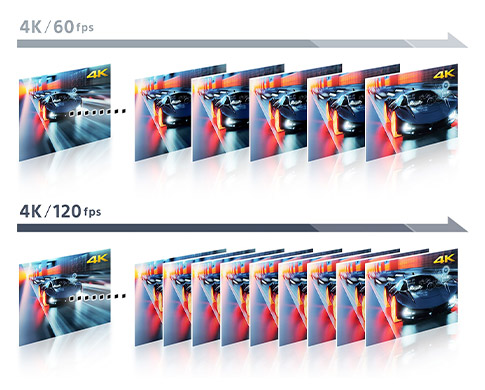 You're a winner with 4K⁄120fps
Transform your gaming experience. Our TVs with high speed 4K⁄120fps HDMI input give you smoother, clearer movement for responsive gameplay.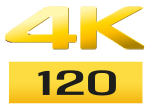 EXPLORE SONY'S PREMIUM LED RANGE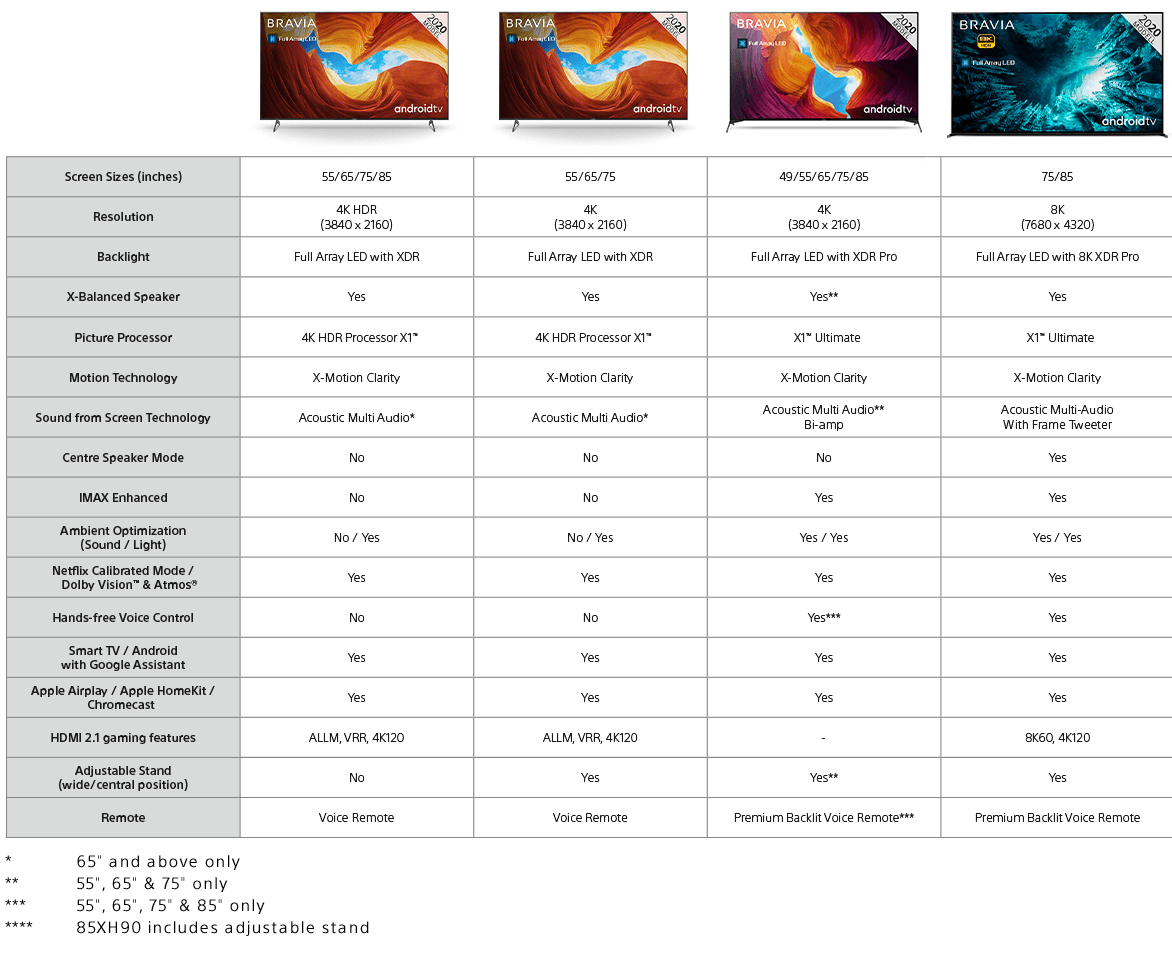 © 2020 Sony Interactive Entertainment Inc. All rights reserved. Design and specifications are subject to change without notice.

, "PlayStation",

and "PS5" are registered trademarks of Sony Interactive Entertainment Inc.
*Google, Chromecast built-in, Android TV, YouTube and other related marks and logos are trademarks of Google LLC. Use of this TV requires consent to Google Terms of Service and Privacy Policy. Applications availability varies by country, language and device. Feature availability depends on country and availability of compatible products. Also may require software update. Remote specification may vary by territory and model.
'Sony', 'BRAVIA' and their logos are registered trademarks or trademarks of Sony Corporation. All other logos and trademarks are the property of their respective owners.