Tech Treatments
Computer help & advice? We've got it covered
Computer problems can be daunting if you don't know how to fix them. Our expert computer support can show you how. Even if your PC or laptop is working fine, we can still perform a health check to make sure everything's OK.
Want help? Just pick what you need from the list of services below. You can buy them on their own, or in bundles (it works out cheaper that way).
Any single treatment for £45
Use on any computer
Use anytime over 2 years
Save £30 when you buy any 2 treatments
Get started
Computer & Laptop Setup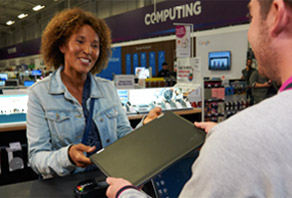 Get friendly face-to-face computer support from our staff. If you've bought a new computer recently, we'll help you get it up and running and install anything you need on it.
Data Transfer
We'll transfer all your data from an old computer to your new one.
£45
In-Store Tutorials
Our experts will show you how to use anything on your computer that you find tricky and any software.
£45
Software Install
Need a software upgrade? We'll install your new software and get it up and running.
£45
Parental Control Set-up
We'll show you how to keep the kids safe online with the right computer settings.
£45
Keep it Going
Computer Maintenance & Repairs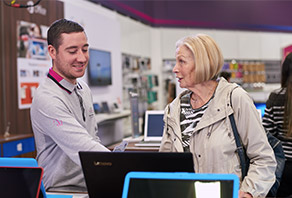 From laptop repair to PC upgrades. We'll also remove viruses from your computer, and have it feeling like new again.
Software Fix
Got any software that's not working properly? We'll fix it whether it's for your desktop or laptop.
£45
Computer Healthcheck
We'll give your computer a thorough check-up, so it runs smoother and faster.
£45
Virus Removal
We'll find and remove any viruses or spyware on your computer.
£45
Data Back-up
We'll back up the data on your hard drive so if you lose anything, you'll have a spare copy of it.
£45
Upgrade & update
Computer Hardware & Software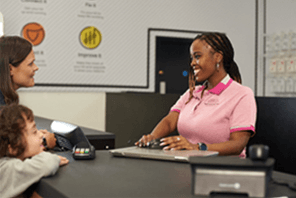 A desktop PC or laptop software upgrade can give your computer a new lease of life. We'll install the latest updates for you, too!
Hardware Install
We'll install new hardware to your device. This can include anything from extra memory to upgrade your PC to printers.
£45
System Reset
We'll return your computer to factory settings so you can start afresh.
£45
Operating System Upgrade
We'll install the latest operating system and check it's working smoothly.
£45
Data Wipe
We'll completely wipe the data from your device to keep your personal details safe and secure.
£45
Get it cheaper with our bundles
2 Treatments for £60
A saving of £30 when bought together
Voucher to redeem your services at any store
We'll fix or update any computer
Valid for 2 years from date of purchase
3 treatments for £75
A saving of £60 when bought together
Voucher to redeem your services at any store
We'll fix or update any computer
Valid for 2 years from date of purchase
4 treatments for £90
A saving of £90 when bought together
Voucher to redeem your services at any store
We'll fix or update any computer
Valid for 2 years from date of purchase
Available in store only. Find your local store