11 things to do with your old phone
Trade it in? Pass it on? Or do something a little different.
04 Jan 2022

If you've got a new phone, don't just forget about your faithful old one. Try out some of these ideas to put it to good use, and maybe even give it a new lease of life…
1. Trade it in
Top of the list - you can trade-in your phone with Currys. Sure, it might be a little out of date, but it could still be worth something. You can even trade in broken phones and they'll all be reused or recycled responsibly.
2. Turn it into a smart remote
Any old phone is good enough to use as a smart remote for your TV. Some phones can even be used as a universal remote for everything around your home. There are a couple of ways to get it working:
If your old phone has an IR blaster (if you're unsure whether it has one, just Google the model of your phone followed by 'IR blaster'), you can use it to control anything with a remote control. Chances are the phone already has an app built in to help you get things set up, but if not try downloading Smart TV Remote.
If your old phone doesn't have an IR blaster, get a streaming stick like Google Chromecast. Plug it into your TV and you cast apps like Netflix and YouTube from your phone.
3. Turn it into a handy kitchen tool
If you've got Google Assistant on your phone, why not start using 'OK Google' voice commands to get things done in the kitchen hands-free? You can find recipes, convert weights and measures, and do loads more without getting your messy fingers all over the screen.
You can also put handy cooking apps on your phone's homescreen, like a cooking timer or step-by-step recipe guide, and get the help you need with just one tap.
4. Use it as a digital photo frame
All you need to turn your old phone into a digital photo frame is a stylish stand and a photo frame app like Fotoo. You can then stream a slideshow of photos from your phone's gallery, or apps like Google Photos. There are cool transition effects to choose from, and you can even add background music.
5. Give it to the kids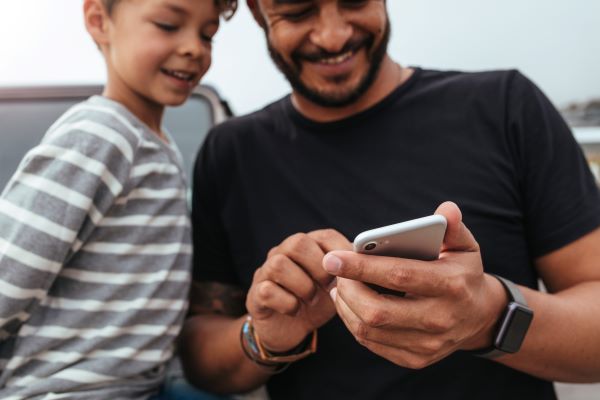 An old phone can be great for keeping the kids entertained, but you need to make it child-friendly first. Download the Google Family Link app, and you can then set up ground rules to help them play, learn, and explore safely online. You'll be able to keep a close eye on the amount of time they're spending on each app, and approve (or block) any apps they're trying to download.
6. Turn it into a security camera
Want to keep an eye on the house while you're on holiday? Then turn your old phone into a security camera. Plenty of apps let you view the live camera feed of one phone on another, and setup is incredibly easy. Just place your old phone in a good spot and download Alfred. Then all you need to do is sign into the same account on both phones to keep tabs on what's going on. It's got motion detection, two-way talking and even low-light filtering, so it's useful both night and day.
7. Sell it
it's surely more worthwhile to sell your old smartphone than leave it hidden away to be forgotten! As with giving your phone away, be sure to remove all your data and perform a factory reset first, so it's like new when the lucky buyer powers it up.
If your old phone is a flagship from a few years ago, you could try your luck on Facebook Marketplace, eBay, or Gumtree, get a quote from a site like Fonebank, or take it to a gadget store and see what they'll offer.
8. Use it as an in-car MP3 player
You could use your new phone to play music in the car, but then you've got the hassle of connecting and disconnecting it all the time. Instead, load your old phone with all your tunes and leave it connected to your car all the time. Put a music widget on the homescreen and you'll have quick access to your favourite songs every time you go for a drive.
9. Use it as a wireless computer trackpad
Did you know you can turn your old phone into a wireless mouse, trackpad and keyboard to control your PC or laptop? Get the Remote Mouse app and you can use your phone to browse the web, control presentations, and do everything else on your computer. Doing all that on a touchscreen feels much easier than using a normal mouse.
10. Keep it as an emergency phone
Here's a super practical suggestion. Fully charge your old phone, switch it off and keep it in your car's glove box. Then you'll be able to make a call even if your main phone's out of battery. You don't even need to keep a SIM in it if you just want it for 999 calls.
11. Donate it
Most charities take old phones as donations, selling them to raise funds for the good work they do. Search 'Donate phones to charity', and find one you'd like to help.