3 things we love about Metroid Dread on the Switch OLED
Make way for Nintendo's power couple.
06 Oct 2021

Everybody knows Nintendo don't just leave things to chance. So it's no coincidence they're launching the Nintendo Switch OLED and Metroid Dread on the same day. These two are obviously a match made in gaming heaven.
Not clued up on either? Let's fill you in.
The Nintendo Switch OLED is the gaming giant's new upgrade to their hybrid console, the Nintendo Switch. Its most obvious addition is (no kidding) a larger (7-inches) OLED screen. Although it does have a bunch of other things going for it too- more on that later.
As for Dread, it's the first new 2D Metroid game in almost two decades. So a pretty big deal. Samus Aran – one of the greatest female game characters of all time - is back and once again fighting for survival on an alien planet.
In this instalment of the franchise, the Galactic Federation receive a mysterious transmission claiming the lethal X parasites Samus killed in Metroid Fusion are actually still alive. And when the elite E.M.M.I. robots they send to investigate go missing, it's up to Samus to find out what's happened… which is how she ends up stranded on planet ZDR, searching for an escape from the now rogue E.M.M.I robots.
3 things we love about Dread on Switch OLED
#1 Its spooky sci-fi world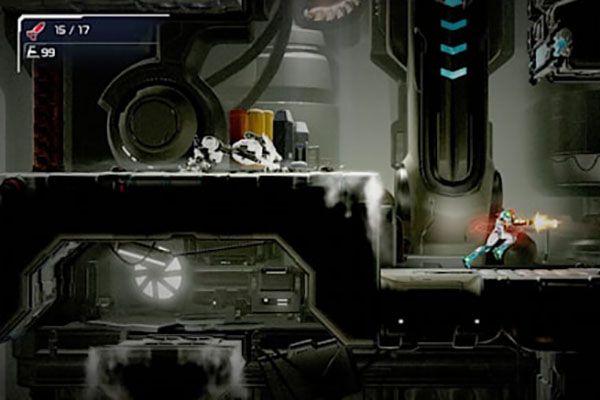 One of the first things you'll notice about any OLED screen is the colour. With an OLED, each individual pixel can turn on or off completely. So instead of the slightly washed-out grey you can get with some LED screens, you get the blackest blacks. All the colours look way more vibrant too, since there's a deep contrast between gloomy darks and bright colours.
And you can see it in Dread from the get-go. Even without the OLED tech, this game would be creepily atmospheric. The E.M.M.I robots that are stalking you can kill you in one hit, so you've already got a fair bit of adrenalin pumping while you frantically try to hide, run or face them.
Add the Switch OLED's ability to give the inky black shadows and menacing subterranean environment depth and realism, and you've got more than a few heart-pounding moments in store. So don't be fooled by the fact that that Dread is a 2D side-scroller, the OLED screen makes for a really stunning (and sinister) immersive world.
#2 Watch this space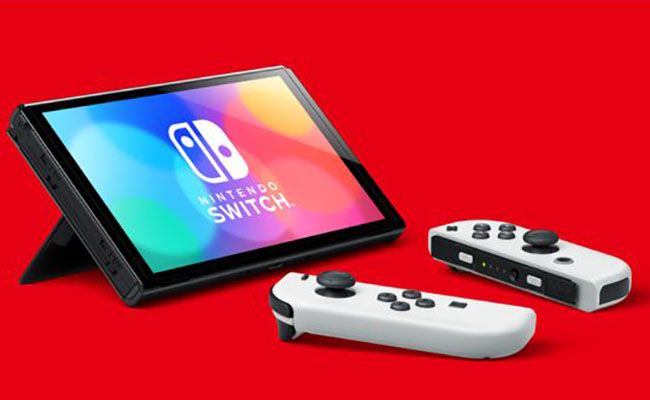 Nintendo have improved the built-in kickstand, so getting the right angle for tabletop play isn't an issue. So if you want to play Dread on the train, a plane, or round a mate's – you can set up pretty much anywhere, even awkward spaces.
The OLED screen gives you a wider viewing angle too. Obviously, this feature comes most in handy when there's a couple of you playing, saving you squishing right up against each other to see the screen properly. And while Dread doesn't have any multiplayer modes, its story can feel pretty cinematic. So, if you've got a mate or partner that enjoys watching you play, they don't need to be breathing down your neck to do it.
#3 Audi-ooooooh!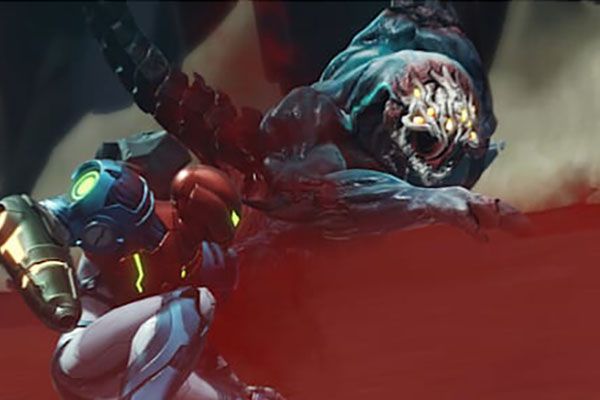 Sound plays a massive part in getting you properly stuck into a game. Especially for something like Dread where you're (literally) dropped into a completely alien world. That's why the Switch OLED's enhanced audio has a real impact here, letting you hear the roar of Samus's arm cannon loud and clear.
It's a welcome improvement, meaning you don't have to always hook up to your TV to the get the game as the devs intended. When you're on-the-go playing in portable or tabletop mode, you can get sharp, crisp audio too.
And then there's everything else…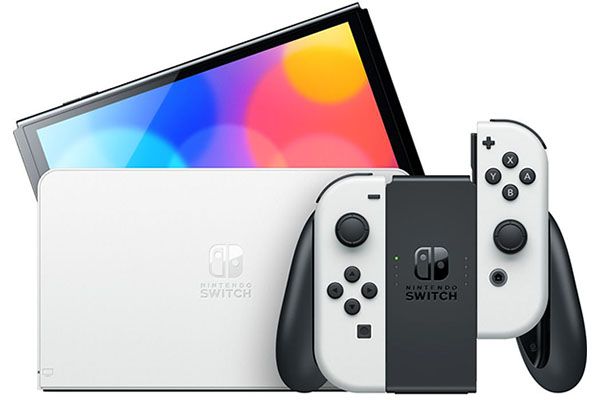 More space: Worried you won't be able to squeeze an extra game on your Switch? At 64GB, the Switch OLED has got double the storage of the original Switch. Plus, it still has a microSD card slot if you need more room.
New colourway: We're big fans of the new black and white colour option for a clean, futuristic look.
A LAN port: Wi-Fi on the blink? No problem. You can hook the Switch OLED up to a wired internet connection with the dock's new built-in ethernet port.
Switching up?
You can pre-order Metroid Dread right here.
And, whether you're after a Switch OLED, need help finding some games or are looking for a smaller Switch Lite, we're here to help. If you've got a question before you buy, chat to one of our tech experts in-store on via video chat on ShopLive.