5 apps that make watching football better
From watching live Euro games to catching up on stats, there's an app for you.
12 May 2021

1. BBC Sport
Best for: keeping tabs on the scores
If you're a footie fan, you'll be glued to most of the big Euro matches this summer. But sometimes work and other things get in the way of watching footie. So, how do you keep in touch with the results when you're in that big meeting or changing a nappy?
Luckily, you can follow the action on your smartphone wherever you are, with one of the biggest apps in the game...
Get BBC Sport on Android and iOS
Quick word of warning. If you are taking a cheeky peek at the scores on your phone while you're in that important meeting, be discreet. That means no cheering!

2. SofaScore
Best for: baffling mates with stats
If you like chatting/arguing with your mates about football, it's always a good idea to arm yourself with some actual facts and stats. There are some great apps for footie fact fans out there, and SofaScore is our favourite.
SofaScore is packed full of detailed stats and lesser-known facts, and has everything from player ratings to detailed scoring charts. Your pals will be astounded at the breadth of your footie knowledge, and there's even a detailed referee stats page to check out. Just in case you think they're biased against your team.
Get SofaScore on Android and iOS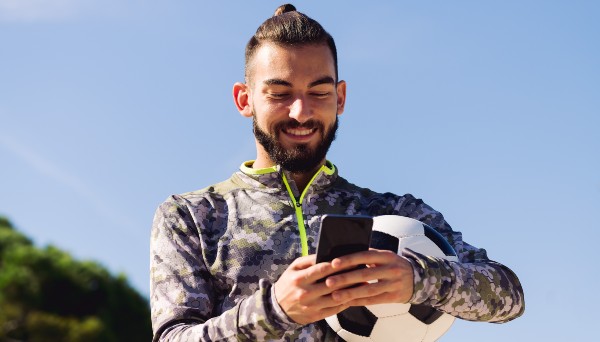 3. The Bleacher Report
Best for: your favourite team
Want to know everything about your team and not so much about others? You need an app that can be tailored to your interests.
We suggest you give The Bleacher Report a try. Simply input your team and it does the rest, pulling in transfer news, fixtures and tactics all in one place so you can easily view it on your smartphone. This is especially useful during big international tournaments like the Euros, when you want the latest on the other teams in your group.
Get The Bleacher Report on Android and iOS
4. FM Mobile 2021
Best for: bedroom managers
The Football Manager series needs no introduction. For years and years, this legendary game has been helping accountants, builders, office workers, plumbers and just about anyone else who ever dreamed of 'managing in the big time' prove they have what it takes.
To be successful you have to put the hours in – dealing with transfers, fixtures, press conferences, and tweaking formations until you've got the team of your dreams. In the past, this meant spending hours at your PC – but now it's on your smartphone in the shape of FM Mobile 2021 - so you can manage wherever you go!
Get FM Mobile 2021 on Android and iOS
5. SkyGo
Best for: watching the game on the go
It's all fine having goal updates, match highlights and more stats than you or your friends can handle. But there's nothing like watching the actual match, live.
Being on the go normally rules this out. But if you have the SkyGo app, you can watch footie live on your phone, using your monthly 4G or 5G data allowance. Or if you're in a coffee shop or pub, use their free Wi-Fi and save your data – just make sure the Wi-Fi is secure and trustworthy before you sign up to it.
Don't forget: The app is free to download, but you need a Sky TV subscription to watch games.
Great phones for footie fans