5 questions to ask before buying a laptop for uni
Not sure which laptop to take with you to uni? We'll help you work out what you need and where to spend that student loan.
21 Jul 2021

So, you've sorted out accomodation, packed your case and at least thought about making a start on the reading. At some point. But are you tech ready?
Nothing will get you better prepared for classes, courses and essays like a new laptop that has your back.
But what should you go for? Mac or PC? Laptop or tablet? There's a lot to think about. And that's why we've got 5 questions to help you find your perfect laptop...
1. Are you Apple, Windows or Google?
You need to figure out which operating system is best for you. You might have a favourite that you'll never stray from, but if you're not sure, here's a quick who's who:
Microsoft Windows: Word and Excel are as familiar as your slippers and the controls and layout are easy to get your head around. It gives you a huge range of laptops from the big names.
Mac OS X: Only runs on Apple computers, which are loved by creatives and cool kids and perfect for Adobe Creative Cloud. But Macs are equally handy with Word.
Chrome: Built around Google services like Docs, Drive and Gmail and runs on lightweight Chromebook laptops. You work online rather than on software downloaded to your laptop.
2. Will it travel with me?
If you're carrying your laptop from home to campus every day, you want it to be as thin and light as possible.
Pick something with these useful features:
Magazine-thin with a small screen to slide comfortably into your bag
Long battery life so you can ditch the bulky power pack
SSD storage to contribute to its lightness and durability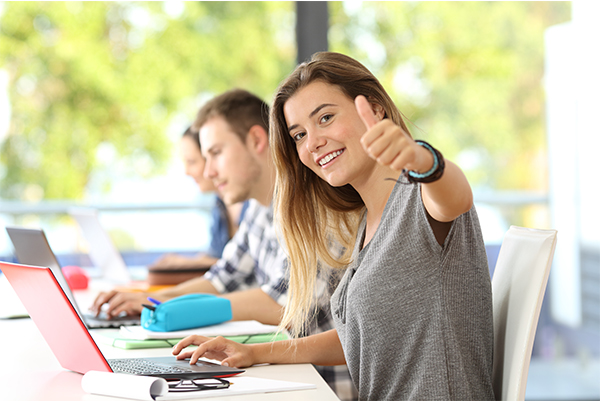 3. Do you need to do several things at once?
If you're writing essays in Word while chatting on WhatsApp and listening to Spotify, you're doing some serious multitasking.
To do this all efficiently, without lags and crashing, you need to invest in a laptop with the right processor.
A processor is your laptop's brain. Intel® is the biggest name in the processor game, and its Core™ models are the best-known. Choose a laptop with an Intel® Core™ i3, i5 or i7 processor and you can multitask to your heart's content.
4. Are you studying a design-related subject?
Design disciplines like graphics, fashion and illustration need demanding software like Adobe Creative Cloud with Photoshop and Illustrator.
So, look for a laptop with:
A high resolution screen for working up close on finer details of your projects
Intel Core i5 or i7 processor and a minimum 8GB RAM to meet the demands of Photoshop and other Adobe CC apps
Dual function as a tablet with a digital pen for designing directly on screen
5. Will you be playing as hard as you work?
If you're planning to binge on Netflix, you'll want to opt for a laptop with a decent screen.
A higher resolution screen will give you a sharper, punchier and more detailed picture, so you'll feel more like you're at the cinema.
Novice cooks may also want to master a few basic dishes with some handy YouTube food tutorials. For watching videos while cooking, think about a 2-in-1 design with a touchscreen and stand mode so you don't have to mess around with the keyboard or trackpad.
Need more info?
Our laptop buying guide will break down everything you need to think about.