5 questions to ask when buying a TV for watching sport
With a summer of sensational sport just around the corner, ask yourself the right questions to find a TV that can go the distance…
10 May 2021
There are loads of reasons to crowd around the telly, and big sporting events are one of the most popular. But it can be hard to do them all justice with a TV that just won't cut it – which is why you need one that'll really bring those iconic moments to life.
If you're after a TV that'll do just that (and then some), here are a few questions to get you started…

1. Should I "go large"?
Absolutely – where possible always go for a bigger TV (55" and above) as "with a larger screen you'll benefit from a wider viewing angle and bigger screen effect", says Currys's Mark Bater.
When watching football on TV, you can often see large swathes of the pitch, with several players on screen at once. Choosing a larger TV means you can see all of the detail – from individual blades of grass to the player's names on the back of their shirts.
However, you also have to consider the size of your room and how far you'll be sitting from the TV – don't buy a TV that's too big for the space it's in.
When to choose 8K
If you really want to supersize your living room (we're talking 70+ inches here), then the smart decision would be to go for 8K TVs.
Yes, they're very much a thing. And for screens reaching that size, they're the prime choice to get the best for your buck. When a screen is stretching as far as 70-80 inches, even 4K can struggle at times. But with four times the number of pixels, 8K can handle that extra screen with absolute ease.
Don't forget to measure up
You do have to consider the size of your room and how far you'll be sitting from the TV, though – you shouldn't buy a TV that's too big for the space it's in.
Our viewing distance guide should help: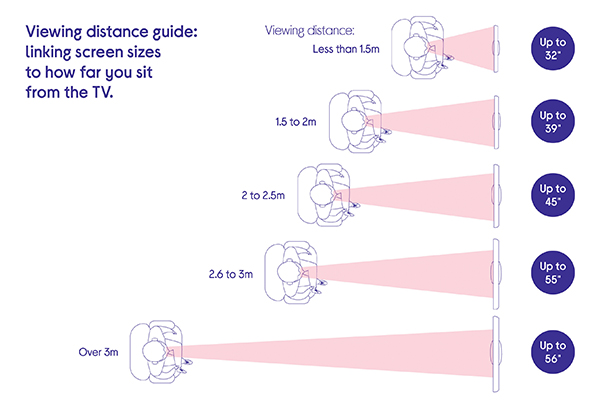 2. Should I get a TV with HDR?
Before deciding whether you should go with HDR, let's take a look at what makes it so much better than a regular TV.
What is HDR TV?
High Dynamic Range is the future of TV picture quality. It delivers a wider range of colour, brighter images and much better contrast for a more accurate and life-like picture, helping the match truly come to life before your very eyes.
4K UHD TVs have the power upscale regular content (if that doesn't sound heroic, we don't know what does). They do this using a very fast processing engine, and the better the processor in your TV, the better upscaling you'll enjoy.
And if you want to get a picture that's hard to beat, think about an OLED TV. OLEDs are great for bringing sports and movies to life.
3. How can I watch the latest 4K content?
The great news is that there is a huge library of content already available to watch. If you're looking for live sports in 4K Ultra HD then set-top box providers such as Sky and BT offer Premier League Football and Champions League in Ultra HD.
If you're looking for your favourite movies and box-sets, you can stream it directly from Netflix and Amazon. And, if you have Apple TV 4K you can plug it directly into your telly and enjoy your favourite content immediately.
4. Do processing rates matter?
Yes. Processing rates are important when buying a TV for watching sport. A lot of the action is fast-paced, so your TV will need to keep up with the action. So, having blur-free motion is important and to get that you need decent processing or refresh rates.
High processing rates mean that the motion on screen is ultra-smooth, improving the realism on the TV since the figures are moving a lot more accurately to how they do in real life. It makes the experience a lot more genuine, turning those tense moments into real nail-biters.
You'll see it measured in hertz (Hz) – the higher the number, the more times-per-second the image refreshes on your screen.
5. Do I need to boost my TV's speakers?
Modern TVs are very slim. This means there's not much room for powerful speakers. But fear not – you can create a big game atmosphere by adding some home cinema tech.
Sound bars are a worthwhile chum to a TV – they're the easiest way to beef up your TV's speakers to give you the full stadium experience.
A soundbar is a single, oblong-shaped box containing several small speakers and a woofer for bass. You can mount it underneath your TV, or pop it on the TV stand. It's clutter free, easy to set up and, most importantly, sounds incredible.
Feel as though you're in the thick of the action, with the roar of the crowd and the thwack the ball in true stereo sound to the left and right of you and virtual surround sound. It'll be just like you're sat in the stadium.
Check out these match winners!