5 reasons you need a Microsoft Surface Duo
Want to stay at your productive best at home, in the office and on the move? This device may have all the answers…
30 Mar 2021

It's always a great thing when new tech genuinely innovates and breaks with tradition, especially at a time where most phone, tablet and laptop brands are doubling down and refining their existing form factors. For a long time now, devices have looked largely similar, leaving things like internal hardware, seamless software and big storage to be the deciding factors. That's all set to change now though as Microsoft have unveiled their brand-new Surface Duo.
Combining the convenience of a tablet with the feeling of a laptop, this device is unlike any we've seen before. And it may just transform the way you work, wherever you are. Here are five reasons to level up with the Microsoft Surface Duo:
Duo more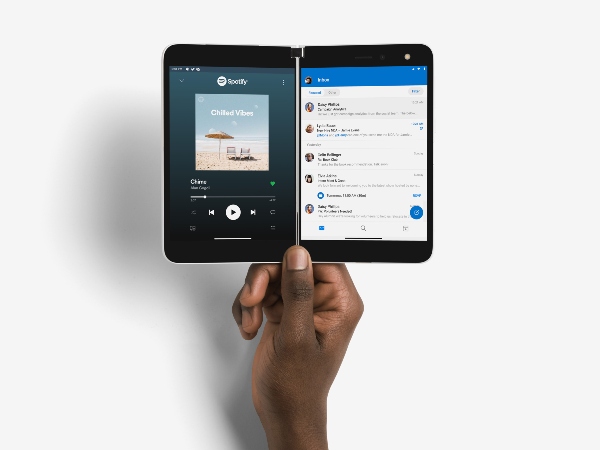 When it comes to portable productivity, the Surface Duo means business. The ability to run two apps side by side has been around on smartphones and tablets for a relatively short time. However, the 'conventional' tablet/phone design means you lose screen space in order for the apps to work alongside each other. The Microsoft Surface Duo, on the other hand, has really nailed it.
The two fully fledged PixelSense Fusion screens are made to show two apps at once, so you can see all your content, from both programs, right there. Scroll through your emails while you check Twitter, or play a podcast while drafting a letter. It all feels very intuitive and natural.
Copying and pasting is no longer a multi-step process, either. Just drag the content you're looking at from one screen and drop it onto the next. Simple.
Type like a pro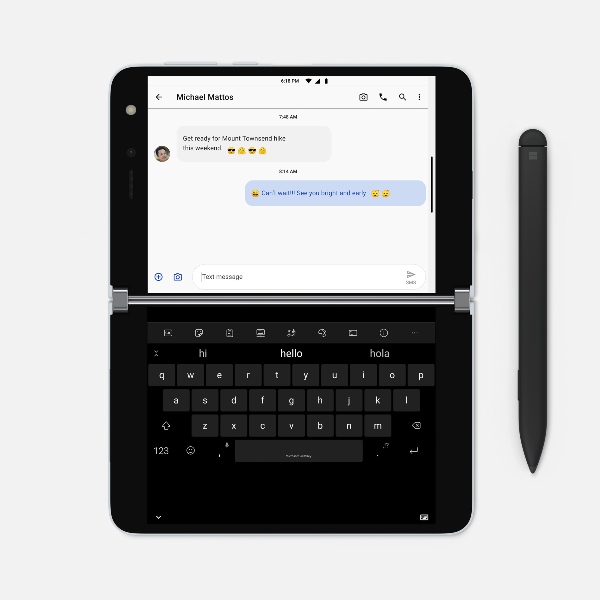 There's no two ways about it, typing on a keyboard is easier than tapping a phone or tablet screen. It's pretty much the reason auto-correct exists, and it's also the reason that, up until now, many people save larger tasks like writing assignments or creating presentations for when they're on a laptop or PC.
That's why we love the Surface Duo's full screen keyboard setup. It makes composing emails, writing pages and typing URLs that much simpler. And, unlike your old-fashioned keyboard, it's still got predictive words above the letter keys to help you type that much faster.
Launch two apps at once
Ever log into your device in the morning and find yourself opening the same programs in the same order, one by one? Whether you're working in a particular industry or studying in a particular field, you're likely to be using the same few apps frequently, rather than many apps sporadically. You're probably flicking between at least two programs at any given time, when really things would be simpler if they worked together.
Microsoft knows the struggle, and that's why the Surface Duo lets you create App Groups. Simply pair two apps that you frequently use together and you can launch them simultaneously. So, with a single tap, you can fire up Excel to get started with work and load up Teams to make it to that morning meeting.
Read books the traditional way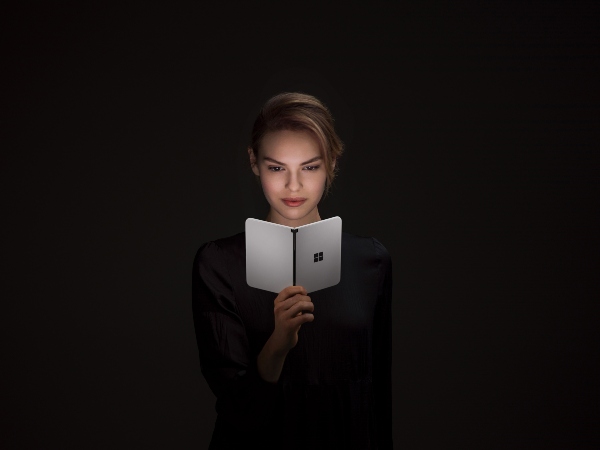 There's not much better than getting into a good novel. While the e-reader experience isn't quite the same as the feeling of leafing through the pages of a book, the Surface Duo comes pretty close.
Simply switch to horizontal view, fold it just like a book and see more on each page before flicking onto the next. It may be the size of a small novel when folded up, but this thing has the space for an entire library. So, you can take your whole virtual bookshelf wherever you go and dive into a great read.
The best of Android and Microsoft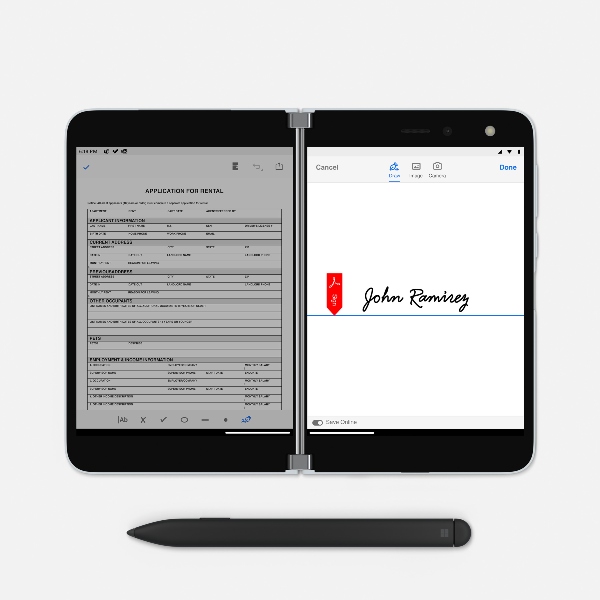 The Surface Duo doesn't hold back on either performance or choice of apps. It's powered by a Snapdragon 855 processor that's been optimised for the dual screen, and it runs on Android 10 (with an update to Android 11 coming later in the year).
From the very start, you've got familiar Microsoft programs like Teams, OneDrive, Word and Excel ready and waiting. But you've also got access to the Google Play Store, with a big selection of apps that'll help you get the best out of the device. Everything you need both to get stuck into work and keep entertained on the go, right there, in a single compact device. It might just be a gamechanger.