What to consider when buying a laptop for your child
Top tips on getting your kid their dream screen…
11 Jul 2022

Thinking about buying a first laptop for your child? There are lots of things to consider, from operating systems to online safety. So, here's a quick guide to help you get the best kids laptop…
What age should a kid get a laptop?
It's entirely up to you when to get your kid their first laptop. These days, more and more pre-schoolers are learning online. In fact, over half of 3-4 year olds have their own device. Just make sure they're only seeing content appropriate for their age, and that you're having the right kind of chats with them. More on that below.
Choosing an operating system
Most laptops will support one of three operating systems (OS) – Windows, Apple or Chrome. Each has its own unique features – you just need to decide which is right for your child.
Windows 11. The latest OS from Windows runs the popular Microsoft Office that includes Microsoft Word, Excel and PowerPoint. So it's really useful for school projects, presentations and essays.
Apple computers run macOS. It's loved by creatives and professionals, but it's great for kids too. Apps like Pages and Numbers are brilliant for schoolwork.
Chrome is a Google OS. It's built around going online, so the software isn't stored on the laptop but on cloud-based apps. This makes Chromebooks speedy, secure and affordable. They're a great laptop for kids of any age - even older children studying for uni.
Setting up a laptop for a child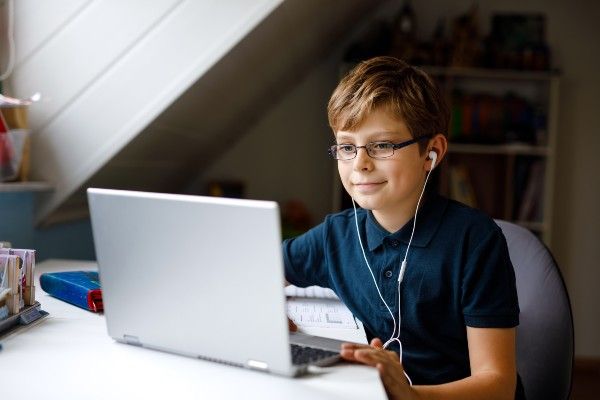 Before handing over a laptop to a child, it's important you set up some parental controls. This lets you decide what your child can look at, and prevent them from viewing or downloading inappropriate content.
Depending on your operating system, you can research parental controls on Apple support, Google Play, or the Microsoft family safety feature (for Windows laptops).
Setting time limits on your kid's laptop
There's lots of research showing that staring at a screen for too long is not good for children. It's not only unsociable – eating into quality family time – but also strains young eyes.
Modern laptops have clever tech built-in which limits eye fatigue – like the Blue Light filter in Windows 11 – but the best idea is to set limits on your child's screen time. 5 top tips to manage children's screen time (from child internet safety charity Internet Matters) has the best advice we've seen on doing this.
Keeping viruses at bay
If your laptop isn't protected, visiting the wrong website or innocently opening an email attachment can be all that's needed
for a virus to sneak onto your child's computer. Luckily, there's lots of good antivirus software to keep your laptop safe from viruses and malware.
Talking to your child about online safety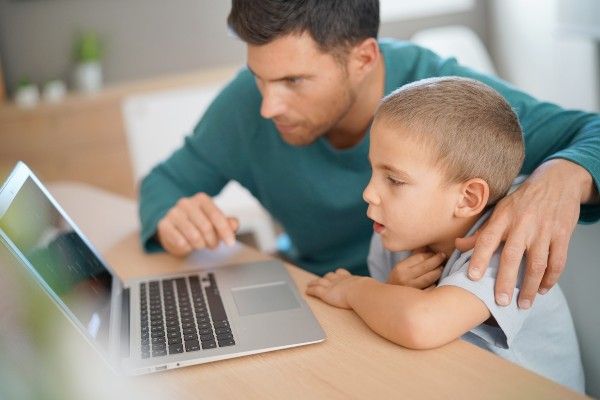 Now their laptop is secured, there's just one thing left to do – talk to your child and make them aware of any issues that could crop up when they're online. It's the best way of keeping them safe. Should chat about:
Here's some more great internet advice by age, from Internet Matters.
Best laptops for children
Now it's time to think about which laptop to buy for your child. Your choice will depend on what they'll be using it for, and how old they are. Here are a few suggestions for starters.
The Lenovo IdeaPad 1i 11.6-inch laptop is a great entry level model for 5-9 year olds. It's slim and light, but also pretty powerful and speedy. And the 11.6-inch HD display is a great size for your kids to do their homework and work on online learning platforms - and YouTube, if they've been behaving.
A step up for 10-13 year olds would be the Lenovo IdeaPad 1i 14-inch laptop. That bigger display is great for working on more complex school projects, and it's powerful enough for multitasking - so they can be taking notes while watching educational videos. They'll quickly discover it's also a great gaming machine.
For older schoolkids and students, the Lenovo IdeaPad 3i 14-inch laptop is a solid choice. There's no waiting around on this machine. The Intel® Celeron™ processor has all the speed needed for tasks like serious studying, scrolling social feeds and surfing the web. We're also big fans of its 'eye care mode', which reduces eye strain by turning down blue light to comfortable levels.
Any questions?
If you need any more help finding the best laptop for children, our laptop buying guide is a good place to start. You can also pop in-store or chat to a tech expert via video call on ShopLive.
Treat your kid to a dream screen...