5 things to know about Xbox Series S
What's the story with the digital next-gen console from Xbox?
22 Jun 2021

So, you probably already know there isn't one, but two next-gen Xbox consoles: the Xbox Series X and the Xbox Series S. But how much do you really know about the Series S, other than that it's the smaller sibling of the Series X? Well, despite its little size, there's a lot to love about it. Here are 5 things to know about the Xbox Series S.
#1 Small but mighty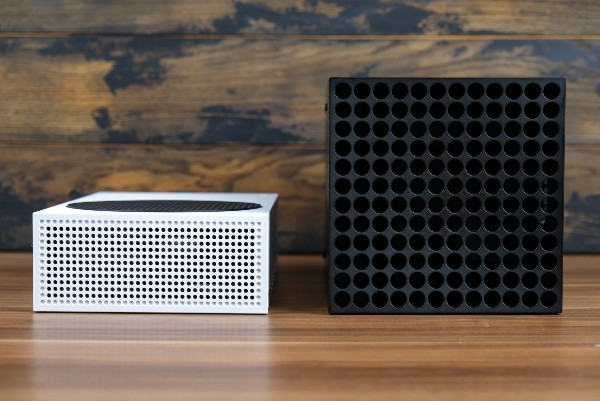 Did you know the Xbox Series S is 60% smaller than the Series X? Yep- it's a heck of a lot smaller, making it easy to tuck away on a shelf or even take with you to a friend's house. Plus, it's got a smaller price point to match too.
That doesn't mean you're missing out on the next-gen console experience though. It's true the Series S doesn't have all the bells and whistles of its more expensive counterpart. But it sure comes close.
Graphical features that make a big difference to how your games look and feel are all still a big part of the Xbox Series S. Variable refresh rates and ultra-low latency to make lag and game stutters a thing of the past. Plus, variable rate-shading and DirectX ray-tracing will give every bit of gameplay that next-gen pop.
It's powerful too. The Xbox Series S has 3x the GPU performance of the previous Xbox console generation. So, if you're wondering how much better the Series S is than an Xbox One, the answer's quite a bit.
#2 It's totally digital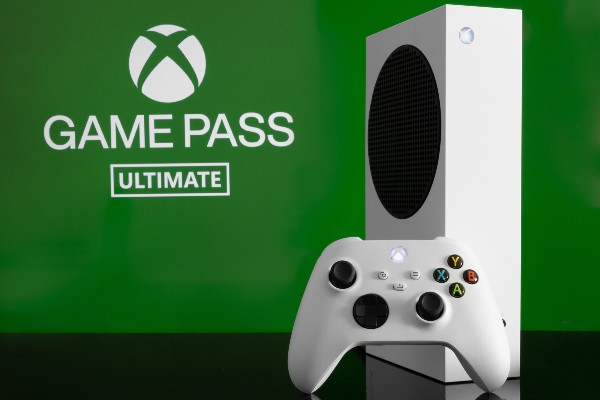 One way the Xbox Series S has shaved off that extra bulk, is by ditching the disk drive. Of course, for some people a disk drive is a must-have- especially if you tend to buy pre-loved games. But for most of us, digital only does just fine.
That's the way Xbox seem to be headed too, with more titles hitting Xbox Game Pass every day. For those of you who aren't in the know, Xbox Game Pass is a bit like Netflix for gaming. Pay a monthly subscription fee and you get access to thousands of games, old and new from big developers like Bethesda and EA. Check here to see Xbox Game Pass explained.
In fact, in the latest Xbox & Bethesda E3 showcase, they made it pretty clear that Game Pass is going to become the norm for most Xbox games. Huge titles like racing game Forza Horizon 5 and legendary FPS Halo Infinite are now going straight on Game Pass Ultimate the moment they're released. And, of course, there are plenty of free to play games too, like Fortnite and Rocket League.
Worried about spending hours waiting for games to download? Don't be. With digital titles, you can pre-download them before the game is released. That way, you can jump straight into the action on launch day. Digital only doesn't sound too bad, does it?
#3 Get that speedy SSD storage
SSD (or solid-state drive storage) has been used for quite a while in computers, but for consoles it's the latest and greatest thing. And no wonder- it can have a massive impact on the way you play.
Compared to traditional hard drive storage, SSD is way faster. That means your games load in the blink of an eye. Loading screens between levels? Nope. Now one scene can seamlessly blend into another, without you having to wait around. You can even switch between two games without missing a beat, thanks to Quick Resume.
#4 No 4K TV? No worries
We've already talked about what features match between Xbox Series X|S, but one of the big differences between them is the resolution they support. Although the Series S can't quite match the Series X's ability to play games in 4K at 120fps, it can still hit an impressive 1440p at 60fps. That's still HD quality, and still with an awesome frame rate.
Anyway, unless you have a 4K TV or monitor, the Xbox Series X's 4K power is pretty much wasted! If you're not ready to invest in a 4K set-up yet, the Series S is perfect. You're getting the best your TV can handle, without paying extra for something you can't use.
#5 Control it with your voice.
Got your home kitted out with smart tech? Add your console to the mix! You'll need to set it up, but once you have you can get your Xbox Series S working with either Alexa or Google Assistant, whichever suits you best. Tell it which games to play, to mute your console or open up an app like Netflix.
Does the Series S sound like your cup of tea? If so, why not check out the Series S and Xbox Game Pass bundle…