7 best Nintendo Switch games
Get the best from your Nintendo Switch with these modern classics!
01 Feb 2021

Despite being released back in early 2017 and competition from next-gen consoles, the Nintendo Switch remains one of the world's best-selling games machines around.
Why? Maybe because it's unique. You can plug it into your TV or take it with you wherever you go. And whether you're button bashing or throwing shapes, It's one of the most downright fun consoles around. With everything from family multiplayers to serious RPGs, there's something for everyone.
So if you've gone and bagged a Switch or you're thinking of picking one up, here are some of the 6 best Nintendo Switch games that are must-haves for anyone who loves gaming.
1. Animal Crossing New Horizons
Animal Crossing New Horizons is all about building a better world with a huge community of players – whether that's a couch co-op or online. Interact with Animal Crossing villagers, explore the world around you and create your piece of paradise.
And you play the game your way. You can pick from loads of different Animal Crossing characters – whether you're a collector, a designer, an artist, you'll find something to suit you. Craft, customise, dig and decorate to your heart's content! If you want to get creative on your Nintendo Switch, Animal Crossing is the one for you!
2. Minecraft Dungeons
If you like the blocky, creative world of Minecraft but want to throw some RPG combat into the mix, Minecraft Dungeons for your Nintendo Switch is a great pick. There's not much building going on as with former Minecraft Nintendo Switch titles. Instead, this is a classic dungeon crawler. So, if swinging a sword, collecting loot and levelling up your hero float your boat, you'll feel right at home in the deep, dark Minecraft dungeons.
3. Pokemon Shield
Another long running gaming legend, the latest Nintendo Switch Pokemon phenomenon is Pokemon Shield. So, what's so great about it? You can play the game your way. Pick your fave Pokemon from Pokemon Shield starters, explore the world, play through the story and complete missions.
Or go hardcore, hunt Pokemon and breed your new creations. You can play through the game by yourself but it can be good to get help from friends online. Some of these Pokemon are tougher than they look! You've got 8 Pokemon Shield gym leaders to take down. So, good luck and have fun!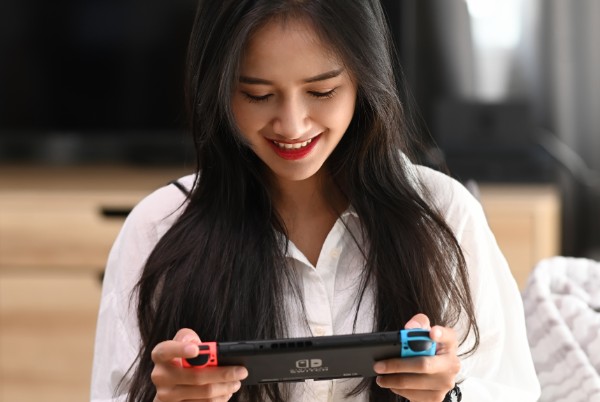 4. Fortnite Battle Royale
Play against your mates on online against the world in this family-friendly shooter. One great reason to get Fortnite - Nintendo Switch edition – is that it's free to download. Another reason to get Fortnite Battle Royale is that it's a ton of fun, has a huge global following and the game is constantly being added to with new worlds, new skins and new competitions. So, load it up and jump into the action!
5. Mario Kart 8 Deluxe
If you own a Nintendo, you have to own a Mario game. It's the law. And if you own one Mario game, make it Mario Kart 8 Deluxe. Nintendo Switches everywhere are better for the high-octane thrills, classic and new maps and a huge stable of Mario Kart 8 Deluxe characters. You'll even find characters from other games, like Animal Crossing. While you can play on your own, it's far more fun to take on people on the same couch or go online and play the best. Grab those power ups and steer well clear of those hungry plants! Trust us.
6. Zelda Breath of the Wild
It's a massive credit to Nintendo that Zelda, one of their most classic Nintendo characters, was remade as an adventurer in one of the best open world RPG games ever created. And Zelda, Nintendo Switch edition, make a lot of sense as you can play as Link on the big screen or take your Switch with you to play handheld wherever you go.
The Legend of Zelda, Breath of the Wild is a truly epic achievement. So, grab your weapons, pick your costume and battle and puzzle your way through the Kingdom of Hyrule!
7. Super Smash Bros Ultimate
If you're after fantastic multiplayer fun, check out Super Smash Bros – Nintendo Switch. It's part platformer, part beat em up. Pick your player from loads of Super Smash Bros ultimate characters (everything from Mario to Street Fighter's Ryu) and battle each other across loads of different worlds.
This is fast paced family fun. Grab power ups, pull off eye-popping combos and knock your opponent off their platform. The vanilla game comes with tons of characters and stages, but grab the Nintendo Super Smash Bros Ultimate DLCs when you want even more. Game on!