7 great reasons to be an armchair football fan this summer
Thanks to clever tech there's never been a better time to enjoy football from the sofa!
11 May 2021

When it comes to watching the footie, people always say you can't beat being there in person… but can you? Watching the football at home means no queueing for the toilets, no overpriced food and drinks and no schlepp back home after.
Okay, so yes, nobody's going to turn down a ticket to the Euros. But don't fall for the FOMO! Here are some reasons why WFH (Wembley from home) can be just as good…
1. See it from every angle
Was it a penalty? How was that offside? All very tricky questions to answer when you're sitting in a stadium of 1000s and the players are the size of ants.
But watch it at home and you see the game in a whole new dimension. In the 2016 Euros there were a whopping 46 different cameras used to film live footie matches. And we imagine it'll be the same for 2021! So you're seeing shots from every possible angle.
Not only that, but you get the added extra of instant replays and expert pundit commentary. Analyse, enjoy and soak it all in without missing a thing!
2. Get the best seats in the house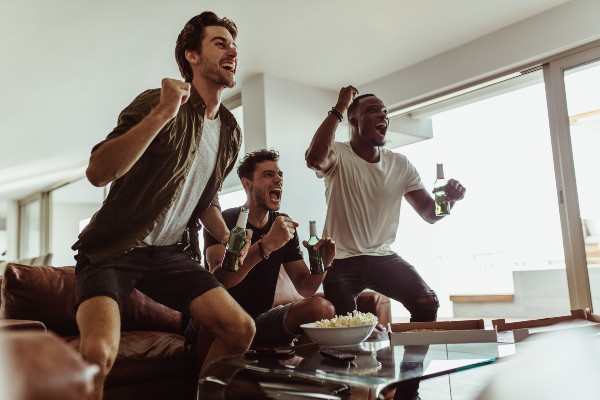 There's nothing more disappointing than dragging yourself halfway across the country and paying a premium to watch your team play – only to have your view blocked by a sea of heads and shoulders.
Watch it at home and you'll get an uninterrupted view of the match – as well as close ups of all the key moments. You'll save yourself a lot of time and expense too.
3. Enjoy a view that's as good as real life
Thanks to 4K HDR TV, the picture quality of the big matches is incredibly sharp. Invest in a 4K HDR UHD TV and watch the match on BT Sport Ultra HD or Sky Sports Ultra HD and it'll feel like you're at the game. Dedicated to 4K – those two channels deliver top-flight football with 4 times the detail of HD!
Even when watching on one of the HD channels - from BBC, ITV and Sky – the picture will be even clearer thanks to your 4K TV's clever upscaling engine. This takes content from anywhere and gives it an extra boost, so you'll feel like you're getting the best picture whatever you're watching.
For the ultimate viewing experience – no matter which channel you view the match on –look for OLED TVs. The picture will be perfect from every angle. And they're super smooth – ideal for fast-paced games.
Find the perfect 4K HDR or OLED TV
4. Immerse yourself in stadium sound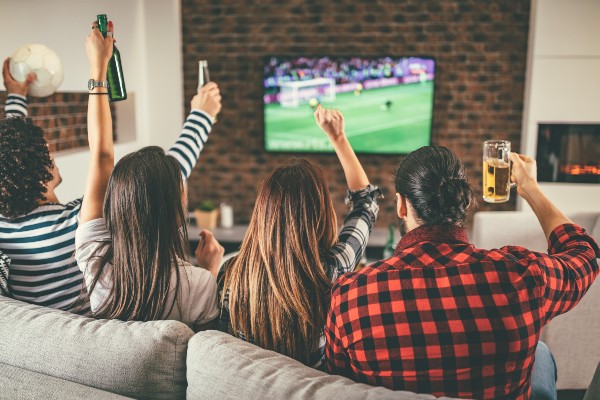 The roar of a packed footie stadium is enough to give you goosebumps. And you can recreate this atmosphere at home – get the right home cinema tech and you'll fill the room with sound.
Sound bars are streamlined rectangular boxes packed with speakers – they let you upgrade your TV's sound with minimal fuss and clutter. Add one to your set and you'll hear the roar of the crowd and the thwack of the ball from every angle.
Soup up your sound with a soundbar
5. Keep your eye on the ball – and other matches too
In a bid to climb the league tables, sometimes the results of other games are as important as your own team's performance. Sure, you can use your smartphone's 4G to check for updates when you're at a game – but can you always rely on the signal?
Armchair fans can keep their finger on the pulse. Keep an eye on what the experts are saying on Twitter, tune into the radio or get the scores from a smart device for updates on other games – all while getting to watch the main match on the big screen.
Find the perfect tablet for second-screening viewing
6. Get the lowdown on teams in seconds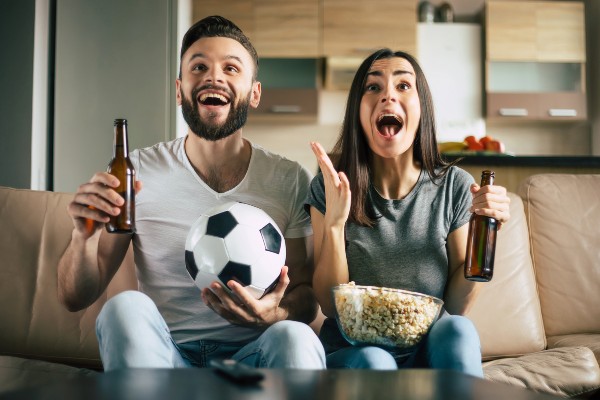 Even the most knowledgeable footie pundit can't know every stat on every player. And when your 4G fails at a big match you've only got the knowledge of other fans to go on.
But watch from the comfort of your sofa and you've got the benefit of having the world wide web at your fingertips. Use your mobile – or watch the coverage on your TV - to check why a key player is out of the squad, or what the managers said about the team before kick-off.
Before the match starts, you'll have the full lowdown on every player in the team.
7. Say goodbye to half-time queues
The nail biting first half is over, and you want to get a snack and nip to the loo before the second half kicks off. But the queue for both is enormous and you miss the first 5 minutes. Gutted!
Stay at home and you can wave goodbye to queues. Stock up your fridge freezer with your fave matchday snacks – from deli meats and dips to pizza and beer. Digital TV viewers can even pause the game – so they won't miss any crucial moments of the second half.
Find your perfect TV for the summer of football
Shop football-at-home tech