Everything you need to know about Sony WF-C500 Earbuds
Pocket-sized award-winning earbuds that restore that analogue warmth and detail? Yes please…
13 Dec 2021

Truly wireless earbuds have completely transformed the way we see and use headphones. With no wire between the earphones or leading to a music device, earbuds have made listening to music on the go more convenient than we imagined even a decade ago.
Now though, when the word 'headphones' is mentioned, you're probably more likely to imagine a pair of subtle earphones than a pair of heavy-duty overhead cans. And Sony have been leading the way.
While Sony over-ear headphones are up there with the best, it's their earbuds that do the best job at tuning into studio quality sound wherever you go. Here, we'll show you exactly why the What Hi-Fi? award-winning Sony WF-C500 earbuds are a solid choice for commuters, music-lovers, and those that love a podcast when getting from A to B. Let's get started:
Switch up the sound to suit you
Warmth of analogue, convenience of digital. That's the dream combo. But listening to digitally compressed files means certain details can get lost in the mix – crisp percussion, subtle hi-hats or even top-end vocals. That's why Sony's Digital Sound Enhancement Engine (DSEE) reworks some of that analogue magic back into your music. Your space-saving MP3s are automatically restored, so you can listen to your favourite tracks in all their glory.
If you're one of those people that listens to pop classics one minute, heavy rock the next, followed by hip-hop for good measure, you'll know that EQ and sound signature aren't 'one size fits all' for every genre. You need to play around with the bass, mid and treble to hear your tunes as the artist and producer intended.
While most headphones and earbuds try and stick with a balanced EQ to get the best out of as many genres as possible, Sony WF-C500 earbuds put the control in your hands. Don't worry, you won't find clunky specialist controls on the earbuds – this kind of in-depth tweaking requires an app, and the Sony Headphones Connect app is made for the task.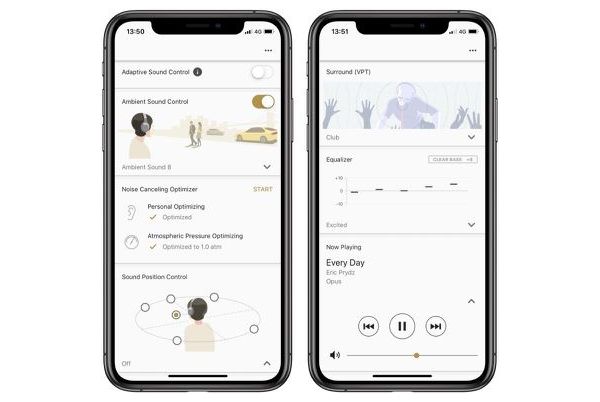 Once you're connected in the app, pick the perfect EQ preset to suit what you're listening to, or completely customise your own from scratch. And you can even add virtual surround effects like Concert Hall or Arena to get that live music vibe while you go about your day. Smart!
Top tip: Like to get stuck into an episode or two of a new show when you're out and about? WF-C500 are just as good for TV as they are for music. Low latency Bluetooth means that the sound syncs up perfectly with the picture, so you can see and hear what's going on at the exact same time.
Snug as a bug
A good pair of earbuds should be so light and comfy that you forget you're wearing them, and Sony WF-C500 earphones do just that. They're designed smaller than most earbuds, with a smooth rounded shape that keeps them feeling snug even hours into a podcast binge.
And in rainy walks and commutes in unpredictable weather, Sony WF-C500 earbuds are as at home as they are on sunny days in the park. They've got an IPX4 rating for water resistance, so a drop of rain won't ruin your listening experience. They'll sound just as detailed and feel no less comfortable, and a quick wipe with a dry cloth is all that's needed to keep them looking good as new. Easy.
Keep the music going…and going
If you've checked out your 2021 Spotify Wrapped recently, you'll know exactly how many thousands of minutes you spend zoning into music and podcasts over the course of a year. That's before you add the time spent streaming movies and shows and chatting away to family and mates. A pair of earbuds that can keep up with your routine are as essential as your phone, keys and wallet when you're out.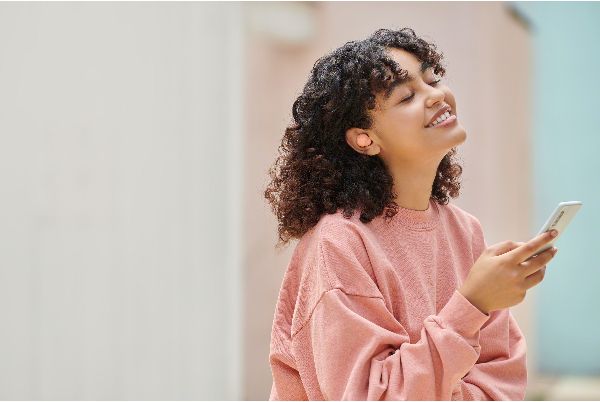 For true wireless earphones, Sony WF-C500 earbuds have a seriously impressive battery life. On a full charge, the earbuds will provide up to 10 hours of listening – long enough to get through a discography or two, or even an entire season of a big-budget drama. And even then, when they start to run low on juice, there's no need to rush back to charge them. The handy charging case adds another 10 full hours of power to the earbuds, so you can keep the tunes going for almost an entire day before plugging them in to recharge.
And for those mornings when you're in a rush to get your day started, just 10 minutes charging is all that's needed for an hour of listening time. That should see you through the journey to work or college, no problem!
Like what you hear? For more info on the amazing Sony WF-C500 earbuds, visit us in store or chat to one of our tech experts online via Shoplive video call.
Take your music everywhere you go