How to keep your home secure with Google Nest
With just three pieces of smart tech, learn how to make your home a fortress right here…
29 Oct 2021

Installing a security system at home no longer needs technicians, trailing cables, or a big box to save all the footage your cameras pick up. In fact, smart home technology means it's never been easier, and anyone can do it.
Building a smart security system is surprisingly affordable, because you don't need to splash out on everything at once. It all links wirelessly over the web, and its 'modular' nature means you can add even more functions with each new piece of smart kit you buy.
Here, we'll show you how Google Nest can protect your home. Here's what you'll need:
A Wi-Fi connection
Smartphone
Google Nest Hub (2nd Gen)
Google Nest Doorbell (Battery)
Google Nest Cam (Battery)
Check out our video or read on below!
Build your Nest
Okay, so we'll assume you've got your Wi-Fi, smartphone and Nest Hub sorted. Now it's time to add some security inside and outside your home. The good thing is, connecting both the Google Nest Doorbell and Nest Cam takes only a few moments.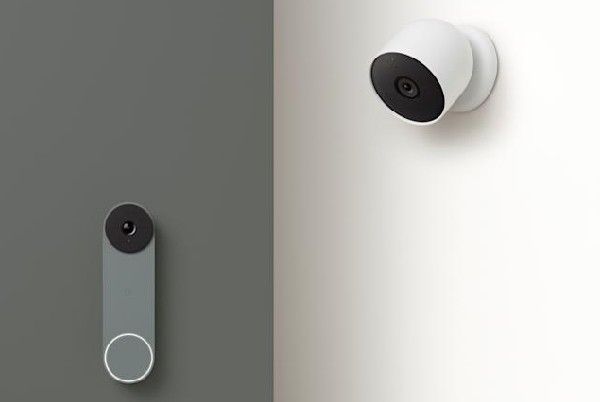 First, make sure your phone's connected to the same network you plan to use for your smart tech. Now, head over to the Google Home app on your smartphone, and tap the little '+' in the top left. Then, tap Set up device, followed by New device, and pick which one you're installing. Both the Nest Doorbell and Nest Cam should be easy to find under the doorbell and camera categories.
This is the clever bit. The Nest Doorbell and Nest Cam have a QR code on the underside that lets you quickly add them into your Google Home setup. Just scan them with your phone's main camera!
Once you've done that, add it to your Wi-Fi network and give it a location name. We're guessing you'll go 'Front door' for the doorbell, but the Nest Cam can be placed virtually anywhere. So, make sure it's in a good spot and has an accurate name to match.
Quick tip: When installing the Nest Doorbell, place it roughly five feet off the ground for the best coverage. And if you're using it wire-free, make sure the battery's charged first!
Check in from your Nest Hub
Now that everything's all linked up and ready to go, you can look at your live camera feeds from your Google Nest Hub. As before, make sure your Nest Hub is signed into the same Wi-Fi network and Google account as your phone.
Viewing the camera you want to see from the Google Nest Hub is as easy as asking. All you have to do is say "Hey Google, show me my hallway camera" or "Ok Google, show me the front door", and it'll open up that camera's live feed.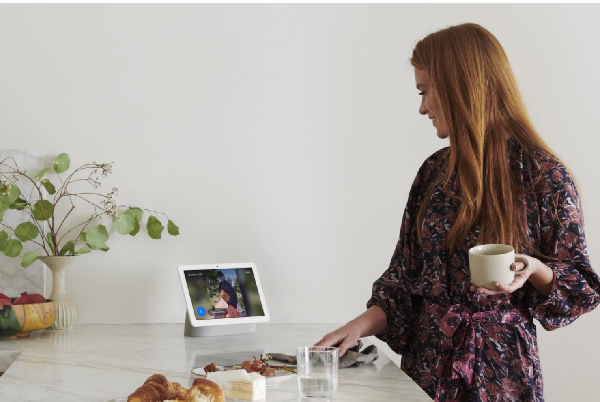 While you're there, don't forget to turn visitor announcements on in the settings, too. That means your Google Nest Hub and other Google Speakers will get an alert when there's someone at the front door.
Wherever you put the camera, inside or outside, you don't need to play around with lighting to capture everything that's happening. Both the Nest Cam and Nest Doorbell have HDR to show accurate colours in sunlight or brightly lit rooms, and night vision to keep your patio or hallway secure when it's dark.
Check in from anywhere
One of the best things about having a wireless smart security system is that you know what's happening at home even when you're not around. That's why it's essential to have all your connected smart devices right there, ready to check in on your smartphone with the Google Home app.
For instance, with your Nest Doorbell up and running, it'll keep track of more than just parcel deliveries. You can view what's going on from your front door any time, and notifications mean you're always one step ahead. Plus, it knows the difference between people, vehicles, and animals, so unnecessary alerts aren't really an issue. When you do want to spontaneously check in, just open the Google app and tap on the front doorbell.
While the Nest Cam is equally at home outside as it is inside, we recommend putting your first one inside to make your home safer. If something happens, you'll know right away, and you can decide how to respond. You can talk through the camera from your phone, zoom in on the picture and hear what's going on with the camera's mic. Whatever the situation, you're always in control.
Just starting out and after some smart home inspiration? Check out our guide to making your home a smart home.