A first look at the new Galaxy Note10 & Note10+
Samsung has unveiled their new flagship Note that's all about power. Prepare to be impressed.
19 Aug 2019

The Samsung Galaxy Note series of smartphone began in 2011, and it's gained a lot of loyal fans over the years. Phone owners just can't get enough of its revolutionary S-pen stylus and large display. It's always been especially popular with business users and it's becoming more popular with younger phone users who are always on the go – helping them to juggle priorities in their busy work and social schedules.
And now, Samsung has done it again! The Galaxy Note10 family has just been unveiled (there's a 4G and 5G version, along with a supersized Galaxy Note10+) and it's nothing short of spectacular. The key word here is power. This phone is packed with it. Let us explain…
For a quick rundown, check out our Meet the Samsung Galaxy Note10 and Note10+ video:
Cinematic display gives you the power to multi-task
Galaxy Note10+
6.8-inch Cinematic Infinity-O display
Galaxy Note10
6.3-inch Cinematic Infinity-O display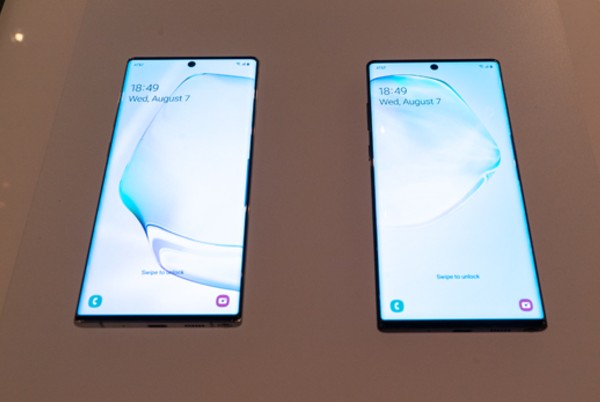 The Galaxy Note10 is a real head-turner with its polished metal, minimal bezels and subtle curves. The display is something special too, giving you a cinematic experience in your hand with amazing detail in everything you watch. Boxsets and blockbuster movies just burst from the screen, and the colours are fantastic.
The quality and size of these displays makes split-screen multi-tasking a breeze, especially on the bigger Galaxy Note10+. If you want to enjoy a movie on your commute home while firing off a few work emails at the same time, it really couldn't be easier.
Cameras that give you the power to shoot like a pro
Galaxy Note10+
Quad rear camera: 12MP wide + 12MP Zoom + 16MP Ultra wide + 3D Depth Lens
Galaxy Note10
Triple rear camera: 12MP wide + 12MP Zoom + 16MP Ultra wide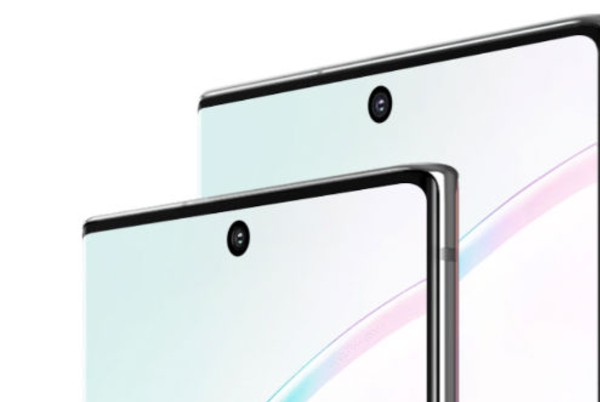 Both Galaxy Note10s have multi-lens cameras that give you the power to take shots like a pro.
They're smart enough to judge depth and distance, so your shots will always be full of amazing detail.
And if you've always wanted to shoot professional-looking videos, well, now you can. The Galaxy Note10 always keeps the action smooth and super-steady, and you can blur backgrounds to put the focus on exactly what you want.
The revolutionary S-Pen stylus
As well as sketching out designs and jotting down notes, the latest S Pen gives you the power to do much more. For example, it automatically turns your handwriting into text. And because it's equipped with Bluetooth technology, it works as a remote camera controller - you can click to zoom in and out, and snap spectacular group selfies.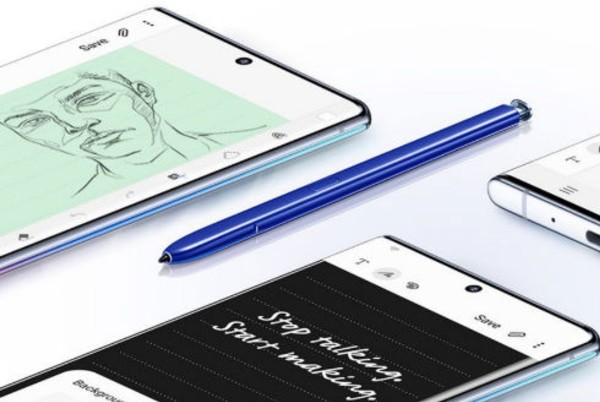 It's also a great clicker for giving your presentations a professional touch. You've got the power and control to make every slideshow seamless, right in your hand.
Smarter battery power
Galaxy Note10+
4,300mAh battery
PowerShare
45W Super Fast Charge
Galaxy Note10
3,500mAh battery
PowerShare
45W Super Fast Charge
When you've got a tough and demanding day ahead, you don't want to be worrying about battery life. And that's where the Galaxy Note10 shines – its intelligent battery learns your routine, redirects power from apps you're not using, and only uses battery life when you need it most. It's clever stuff, and it means you can keep going all day.
And when you do run low, you won't be down for long - Super Fast Charging will get you up to full power before you know it.
PowerShare is also on board. If you're feeling generous, it lets you dish out power to friends and work colleagues when they're running low. You can power up other phones, and also wearable like smartwatches and earbuds. Very handy indeed.
More choice than any other Note
You're spoilt for choice with the new Galaxy Note. This next-generation power phone comes in two sizes, and a super-powered 5G option!
Choose from the Galaxy Note10 with its 6.3.-inch display and triple camera, or the Galaxy Note10+ with a larger 6.8-inch display and quad lens camera. The Galaxy Note10+ also has a 5G version – so if your network supports 5G, you'll be able to enjoy blazing fast data speeds and the power to download music, stream movies and play games with virtually no lag.
If you're looking for a power-packed phone that helps you get more done, go ahead and order the Note10, Note10+ or Note10+ 5G now!