A quick guide to coming out of lockdown
Five top tips to help you get out and about again.
15 Jul 2021

Legal lockdown restrictions are coming to an end all around the country. And although it's not a cause for celebration, it's definitely good news.
If you think you might be out of practice dealing with normal life and being back in the real world, you're not alone. Lots of us are feeling like that right now. It's going to take a lot of getting used to, so we've come up with five top tips we hope will help you out.
1. Give your phone some back-up
When you start getting out and about a lot more, think about your smartphone. It's been used to spending a lot of time indoors with you, never far from a charger and plug socket. So just make sure you don't let it run out of juice when you're on the go. Sticking a portable charger in your pocket or bag is a great backup plan, giving you peace of mind that you'll always be contactable.
2. Make the morning commute fly by
Will you be working from home less and going into the office more from now on? You'll need some time to get back into the routine of the morning commute again, and for the first few weeks the journey might seem longer than it used to be back in the good old days. The best way to make the time fly by? Reading a classic novel. Or losing yourself in some banging tunes with a set of noise-cancelling headphones. Either option is good.
3. Start stepping out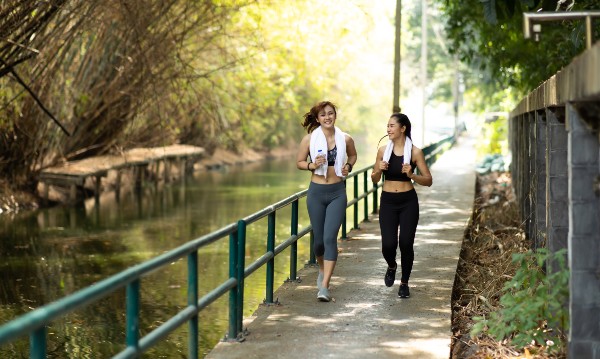 Swap your slippers for a pair of comfy trainers and get some steps in! Invest in some smart fitness tech to help you get motivated and smash your fitness goals. You'll be able to track all sorts of activities from running to cycling, and most good fitness trackers also let you monitor your heart rate and the quality of your sleep.
4. Get snapping
You're going to have lots more photo opportunities, from long walks in the country to much-missed meals with friends. All good smartphones these day have decent cameras, and the Google Pixel 4a is among the best. It's famous for taking sharp shots in all sort of conditions, especially low light. Yes, even at night!
An instant camera like the Instax Mini 9 is a lot of fun too, and great for family get-togethers. Simply point, shoot, and get perfect prints to share around. It comes with 10 shots of film, so you can start snapping straight away.
5. Make your garden the place to be
Sun's out, fun's out! If you've missed the smells, sounds and sizzles of a good old barbie, why not inviting family and friends over and cook up a storm for them? Keep the music going in the garden with a portable speaker, for a fun-filled day.
We hope you find our tips useful in getting out and about and enjoying better times. Take care!
Say goodbye to lockdown with some top tech