A sneak peek at the new Microsoft Surface Duo
Combining the best of laptop and tablet browsing with the best of Windows and Android, this little device opens up a world of new possibilities…
11 Feb 2021

Tablets and phones are improving all the time. But while many people spend more time each day on portable devices than they do on laptops and PCs, most find it practical to save bigger tasks like writing and work projects for when they're on a bigger machine.
In the past, there have been a few reasons for this – the comfort of a physical keyboard, a larger screen to view work, and more processing power. The idea of completing a work PowerPoint presentation on a small screen, for instance, sounds incredibly fiddly. However, Microsoft have now unveiled a handheld device that's set to completely change how we think about our portable tech, and what it's capable of. Meet the Microsoft Surface Duo…
See it all with dual folding screens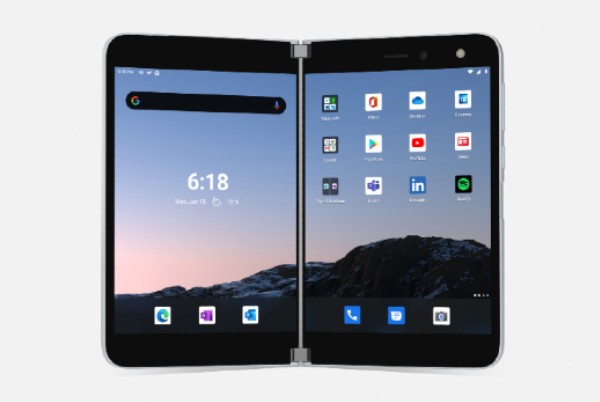 We've seen a few brands develop the folding screen idea over the last couple of years, but none quite like this. The Microsoft Surface Duo features two brilliant 5.6" high-res PixelSense™ Fusion Displays that, when used together, make a bigger 8.1" dual fusion display. And you can use it in a whole host of ways.
Thanks to its 360° hinge, you can fold it back and use it as a phone. Or go portrait. Or landscape. You can switch to tent mode to dive into a movie, or use it like a laptop with one screen acting as the keyboard. It's super-versatile, making it easier than ever to switch between work emails, podcasts and sitcom episodes. You can even run two apps seamlessly, side by side – but more on that later.
Don't worry about dings, knocks and scratches throwing the Surface Duo off it's a-game. Both screens are made from Gorilla Glass, and there's a protective bumper in the box to keep it tough as well as smart.
Duo more throughout the day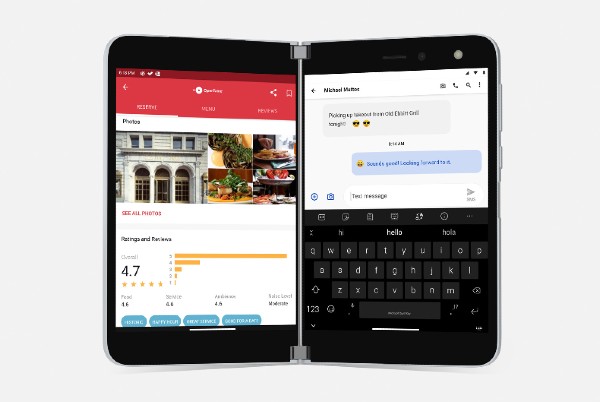 Ever logged in for work or college in the morning and found yourself opening the same programs in the same order? The Microsoft Surface Duo tunes into your daily work routine a little easier than most devices. With App Groups, you can pair two apps that you frequently use together, like Microsoft Teams and Outlook, for example, to open them at the exact same time. That's clever.
Once you've got your apps working alongside each other, you can drag and drop information between them instantly. That's still a multi-step process for many phones and tablets right now, so it's great to see how much easier it can be to move important work data from one app to another on the go. Or even just to move ingredients from an online recipe to a shopping list.
Only one app open? Go for the full screen experience. Many apps that are compatible with the Microsoft Surface Duo are designed to help you get the most from both screens at the same time. Just drag the app between screens and it'll maximise. Scroll through your news feed or emails using the whole of the Surface Duo like it's a single screen, or browse photos on one side and view your selection on the other. However you work, The Surface Duo works for you.
Under the hood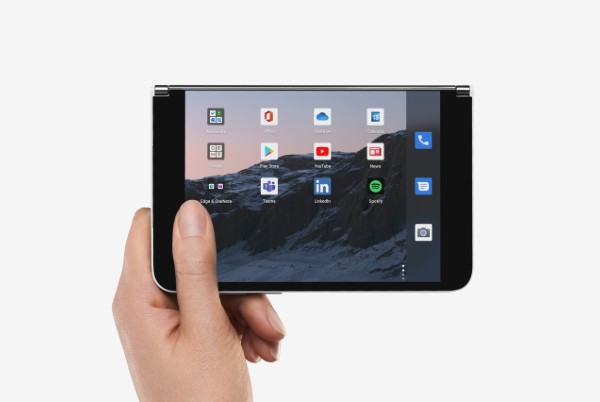 It's not just the 360° hinge that makes the Surface Duo a real portable productivity winner. There's a Snapdragon 855 processor optimised for the two screens, as well as 6GB RAM to play with. The battery offers over a day of talk time, while the USB Type-C port at the base means you can charge it just like a normal phone.
The camera doesn't hold back either. The Surface Duo has an 11MP lens that's capable of shooting both HDR photos and Ultra HD 60 fps footage. That's on par with some of the best smartphones out there. And when it comes to that Skype family catch-up or Teams work meeting, it can handle Full HD resolution at a smooth 30 fps.
The best of Microsoft and Android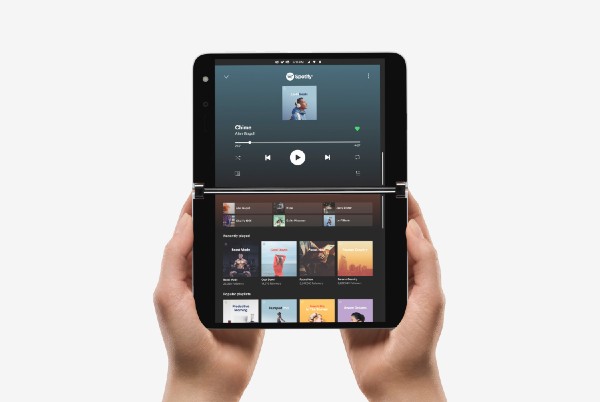 We love when a new device fits effortlessly into our existing tech ecosystem, and the Microsoft Surface Duo ticks that box emphatically. It's got plenty of the Microsoft Office 365 apps you need to keep productive ready to go, like Teams, Outlook, Word, Excel and more. It even comes with the full Google app suite built in. So, moving meetings from your work Outlook calendar to your personal Google Calendar is made that much simpler.
There are loads of apps we can't do without on our phones, from social media to music streaming apps, news sites to games, and with the Surface Duo, you can keep them all. The Google Play Store is on the home screen ready to go, so you can sign into your Google profile and download your favourite apps and games right from the start.