Bring the footie home with a Sony BRAVIA A84J TV
Forget WFH for a while, and get 'Wembley From Home' with Sony.
18 May 2021

You can't beat cheering on your favourite footie team in an actual stadium, singing along with thousands of fellow fans and watching the action unfold in front of you… we get that.
But you know what? Watching the big match on the stunning new Sony BRAVIA A84J TV is the next best thing to being there.

Powered by the revolutionary Cognitive Processor XR, it's designed to replicate the way our brains think and respond – so when you're watching the game at home on your sofa, it'll feel like you're at Wembley. Yep, this is a TV that really brings the football home!
5 things we love about the Sony BRAVIA A84J TV
1. 4K HDR OLED Powered by BRAVIA XR.
The Sony BRAVIA A84J TV boasts a picture that always feels deep, natural and real. Its OLED tech is famous for delivering unbeatable contrast levels for the deepest blacks and dazzling lights thanks to Sony's XR OLED Contrast. There's also an amazing feature exclusive to Currys - the rich colour enhancer that makes every moment burst with vibrant colour. You won't find this on any other model out there – only at Currys!
On top of all that, you've got XR Upscaling powered by Sony's Cognitive Processor. This tech might sound complicated, but it actually does a wonderfully simple thing - it takes 2K quality content and upscales it to close-to-4K quality. So everything you see on-screen will always look super-sharp.
2. XR Motion Clarity
Your footie and other sports just got a whole lot better with Sony OLED and XR Motion Clarity. XR Motion Clarity can compare the most important things happening on-screen from one frame to the next, calculate what's missing, and insert the extra frames needed to really smooth out the motion. With OLED the on-screen picture is created by millions of individually controlled pixels, so fast-moving action is always sharp, smooth and clear. Each image is precisely controlled to keep blur right to a minimum, so the picture stays true-to-life during high speed scenes, with less loss of brightness. From a nippy striker bearing down on goal to an F1 sports car tearing round the track, the Sony BRAVIA A84J TV makes it all look amazing!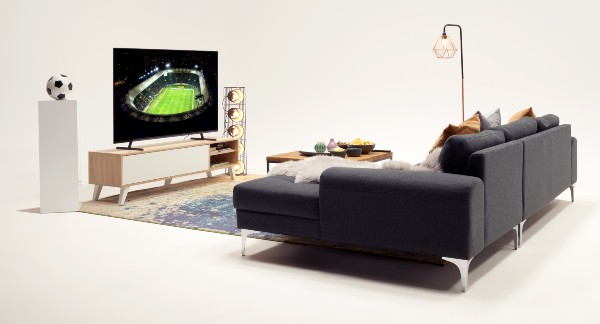 3. Acoustic Surface Audio+
Ready to feel the roar of the crowd? If you want BIG sound on your TV, then you're going to love what Acoustic Surface Audio+™ does to the Sony BRAVIA A84J TV… it turn the entire 55", 65" or 77" TV screen into a speaker! You won't notice it, but the screen invisibly vibrates to create acoustics that move in perfect sync with the picture. This gives you incredibly immersive sound - from the action on-screen, straight to your ears.
4. Get all the help you need from Google
Google TV is pre-installed, and it makes finding what you want to watch incredibly easy. Forget about endlessly tapping your remote, and simply use your voice to get all the help you need. The Sony BRAVIA A84J TV has built-in microphones listening for your next command – another feature exclusive to Currys! On the other hand, if you don't want your TV listening to what you're saying, you can easily turn this feature off and use the mic on remote instead.
You can ask Google to find a specific title, search by genre or even get personalised recommendations by saying something like "Ok Google, what should I watch?". The answers will show up on-screen straight away.
Want to work out your Euro-viewing schedule? Just say "Hey Google, when's the next England (or whichever team you're supporting) game?" to get the kick-off dates and times you need.
You can also explore over 5,000 apps on the Google Play store (that's more than any other smart TV has to offer), control your smart home devices, plan your day and lots more. You've even got the option of casting the screen from your mobile device straight onto the TV.
5. BRAVIA Core™
With BRAVIA Core™ pre-loaded, a huge number of movies are waiting for you the second you turn on the TV. You've got the choice of hundreds of new and classic blockbuster movies, plus a selection of jaw-dropping IMAX releases. A whole year of BRAVIA Core™ and 5 IMAX Movies is included on your Sony BRAVIA A84J TV. Quality is amazing too - up to 4K HDR streaming - and if you want to take an even deeper dive into your favourite movies, BRAVIA Core™ gives you access to loads of extra footage and cast interviews.
Bring the footie home with a Sony BRAVIA A84J TV