Buying a laptop for university? Read our jargon-busting guide…
Don't know your CPU from your RAM? We can help!
19 Jul 2021
Starting uni is always exciting, but it can be confusing to as you find new friends, where your lectures are. There's a lot to get to grips with and, to make uni life easier, it's a great idea to hit the ground running with a new laptop. You can do everything from take notes at lecture, nail your coursework or just catch up with old mates when you're feeling homesick.
But just because starting laptop can be a bit a little overwhelming at times, it doesn't mean picking the right laptop should be. That's why we've out together a quick guide to make even the techiest of jargon easy to understand.
Let's get started!


CPU
The CPU (central processing unit) is the brain of your laptop. Whenever you move the mouse, open a program or load a file, the processor makes it happen.
If you've heard of Intel or AMD, you already know something about processors. And the kind of CPU set up you have can tell you about the kind of laptop you're getting.

More laptops are built with Intel CPUs though, so here's a brief guide to how those are ranked.
Core i3 - If you're buying a budget laptop, it may well feature this. It's a dual core CPU which should do the job for basic, everyday computing.
Core i5 - This is Intel's main processor. Coming in dual and quad-core, this processor will be found on many 15-inch laptops.
Core i7 - You're not likely to need this much power, unless you're studying video editing at university or playing heavy-duty games in your downtime.

Having a multi-core CPU means the processor can work on multiple tasks at the same time. This is great if you're working on assignments while also having a peak at Facebook, monitoring your uni emails and browsing for clothes for your next night out.
Put simply, a multi-core processor lets you multitask like a champ!


Hard drive
You're going to need a place to store all your precious assignments and research, but don't forget about all your music, photos and films for downtime.
Hard drives come in two main types: platter hard drives (HDD) and solid-state drives (SDD). Most laptops used to come with HDDs, though newer laptops often opt for speedier SDDs.
Solid state hard drives use flash memory. With one of these bad boys you can expect your machine to boot up faster, and applications and programmes to load quicker.
It'll be quieter than a regular hard drive too. You don't have to worry about them busting either as they have no moving parts. However, as well as being more expensive than a HHD, they also have less storage capacity.
Hard drives are measured in gigabytes, and the more you have the better. Movies, tunes and hi-res pics take up quite a lot of space - so look for laptops with hard drives with at least 250GB, while also considering those with 500GB or 750GB (they don't cost much more). Don't forget too, external hard drives can be bought and plugged into your laptop via USB – so you can expand to as much space as you need.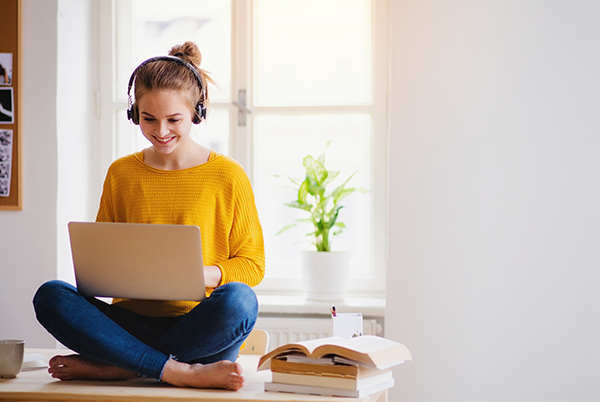 RAM
RAM stands for Random Access Memory. The more RAM your machine has the better it will run. If your computer doesn't have enough RAM, it will run slowly.
Don't settle for less than 4GB of RAM, but push for 6 or 8GB. The more RAM you have the better set up you'll be for doing more than one thing at a time. Plus, you'll be able to run taxing apps all the more smoothly.

Operating system
The operating system, also known as OS, runs much of what happens on your computer. Most laptops either come with Apple or Windows OS.
Apple's OS X only runs on Apple laptops and computers, while Windows primarily runs on PCs but there's also a version for Mac.
Microsoft recently updated its core operating system, Windows 10, which is built around a touch-enabled Start screen filled with apps and programmes. These can be accessed by tapping and swiping colourful tiles on the Start screen.
The latest OS was designed with a new generation of devices that can switch between laptops and tablets in a flash. Windows 10 is designed to get the best from both tablet-like touchscreen computing and traditional keyboard and mouse action.

Apple's current operating system for Macs, MacBooks and MacBook Pros is macOS Big Sur - known for its user-friendly controls.
Big Sur is also designed to work well alongside iPhone and iPad, using iCloud to sync content across devices - something worth considering if you've got other Apple tech.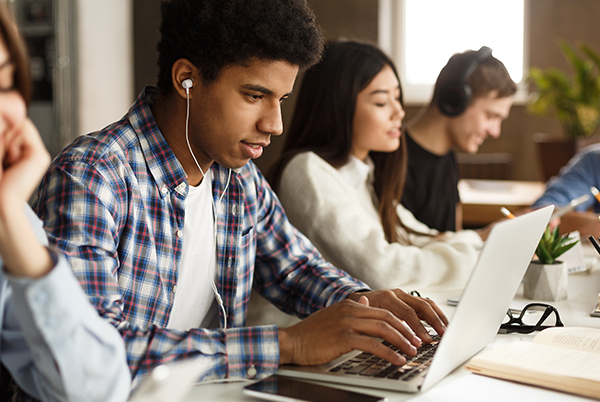 Graphics chip
If you're just planning on surfing the web and watching video, an integrated graphics chip should be fine. This is the chip that's already built into your laptop.
Integrated means the graphics chip shares the computer's memory, which can make it slower to process video and images.
However, unless you're playing serious computer games on your laptop, this shouldn't be too much of an issue. If you do plan on spending your downtime from essay writing playing serious games, you'll need a decent graphics card.
Graphics cards usually have their own dedicated RAM - the amount you need depends on what you plan to do but try to ensure you have at least 256MB in memory.
Need more help?
Hopefully, this guide will be enough to get you started. But if you need a deeper dive you can't go wrong with our laptop buying guide.
And you can also find out why Chromebooks are great for students.