Choose the right 4K TV this Christmas
Got a new television set on your Christmas wish list?
22 Nov 2021

Got the whole family round this Christmas? Then you'll want to get the entertainment side of things locked down. We're talking, of course, about your TV.
So, if you're choosing a new one in time for the Queen's Speech, you'll definitely want to get it right. A TV with 4K resolution has 4x the pixels of Full HD – giving you a much crisper, more detailed picture. But how do you find the right one? Let's show you.
What size do you need?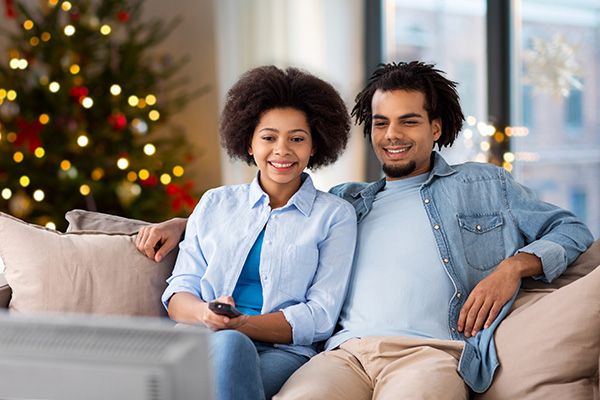 One of the pros of having a 4K TV is that you're able to get a bigger screen without losing picture quality. That's because there are more pixels to fill the space. It's handy if you've got a a smaller TV too. With 4K, you can get closer without the image looking pixelated- because the detail's so much finer.
But big or small, to find the right size you'll need to think about your room, your viewing distance and your viewing angle.
Your space
Work out how much space you've got by measuring the area you want your TV to go. Screen size is measured diagonally from the bottom left-hand corner to the bottom right. So measure your space in the same way.
Or it might be you're replacing your old wall mounted TV and want the new one to fit into the same bracket. No worries! Just make sure your new TV's VESA wall mount size matches your old one.
Your viewing distance
This is all about how far away you'll be sitting from your screen. If you've got a bigger TV, you can sit further away without losing detail. But sit too close to a large TV and you could get headaches from eye strain, since your eyes need to dart about rather than taking everything in all at once.
Tip: the viewing distance is usually about 1.5x the size of your screen.
Your viewing angle
This is an important one if you're having a big gathering *cough* Christmas *cough*. If you want everyone to get a good view, you might need a larger screen. Bigger TVs have wider viewing angles because there's more space for people to be sat in front of it, rather than at angle.
There is some special TV tech that can get you a wider viewing angle without the bigger screen though – like NanoCell or QLED TVs. A good example's this Samsung QN94A Neo QLED which as an ultra-wide viewing angle, so every seat's the best in the house.
What are you using it for most?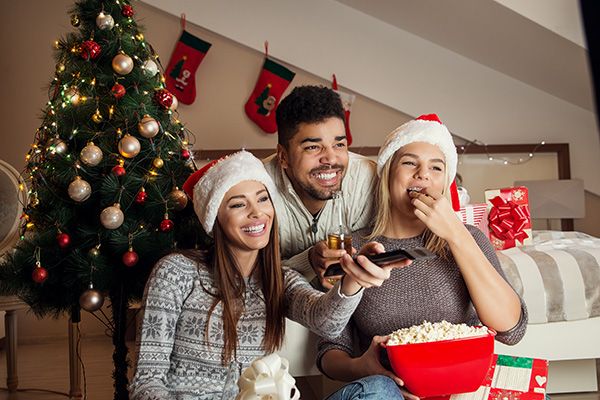 Any extra bits, bobs and nice-to-haves will depend on what you use your TV for most. So choose your own holiday adventure…
Festive Christmas films and specials
If you're fighting off a post-turkey food coma, you'll want to find the TV show or film you want quickly and with minimum fuss. That's where a smart TV is really handy – giving you instant access to catch-up TV and subscription apps like Netflix, Prime or Disney+.
Voice control is a plus too. Take the JVC Fire CF810 TV. Press a button on its Alexa voice remote and you can search across a whole load of channels and apps using just your voice. So you don't need to figure out if Last Christmas is on Netflix or Prime – it'll do it for you.
Just check which apps your TV supports before you buy, since different TVs offer different selections. And nobody wants a Nightmare before Christmas.
Cracking out the new console
Checked a next-gen console off your Christmas list? To get the most out of it, get a 4K TV that supports HDMI 2.1 connectivity. That'll allow you to play new games as the developers intended - in 4K at 120Hz. You get the most detailed, smoothest picture possible.
Some 4K TVs are practically built for gaming. Look out for features like Variable Refresh Rate (VRR) and Auto Low Latency Mode (ALLM) – like the LG OLED C14. Its VRR cuts outs lag, while ALLM automatically adjusts your TV's settings to keep the picture looking its best… whether you're gaming or not.
Slinking off to watch the sport
Like gaming, sports have got a lot of fast-paced action for your TV to keep up with. For that, your telly's refresh rate has got to be pretty high – around 120Hz. Otherwise, you'll end up with stuff like motion blur, where you lose detail on things that are moving quickly, like a football.
That's why you'll get TVs like the Sony BRAVIA X85J. Sony's Motionflow XR 800Hz tech makes fast-moving matches look a lot more realistic, because (as well as having a super-high refresh rate) it automatically reduces the blur on each frame.
Got what you need?
Hopefully you're sorted for 4K TVs! But do you need help finding something to watch? If so, check out some of our favourite festive films on Netflix and Prime Video.