Clever kitchen gadgets for healthy eating
Create nutritious meals with these clever appliances…
03 Feb 2022

So, you had a health January and tried out a Veganuary recipe or two? Nice work! Now let's try and keep those good eating habits going all through 2022.
Nutritious homemade meals aren't just good for you and the family health-wise – they also work out much cheaper than buying takeaways or ready meals.
Here are our favourite kitchen gadgets to make healthy cooking easier...
Health grills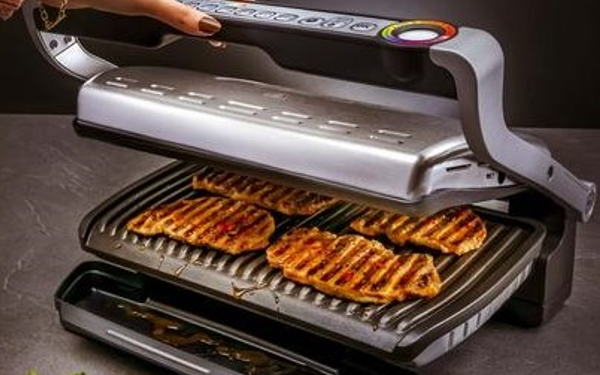 Let's kick off with health grills. We all know that grilling is a healthy alternative to frying food in a pan. You don't need to coat the grill in oil, and it removes excess fat to stop it from being reabsorbed during cooking.
It's not just for meat and fish either. Grilling also helps vegetables retain more of their vitamins and minerals.
Sure, it might not be able to hold as much food as your big outdoor barbecue, but a health grill will still give you those smoky and oh-so Instagrammable grill lines.
Why not try… the TEFAL Optigrill XL GC722D40
You don't have to be an expert to grill food to perfection with the Tefal Optigrill. All you need to do is select one of the nine cooking programs for different types of food – then clever sensors automatically adjust the grill to exactly the right temperature, depending on the size and thickness of your food. Everything from chicken burgers to fillets of fish will come out cooked perfectly. And they'll taste amazing, of course.
Slow cookers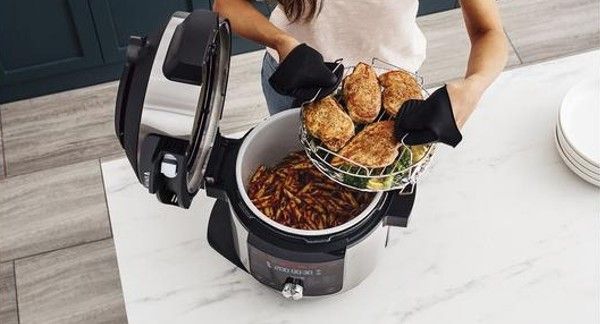 What is a slow cooker? A slow cooker is a countertop all-in-one stew pot that makes cooking easy. Simply chop 'n pop in your favourite ingredients, and forget about it. In a few hours you've got a wholesome and succulent stew, curry, chilli… you name it.
Why not try…Ninja Foodi Max 14-in-1 SmartLid OL650UK multicooker
The Ninja Foodi 14-in-1 multicooker is a slow cooker and so much more! If you've got the time and plan ahead, you can easily create melt-in-the-mouth stews that have been cooking low and slow for 12 hours. Yum!
If you need something quicker, you've got loads more healthy cooking options at your fingertips. Go for the air fryer mode, and create guilt-free chips with 75% less fat than traditional frying methods. There's also a combi-steam mode that steams and crisps at the same time – so you'll be able to enjoy things like garlic potatoes and chicken skewers that are moist on the inside, crisp on the outside.
Food processors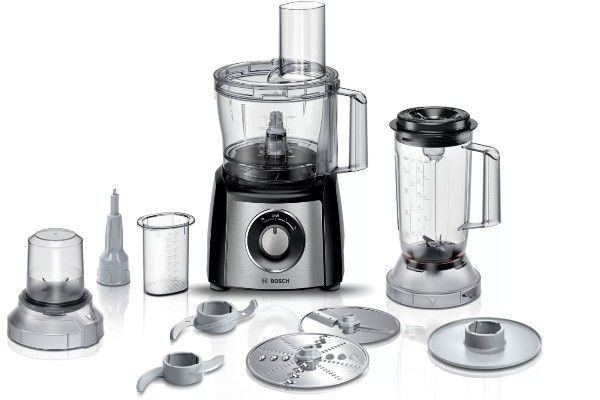 Cooking different types of healthy food makes things interesting and helps keep you motivated. A food processor is a hugely versatile kitchen gadget that takes the hard work out of food prep. You can chop, blend, whisk, and slice to create a variety of healthy and delicious dishes, quickly and simply.
It's a great way to cook from scratch without all the hassle, and using fresh ingredients means you can control exactly what goes into your food.
Why not try… the Bosch MultiTalent3 MCM3501MGB food processor
This Bosch food processor gives you enough power to make light work of the toughest ingredients. It speedily grates cheese, chops any sort of veg you throw at it (or drop gently down the lid, to be exact), and even crushes ice for healthy mocktails.
Oh, and don't worry about washing all the parts after you've finished with it. All the parts can go straight into the dishwasher.
Steamers
Food steamers are quick and easy, and they keep vitamins and minerals packed into your food. You can pack lots of taste in there too - add things like ginger, lemon peel or woody herbs into the water, and the flavour will infuse right into any meat, fish and veg you're steaming. Just use your imagination.
Why not try… the Salter EK2726Z steamer
You can cook two dishes side by side using the Salter EK2726Z steamer's handy dividing wall – try fish in one half, rice in the other half. And you can do it for the whole family, thanks to the large 7.5 litre capacity. It also comes with a delay timer, so you can set the time you want to start cooking. So, if you're out for the day, you can have a perfectly steamed meal finishing off as you walk in the door!
If you need any more help finding the best tech for healthy cooking, you can pop in-store or chat to a tech expert via video call on ShopLive.
Keep on cooking healthier in 2022...