Create a stadium atmosphere at home with a projector
Hosting a football match party this summer? You may need a bigger screen for that big game feel. A projector is the way to upscale…
13 May 2021

If you've only got a small TV, you can still create a huge stadium atmosphere to watch your favourite sports through a projector.
Just add some cheering mates, flags, a few beers and soggy pies at half-time and it'll almost be like you're there in person.
Why get a projector?
Projectors are very versatile and offer great value for money. They can produce giant pictures but aren't fixed in size – you can have an image from 30 to 300 inches depending on what you're watching. They're also super-portable for when you want to take the action elsewhere.
They can produce vivid, colourful images too, although quality does depend on the number of lumens, contrast ratio and resolution. The more lumens, the better the image will be, while a high contrast ratio will give you a more realistic image. A high resolution means your picture will be sharper and more detailed. This is especially important when you're projecting a larger image.
Best projector for indoor parties
We love the Epson Full HD Home Cinema Projector – it's a powerful machine that can produce high-quality images of up to 300 inches in size. With it you can:
Enjoy bold and bright colours with crystal-clear images projected in full 1080p, giving you a big screen cinema experience
Fine tune the image depending on the content you're watching with different pre-set modes
Set it up and pack it away easily as it's lightweight and compact
Connect it to your home Wi-Fi to stream videos from the internet as well as watch TV content and play games
Watch in light conditions as well as dark thanks to a brightness rating of 3300 lumens – perfect for both daytime and night matches

Best portable projector for taking the action outside
If you'd prefer to take your football parties outdoors, why not consider the OPTOMA HD146X Full HD Home Cinema Projector? Perfect for turning your garden into a theatre of dreams for evening matches/BBQ.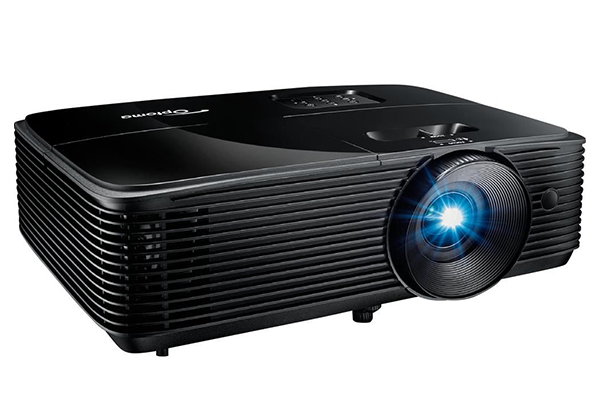 With the OPTOMA you can:
Produce an image of up to 301 inches
Get sound straight from your projector with a speaker built-in.
Display 3D content from a variety of sources
Get vibrant, punchy colour so matches look amazing
What else do I need?
Why not check out the top gadgets for watching sport? We want to help you turn your living room into the perfect footy den!