Get ready for the new school year with the latest Chromebook laptop
Simple, safe and takes on everything!
02 Aug 2021

Looking for something fast and light for your child to get the best start at school? How about a laptop they love that can give them the school support they need?
We put the new Lenovo Chromebook Flex 5i to the test to see if it could handle homework but still be simple and safe enough for kids to use. You can jump straight to the video to see what happened!
When we got our hands on it, three things really stood out: the Everything button, how quick and intuitive it is and the built-in anti-virus software.
So, read on and see if it's the right fit for your kids…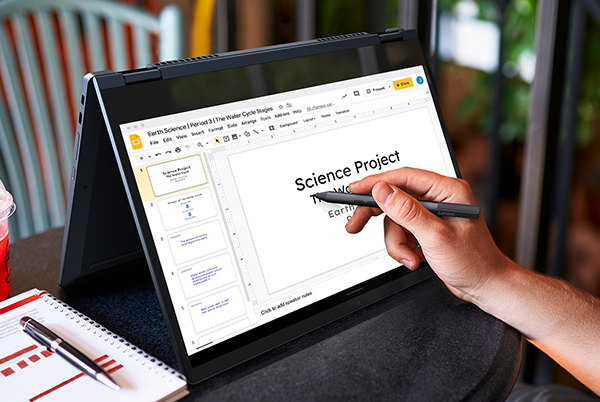 Everything button
Hunting for a file, app or trying to find an answer online can be frustrating – especially for kids. That's why this Chromebook comes with the magic Everything button.
Hit the Everything button and you'll get a list of recently used apps. Plus, if you need to find something online you can do it instantly. Just hit push that button! That's great if your little one needs a fast answer for a school project or if they just want to get into their fave games fast.
And everything will look great with its stunning 13.3-inch FHD display. It also adapts to all kinds of use thanks to its 2-in-1 design with touchscreen that you can flip round 360°.
Super fast, super simple
Waiting for a laptop to power on can be a drag. But this nippy little Chromebook starts up in seconds. Plus, it updates itself automatically and downloads updates without your child having to come to you and ask you to do it.
If this is your child's first-time laptop, it makes using it so much easier and will help build their confidence with computers.
As an added bonus, if you have an Android smartphone, this Chromebook can connect up to it as long as you're sharing Wi-Fi. You can do so many things, from share images and files, reply to messages and even check your phone battery level!
Always protected
Letting your little one on the internet can be worrying. Especially with all the pop ups and malware out there. That's what's great about this Chromebook! Because it defends against any nasties automatically, you don't know that surfing is always safe.
Any questions?
If you would like more info about this this or any other Chromebook, visit us in store, head online or you can even talk to our Tech Experts on ShopLive.