We get hands-on with the Samsung Tab S8 Ultra
Let's explore Samsung's latest and greatest tablet...
28 Apr 2022

Want to know more about the new Samsung tablet line up? Look no further than our breakdown of the best bits of the Tab S8, S8+ and S8 Ultra.
From stunning Super AMOLED screens to Dolby Atmos sound, upgraded S Pens and 4K recording – these are some seriously beautiful tablets. Let's find out more…

What's Super AMOLED?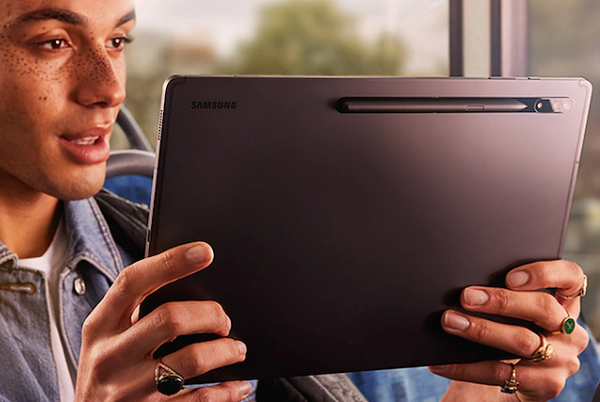 Quite simply, it's Samsung's combination of OLED technology, with a touchscreen. But what that actually means is that the screen is really bold and bright, especially when it comes to colour. The screens of the Tab S8 Ultra and the slightly smaller S8+ are both Super AMOLED, so when you're editing images, or just watching Disney+, everything will look rich and detailed.

Can I use the S8 Ultra instead of a laptop?
A 14.6" screen is pretty impressive for a tablet – that's the same size (if not bigger) than most laptops. There's also a load of storage, and creative software for turning your ideas into serious projects. So yeah, depending on what you use your laptop for, we'd say the S8 Ultra is a laptop-replacing kind of tablet. You'll have to snap on the keyboard (sold separately) if you want real laptop functionality though.

What about the new S-Pen?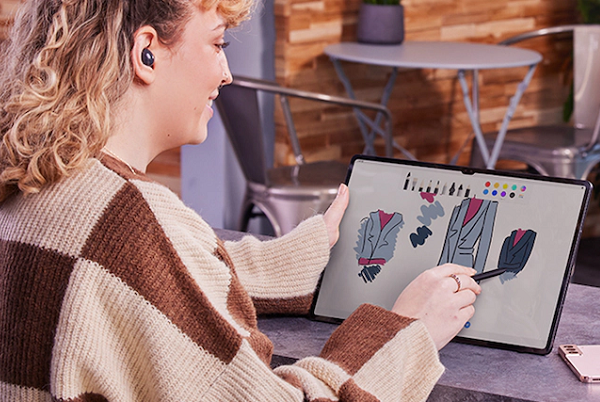 No matter which of the S8 Series tablets you pick – you'll get an S-Pen without additional cost (always nice). The S-Pen attaches smoothly to the back of the Tab S8s, and charges wirelessly. It looks great too and has improved latency on previous S-Pens.

What, exactly, is latency?

Latency in tech is just – how quickly does a thing process a command? The best styluses on the market (including the new S Pen) have very low latency, which means when you write or draw something, you're not waiting around for the tablet to catch up. It's especially important when you're quickly scribbling notes or shading a sketch.

Can I use it with my Galaxy smartphone?

Yep! The Tab S8s are designed for it in fact. There's great stuff like QuickShare, which lets you easily transfer big images and files, as well as AutoSwitch – your Galaxy Buds will automatically pair from a Tab S8 Series tablet to your Galaxy phone.

The best bit is One UI 4.1. Sounds a bit technical, but it means you can start something on your tablet and pick it up exactly where you were on your phone.

Is the Tab S8 Ultra good for video calls?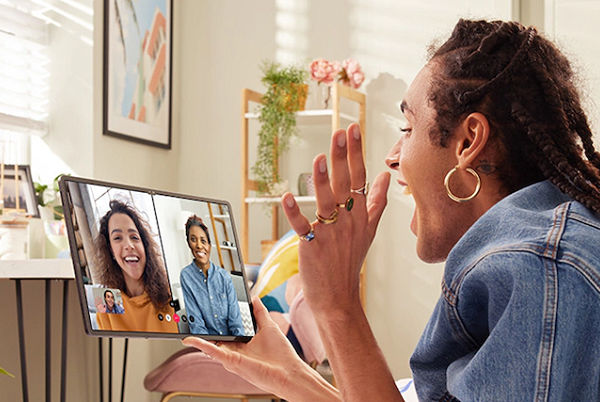 Thanks to Google Duo, it's possible to have a casual video catch up with your 31 closest friends. Or if, like us, you don't fancy a full family reunion on one call, as many (or as few) as you like. There's also noise-reduction tech built-in so you'll get clear audio too.

Need more help?
Need a bit more help deciding? Our tablet buying guide is the perfect place to start. But if you'd prefer to chat to someone – our colleagues are available in-store or online using ShopLive.
Which Galaxy Tab S8 is the one for you?