How Bosch VitaFresh can cut out food waste
Keep the taste, cut the waste.
17 Jun 2022

We throw out a lot of food in the UK - about 9.5 million tonnes a year. Not only is this extremely wasteful but it increases costs to us on household bills and isn't good for our environment either - as CO2 is generated to produce the food.
Unsurprisingly a lot of this wasted food is perishables like apples (1.3 million a year) that don't last long unless they're stored properly. Fridges obviously help, but different kinds of foods need certain conditions to stay fresh for longer. And this is where tech is here to help.
What is Bosch VitaFresh?
To put it simply, the VitaFresh drawers in your fridge are specifically designed to keep your fruit and veg and meat and fish fresh for longer. They look a bit like standard vegetable drawers but do so much more. VitaFresh drawers control humidity and temperature, which can be easily adjust depending on what you want to put in there.
Meat, fish and even cheese stays fresh when they're kept at around 0°c but need dry conditions to stay at their best. To keep fruit and veg fresh and nutritious, it's important that the humidity is just right – which is why the ability to control moisture is important.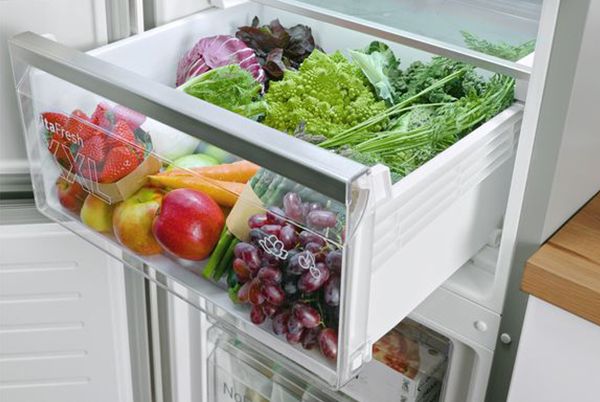 Which VitaFresh fridge freezer is right for me?
For smaller households
Try the Bosch Serie 4 70/30 Fridge Freezer. It has a large XXL VitaFresh drawer for your fruit and veg and a full width drawer for your meats and fish that sits around 0 degrees.
The different compartments not only keep conditions just right, but food smells are kept in too. And you can always find what you're looking for thanks to the glare-free LED lighting. It's also Frost Free – so there's no need to defrost.
The fridge is 260 litres – enough space for about 11 bags of groceries - whereas the freezer is 103 litres. So, it's a great option for smaller households.
As well as having VitaFresh, this fridge also has FreshSense that monitors your fridges storage climate and Multi Airflow technology which evenly distributes cool air, both of which keep your whole fridge space at a consistent temperature – great for fresh produce.
Just done a big shop? Your food will be cooled quickly thanks to Super Cooling technology.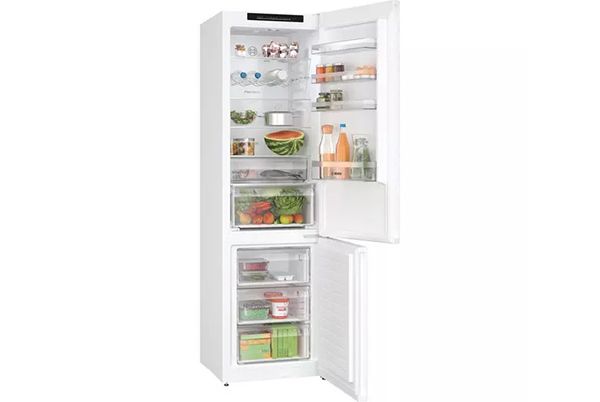 For medium households
If you like the sound of the Serie 4 but need more space, check out the wider Serie 4 Inox. It has all the same benefits and cooling features but is roomier with a 330-litre fridge and 108-litre freezer. It also has a sleek stainless-steel finish so will look great in stylish kitchens.
This one has the XXL VitaFresh drawer for your fruit and veg as well as individual VitaFresh Meat and fish drawers to keep everything in the right place.
For large households
Go big with this Serie 4 French Door freezer. This ramps up fridge and freezer capacity to 405 litres and 200 litres respectively.
You now have two Large XXL VitaFresh drawers one for meat and fish, the other for fruit and veg where you can climate control with the humidity slider. Perfect for keeping your groceries fresh for longer.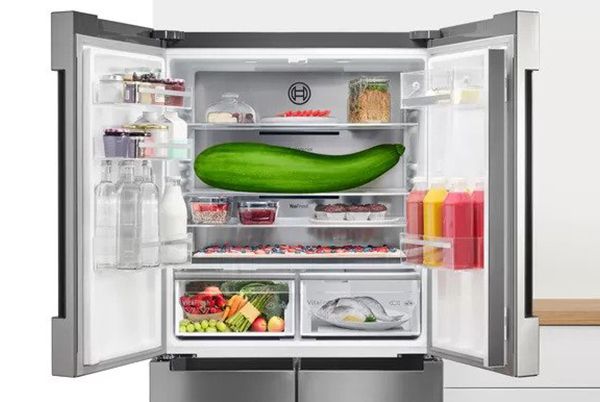 Like the previous models, this fridge freezer also comes with FreshSense and Multi Airflow technology. And don't forget about the Super Cooling feature. Turn it on before you go shopping and the fridge temperature will be lowered for a short time – ready to keep your fresh food at the right temperature.
If you're into frozen food (be it pizzas or last night's leftovers) you get plenty of space from the Big Box drawers – great for stacking and storing large items.
Longer life for your fridge freezer too!
When you buy the Bosch Serie 4 70/30 Fridge Freezer or the Serie 4 French Door freezer you can extend their guarantees by an extra 5 years just by registering the product.
To see Vita Fresh in action, watch this!
Freshest fridge freezers!