How can a gaming chair make you game better?
Get comfier, healthier and look cooler for your next gaming sesh.
16 Feb 2021

Back pain (literally) cramping your style? Spending hours in front of your latest gaming obsession sounds like a great way to spend a weekend. But it's not necessarily the best for our posture. That is, unless you've got the right kit to sort you out.
A gaming chair can be a real lifesaver- helping you game happily, healthily and maybe even give your performance a boost! Plus, while you might think any old office chair can do the trick, even a cheap gaming chair will do a much better job.
That's because a regular chair will usually stop at your mid back. A gaming chair on the other hand, has a much higher backrest. It's supporting your upper back and shoulders as well as your lumbar (or low back). That basically pushes your spine straight- the way it should be!
And the best gaming chair will be fully customisable. When it comes to chairs, one size doesn't fit all. So it's a real plus that a gaming chair will often give you a lot more options than an office chair. You can adjust the arms, the headrest, the lumbar support and the height. With a little tweaking here and there, you're getting just the right experience for your body.
And if you've got a junior gamer on your hands, that customisability means you don't necessarily need a specialist kids gaming chair. Just adjust the one you have!
But why does having the right seat actually matter?
You'll feel less tired.
When we're sitting our muscles have to make an effort to keep our spine upright. That can make us feel a bit worn out- even when we're not moving much. A gaming chair supports your shoulders and back, doing all the hard work for you.
You'll improve your posture.
That muscle fatigue we mentioned? When those muscles get tired, they eventually give up and we start to slouch. Do that enough times and it becomes our default, causing pain. Plus, let's face it, it's not a great look. A gaming chair forces you to sit upright, without any effort from you.
It'll help you focus.
When we're uncomfortable, our mind can start to wander. You start thinking how much your low back is twinging, rather than giving your full attention to what's on screen. But on the flipside, sitting in a comfy seat can help you maintain deeper focus for way longer.
It's more immersive.
Gaming chairs have got style as well as substance. If you're into racing games, having the right chair can almost make you feel like you're in the hotseat of an F1 race car. And, more generally, they just look a lot cooler when you're streaming.
Our gaming chair picks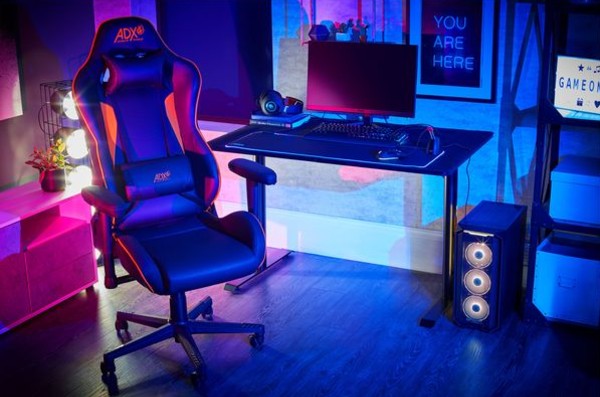 With its orange, pink or even Call of Duty detailing, this chair looks great as well as being incredibly comfortable. You can adjust the height and armrests, so it'll fit perfectly with your gaming desk. Plus, you won't be tied to one spot. The wheelbases rotate 360 degrees so it's easy to move wherever you need to go.
This is a great option if you want something for more than just gaming, that can take you easily from work to play!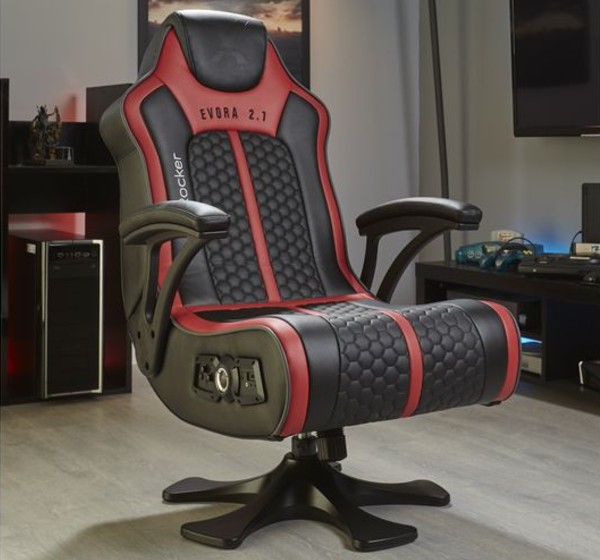 This one's for you console gamers out there. This chair plays your game's audio using the two speakers and mounted subwoofer in the backrest. That way, you're full immersed in whatever world you're playing, with sounds all around you!
Even better, the chair's tri-motor will activate when the audio swells- to make you really feel the rumble of a battle scene or rev of an engine. And the X Rocker Evora 2.1 connects to your Xbox, PlayStation or Nintendo via Bluetooth. So you won't have any wires to trip over!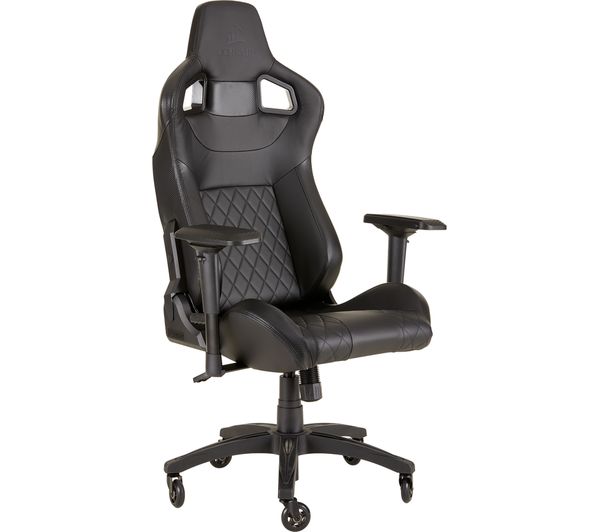 This luxe looking gaming chair's meant to stand the test of time. A steel frame and soft faux leather finish means it durable but still super comfy! As you'd expect, it's totally adjustable. And you can tilt it back when you've finished gaming and just want to relax.