How much are electric scooters?
Check out what e-scooter features will set you back.
19 Jul 2021

Wondering how much an electric scooter will set you back? Unfortunately, there's no definite answer we can give you. Not all e-scooters are created equal- something pared back might cost you around £200 while premium scooters can go up to £1500 and beyond.
So instead, let's look at what bells and whistles can turn your e-scooter's price up or down. That way you can figure out what features you can and can't live without.
What affects your e-scooter's price tag?
Its battery
Since this is what's actually putting the e in your e-scooter, you'd expect it to be make up quite a bit of the cost. And it does- about 30% in fact.[1] So the better you need your battery, the bigger the budget you'll need for your e-scooter.
Is it worth it? We'd say yes. Getting a more powerful battery comes with all kinds of pros. You can go further, faster and you won't have to wait around so long for your scooter to recharge. Plus, if you're planning on working your motor quite hard - by tackling big hills for example – then you'll need a battery that can power it.
Its motor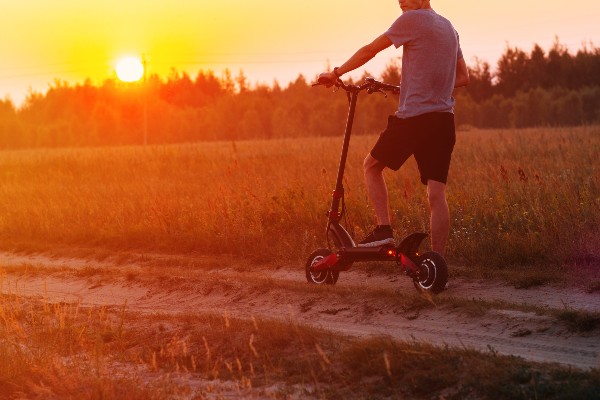 A powerful motor is a must if you're going to be tackling tricky terrain. It'll also help your e-scooter reach top speeds – although remember the speed limit is 15.5mph - that much faster. So if you want to get somewhere fast, it's worth investing in something with a motor that packs a punch- like this Segway Ninebot E25E Electric Folding Scooter's 300W one.
What it's made from
There are three main materials to choose from here: plastic, steel and aluminium. Plastic is undoubtedly the cheapest up-front. The only problem is that you might end up paying more later down the line. Plastic isn't particularly sturdy, which means it might need to be fixed or replaced if it gets a knock or is too exposed to the elements.
Another affordable option is steel. It's definitely a lot hardier than plastic. But it's also much heavier, so what you gain in strength you lose in portability.
Aluminium is a more premium material with the best of both worlds. The odd bump's not an issue because it's tough, and it's also lightweight. Not only does that make it more portable, but the less heavy your e-scooter is, the further your battery can take you on a single charge. Not bad.
Also bear in mind that your electric scooter will need to support your weight. So someone very tall or bulky will need something stronger than someone very petite. So before you buy be sure to check your electric scooter's weight capacity.
Any smart features that go with it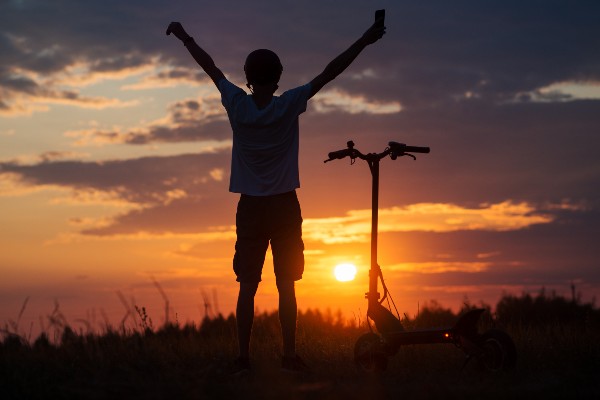 Has your e-scooter got its own app? Some electric scooters have dedicated apps you can download to your smartphone. Take the Xiaomi Pro 2's Mi Home app – you can use it to lock your e-scooter remotely, customise your cruise control settings and get reports on the way you ride it. All these things can help you keep your e-scooter in top condition and help you get around a little bit more safely. But they're not must-haves, so have a think about whether you need them.
Smart accessories are also reserved for mostly mid-range and premium e-scooters. With these you can usually find added extras like lights and in-built Bluetooth speakers. If you choose something like this Segway Ninebot Max G30 electric folding scooter you can also get an interactive smart helmet. It's basically a light, indicators and earphones all in one. You can even send an SOS alert with your GPS co-ordinates to friends and family if you get in trouble! Pretty cool. But if you don't need it and want to keep the costs down, strip away the accessories.
Having an LCD display
Getting an e-scooter with its own mini-screen can seem a bit extra. But it's a quick way to check how your e-scooter is doing, like on this CityBlitz SLIMLINE CB049 Electric Scooter. Its display tells you things like your e-scooter's current speed, how far it's travelled and its battery life. This helps prevent any nasty surprises- like realising you're going too fast or your battery conking out while you're far from home. Necessary? Maybe not. Very useful? Yes.
And before you buy, don't forget- it's not legal to ride a private e-scooter on roads or pavements yet. So when you're scooting, stick to private land… with the land owner's permission of course!
---
[1] https://www.scootersdirect.co.uk/blogs/news/how-much-do-electric-scooters-cost