How tech can help you eat well in 2021
Look after yourself in the new year with these top tech picks.
22 Dec 2020
Happy New Year! So long, 2020 - it wasn't good to know you.
Next year is going to be so much better, surely. And you'll want to be on top of your fitness to really enjoy it. That's where the latest tech can help, with healthy eating appliances for a feel-good 2021.
Kickstarting your kitchen prep
If you really want to get on track for healthier eating, it's time to put down the food delivery apps and pick up those kitchen utensils! But spending ages chopping up veg isn't usually high on our wish list. So how can you make it easier? Get yourself some tech to do it for you!
We recommend… the Kenwood MultiPro Compact Food Processor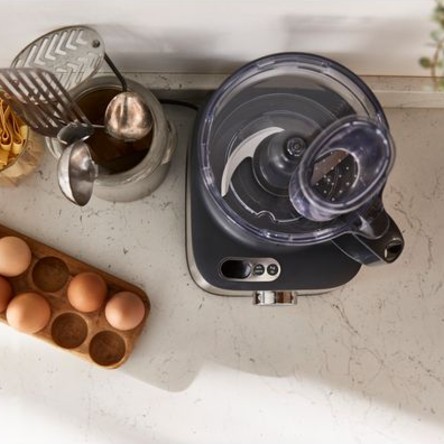 This isn't just any regular food processor – you can chop, blend, slice, whisk and even grate. Just pop on the right attachment (included of course) and get prepping. Make your own healthy curry paste, whip up a chopped salad, even make your own low-cal dressings and sauces. All without having to get out the chopping board.
It's got a 2.1 litre capacity bowl too, so you've got plenty of space to prepare food for the whole family… or just one hungry (but healthy) you.
Juicing and blending
To give your day a healthy kickstart, you can't beat a fresh juice or smoothie. Our bodies are best at absorbing nutrients first thing in the morning, so cut down on those coffees and pastries (difficult, we know) and get juicing!
We recommend… the Sage 3X Bluicer
If you want to learn a new word for 2021, what about 'bluicer'?
With the Sage 3X Bluicer you can blend, juice, or do a combination of both - so it's great for creating healthy drinks and balancing your diet. You'll easily be able to combine blended and juiced fresh ingredients into flavour-packed smoothies, frappes, slushies and lots more. It whips up a mean cocktail too, for those days when you've hit your fitness goals and think you deserve a treat.
Healthier grilling
Grilling is a really healthy alternative to frying food in a pan. You don't need to pour in oil, and any excess fat from your food gets removed. Grilled meat and fish taste great, but don't be afraid to throw some veggies in there too – grilling helps them retain lots of their vitamins and minerals.
We recommend… the George Foreman Evolve Precision 24002 Grill
This grill comes with an angled plate that lets fat drain away into the drip tray – leaving you with healthier food that tastes great. Treating yourself to a cheese toasty? Then you can put the plate flat to stop any precious cheese oozing away!
From lasagne to pizzas, you can cook lots of things you might not have thought possible with this versatile grill. And if you like steaks, you'll get the perfect one every time. Leave the temperature probe in, select from rare to well done, and let the grill do its thing. It'll even switch off when the meat's done.
Frying with air
If you love the satisfying crunch of freshly fried food, why not got for an air fryer? They use a lot less fat than normal, so they're great for healthier cooking. An air fryer is basically a mini convection oven that uses a fan to circulate heat around food. This cooks things evenly and quickly – and it's the speed that gets your food so crispy.
We recommend… the Ninja Foodi multi-pressure cooker and air fryer
With the largest capacity of the Ninja Foodi range, this is a great piece of kit for feeding the entire family healthy meals.
It's a pressure cooker with plenty of tricks up its sleeve including air frying, slow cooking, tender crisping and much more. Air frying uses a whopping 75% less fat than normal frying, so you can serve up crispy chips and fried snacks for the whole family without piling on the calories.
The Ninja Foodi also uses super-heated steam to cook meals up to 70% faster than conventional cooking. And because everything cooks in a single pot, it's a real time-saver.
Or try… the Tefal ActiFry Genius CL 2in1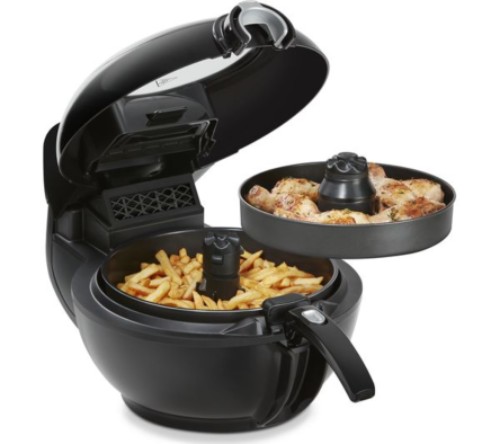 Already got yourself a slow or pressure cooker? Then you can just zero in on the air frying with this awesome piece of kit. Like the Foodi, it'll give you delicious crispy food with little or no oil.
And it's easy to get exactly what you're in the mood for with zero fuss. That's thanks to its 9 preset programmes. Just choose whatever dish you're after from the LCD display and it'll cook it to perfection!
You also don't need to worry about cooking in batches. With an extra large, 1.7kg you've got enough space to whip up a big meal. And 'what about sides?' I hear you cry. Well, give the 1-meal-in-1-go setting a try. You can cook your main and your sides at the same time!
Smart weight monitoring
Thought that smart scales were just for your weight? Think again. They're great for helping you keep on top of your fitness.
We recommend… the Fitbit Aria 2 Smart Scale
The Fitbit Aria 2 Smart Scale measures your weight (as you would expect) along with other things like body fat percentage, BMI and lean mass. It then sends all these stats wirelessly to your phone or computer, giving you a complete overview of how your healthy eating habits are helping you get fitter.
Choose your healthy eating appliance