How to bake choux pastry
We'll choux you how step-by-step!
06 Sep 2021

Choux pastry gets a bad rap. Not based on how it tastes – which is delicious – but from how fiddly people think it is to make. And that's a shame, because whether you're a seasoned chef or a budding baker, choux pastry is the gateway to a ton of tasty treats.
The good news is that whipping up choux pastry is surprisingly easy. Yes, it's a bit more effort than bunging everything in a bowl. But follow this easy choux pastry recipe and you'll have golden crispy goodness in no time.
How to make choux pastry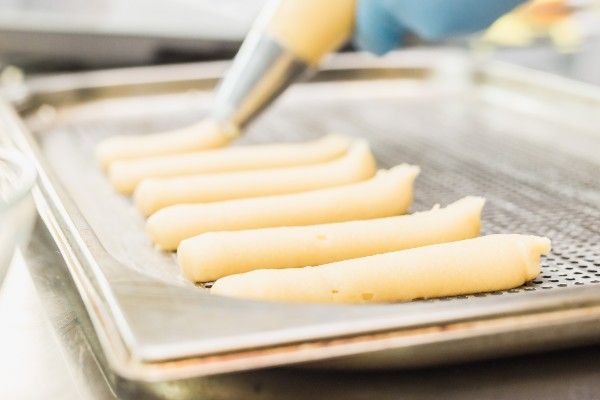 You'll need:
140g plain flour
1 tsp sugar
½ tsp salt
125ml milk
125ml water
100g butter
4 eggs (you might not need to use them all)
What to do:
Sift the flour, sugar and salt into a small bowl, so they're all mixed together.
Add the milk, water and butter to a medium saucepan. Make sure your saucepan's on a low heat, so that everything melts but doesn't boil.
When you've got a smooth lump free liquid, turn up the heat until it gets to a fast rolling boil. Immediately turn off the heat.
Add your flour mix to the saucepan and beat the mixture quickly with a wooden spoon. You'll know you're done when you've got a smooth dough that comes away from the sides of the pan.
Move your dough into a large bowl or a stand mixer to cool.
Once your dough's cooled for a few minutes, start adding your eggs one at a time. Mix in each egg really well before you add another. Stop adding eggs once the dough can still hold its shape but is wet enough to drop off the spoon. Don't worry if you haven't used all of them.
Your choux pastry is ready! You can use it right away or store it covered in the fridge for up to 3 days.
What to make with your choux pastry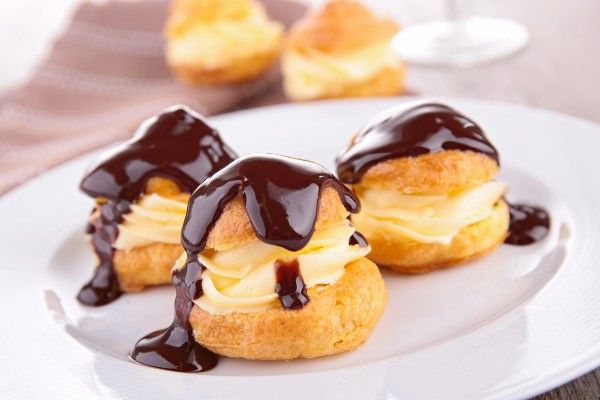 You've got your choux pastry all ready, but now what to do with it? Well, that's totally up to you – but here are just some of the things you can try…
Eclairs – pipe into logs and fill it with crème pâtissière
Profiteroles – pipe into rounds and fill with whipped cream
Churros – thinly pipe, deep fry and sprinkle with cinnamon and sugar
New Orleans beignets – Deep fry dollops of choux and sprinkle with icing sugar
Savoury choux buns – stuff with mouth-watering fillings like smoked salmon and cream cheese or goats cheese and caramelised red onion
The list goes on!
Tips for making the perfect choux pastry treat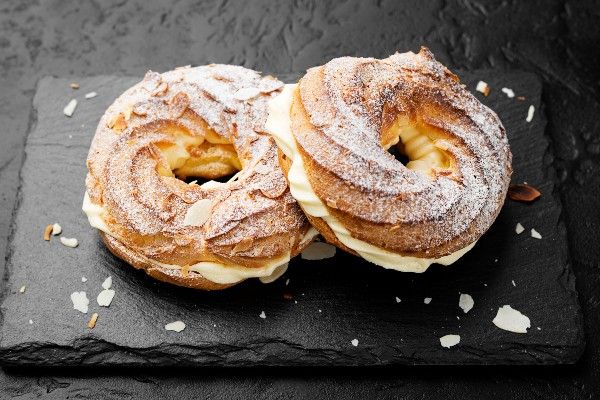 If you want to be sure you've got it just right, these tricks can really help.
Stick to the recipe. Baking isn't like regular cooking where you can freestyle or adjust as you go. With baking (and especially choux) tiny changes can make a big difference, so be strict about your measurements!
Keep the oven closed. Obviously, this doesn't apply if you're deep frying your pastry. But if you're baking it, resist the urge to sneak a peek before it's done, otherwise you might end up with sad pancakes! That's because choux needs steam to help them puff up into those proud pastry shells, and opening the oven releases that steam before they've set.
Bake your choux shells on baking paper. Don't watch your beautiful choux get torn apart when they get stuck to the baking tray. Line your tray with non-stick baking paper and they'll lift right off.
Spritz your baking tray with a little water. Remember how we said steam is the secret ingredient for choux? Spritzing just a tiny bit of water on the baking tray before you add your choux pastry will help them get even more light and crispy. Or you could use the steam baking function on your oven.
Prick the choux pastry when it's out the oven. Finished baking? Prick the shells with a toothpick or thin skewer. This will keep the choux nice and sturdy while they cool, since it lets out the hot air inside them.
Got everything you need?
If you're new to baking, these 3 ingredient cookies are a great way to get started. You can even get the kids involved!
Or, if you need any help finding tech for the perfect bake, you can pop in-store or chat to a tech expert via video call on ShopLive.