How to choose the perfect baby monitor
A complete guide to buying the best audio or video monitor.
21 Jul 2021

Baby monitors are an essential piece of tech for new parents. They save you the stress of running to check on your baby every few minutes, letting you keep your ears (and eyes) on them from the comfort of your couch.
There are lots of different types of baby monitors out there, so let us help you with some tips to help you choose the right one.
Audio monitors vs video monitors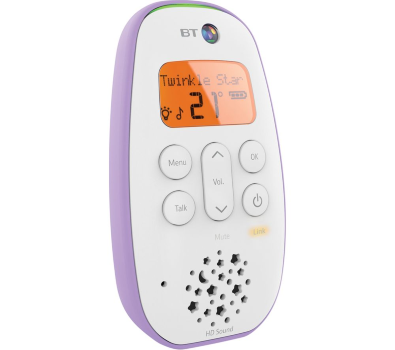 First, let's explain the key differences between audio and video baby monitors.
Audio monitors let you hear your baby when you're in a different room. So, you'll always know if they're crying or making a noise.
An audio monitor consists of two separate units: baby and parent. Yes, you guessed it – the baby unit stays in the room with baby, and the parent unit is the one you'll be listening in to. Most parent units can be plugged in to the wall or powered by a long-lasting battery – meaning you can easily move around the house with it, and get on with other things while your baby's asleep.
Video monitors let you hear and see what your baby's doing, even in the dark if you go for one with night vision! The baby unit has a camera that can be mounted on wall or placed on a flat surface, and it sends pictures back to the parent unit. The better models let you do interesting stuff like zooming in and panning the camera around, so you can always get the best view of your baby and what's happening in the room.
Top features on audio AND video monitors
When you've decided what kind of monitor to go for, here are some handy features to look out for. You can find these on both audio and video monitors.
Sound-activated lights
A sound-activated light lets you see if your baby is making a noise when you can't hear your parent unit. The louder baby gets, the more they light up. This is useful when you want to monitor your baby while you're vacuuming or doing other noisy work around the house.
Talk-back
This lets you talk into your parent monitor and soothe baby without actually going into their room (and risking disturbing them even more).
Temperature display
Some monitors can display the exact temperature for you, while others will give you alerts if it gets too hot or cold for baby to be comfortable. You can then adjust the heating or change your baby's clothing.
Soothing and calming
Lots of monitors have features designed to soothe baby and help them drift off to sleep. Our favourites are in-built speaker that play lullabies, and projectors that display images of things like stars and planets on the nursery walls and ceiling.
Night lights
A gentle light can help baby get to sleep, plus it can help you avoid obstacles if you need to visit pay a visit for night-time nappy changes.
Smart monitors
Some monitors let you wirelessly connect to the baby unit with your smartphone or tablet, even when you're far away! So you can check in on baby when you're out shopping or at work (while someone else is at your home looking after them, of course).
Remote control
Do it all remotely! Control music, lights, and other features on your baby unit while you're sitting comfortably on the couch.
Top features on video monitors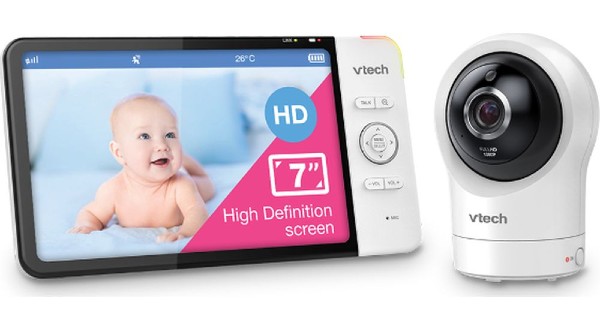 Here are a couple more features you'll only find on video monitors.
Night vision
Using the power of infrared technology, you can see exactly what baby's up to in the dark.
Moveable camera
Not all cameras on video monitors are static. Some let you unleash your inner cameraperson and pan, tilt and zoom-in for the best view of your sleeping baby.

Other factors to consider
Signal range
The signal range is the distance you can put between the baby and parent unit while they still work perfectly. If you're in a big house or want to keep monitoring your baby when you're out in the garden, go for a monitor with a larger range. The thickness of your walls can also affect the signal, so if you've got an older house that's been solidly built, you'll also want a monitor with lots of range.
Frequency
Look out for monitors with a frequency of at least 900MHz. At this level, interference is reduced, and the quality of your audio and video footage is crisp and clear.
Battery life
As we've already mentioned, most monitors give you the choice of popping in a battery so you can easily move around the house with it. If you think you'll be doing this a lot, go for a monitor with a decent battery life. 6 hours or more is good for a video monitor, and you'll usually get even more life out of an audio monitor - they last longer, because they've got less work to do.
Screen size and quality
Some video monitors have large HD displays that let you see what's going on in lots of detail. Or if you prefer, you can pay less for a smaller screen with lower resolution. It all depends on how much you want to see when you're monitoring baby.
Safety measures
If you want to pay close attention to your baby's health, there are some monitors with fantastic additional safety features. Sensory baby monitors, for example, detect your baby's movements with a sensory mat that fits under your mattress. If no movement is detected within a certain period of time, an alarm goes off. These are popular with parents of younger babies.
You can also monitor your baby's breathing while they sleep, with the Snuza Hero MD - the first certified baby breathing monitor in Europe. It clips to the nappy and gently vibrates to rouse your baby after 15 seconds of no breathing. After 20 seconds of no breathing, it sounds an alarm.
If you want to track things like your baby's heart rate, oxygen levels and sleep activity, the Owlet cam HD & smart sock baby monitor bundle does exactly that. Your baby wears a little sock (it fits babies from 0 to 18 months) that does all the tracking, and you're instantly notified if there's anything unusual.
Our recommendations
We like the all-round viewing options and peace of mind that a video monitor gives you, and even the most feature-packed cost less than you think.
We've listed some great options for you below, including our favourite audio-only monitor. Happy shopping!
Look after baby with a feature-packed monitor…