How to choose your first kitchen appliances
Kit out your kitchen with the perfect appliances for first time buyers
22 Feb 2022

Setting up your new home for the first time? Buying kitchen appliances can be fun, but it's easy to get overwhelmed by the choice you'll have.
After all, the kitchen is the centre of your home - somewhere you eat, socialise, and relax. So, you'll want to get it looking right. Like many new homeowners you may find yourself torn between what you need and what you can afford.
So, we've picked out some appliances which we think are fantastic finds for first timers, offering great features while being affordable.
Buying your first fridge-freezer
First thing's first. Freestanding or integrated? Go for a freestanding fridge-freezer and you'll have loads of models to choose from. Integrated versions may look neater – since they'll slot nicely into your cabinet space - but they can be a little bit pricier.
What's more, freestanding models are much easier to shift around. This is ideal if you're planning to move on in a few years, as you can take it with you.
What will you be using your fridge freezer for?
Next, you'll need to consider if you need more fridge space or more freezer space. Do you tend to stock up on fresh fruit and veg? Or do you freeze food in bulk?
70/30 models give you maximum fridge room. 60/40 models increase freezer storage space and 50/50 appliances give you the best of both worlds.
Great features to look out for:
Frost-free technology
Quiet running
Fast cooling
Door storage
Fantastic first-time fridge
Want great features without blowing the budget? The KENWOOD KIFF5020 Integrated 50/50 Fridge Freezer cools quickly so is always ready for your shopping. Plus, it's frost free so you won't have to worry about sticking on a pair of gloves and defrosting it.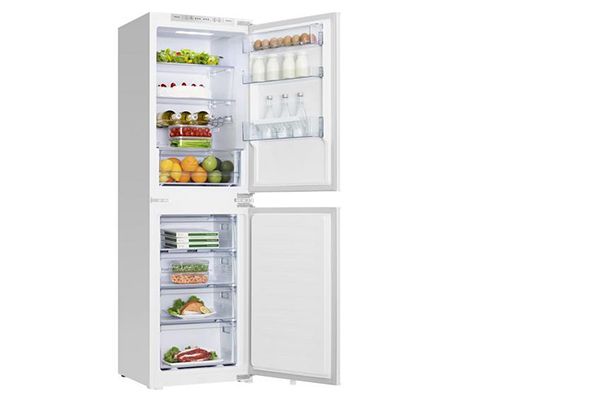 Buying your first washing machine
If you want all the bells and whistles when it comes to doing laundry, you could be looking at upwards of £1,000 for a top-of-the-range machine. But don't worry - if you want to save the extra pennies, you can still get a brilliant washing machine for far less.
How much washing do you do?
Are you washing for a family of four or just the one? Drum capacities range from 5kg to 12kg (based on the weight of dry clothes). To get the best fit, choose a machine that can cater for your average load size. Under or overloading will only result in badly washed clothes and could bump up your energy bills.
Spin speeds
Top spin speeds range from 1000rpm to 1800rpm. Machines with a faster speed can be more expensive and noisier. Anything between 1200rpm and 1400rpm is a safe bet and will also give you more choice.
Some features to look out for:
Good range of programmes – like Quick Wash or Anti-Stain
Noise levels between 50–55 decibels
Anti-allergen settings for allergy sufferers.
Winning first-time washing machine
You get a lot of bang for your buck with the LOGIK L914WM20 9 kg 1400 Spin Washing Machine. It cleans clothes thouroughly, has an extra large porthole to get all your washing in and also a 15-minute Quick wash cycle when you need clean clothes in a rush.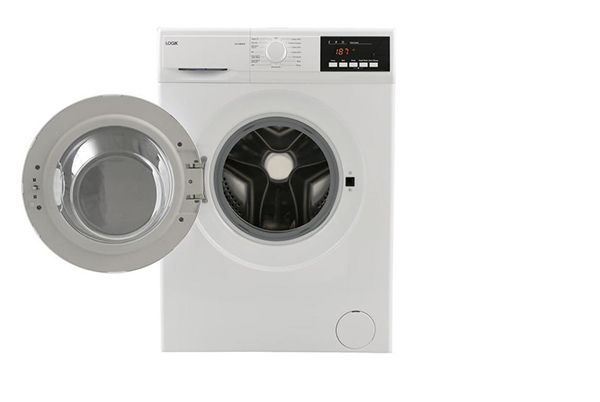 Buying your first dishwasher
Is it time to put away the rubber gloves and scouring pads? While a dishwasher may seem a luxury, it's a seriously handy kitchen appliance – cutting bills and saving you energy and time. Think of all those precious evenings spent scrubbing plates and drying glasses! For us, it's a kitchen must.
What size dishwasher do I need?
Dishwashers come in 3 standard sizes – full-sized, slimline and compact. So, it's best to find one that can both handle the amount of dirty dishes you're likely to generate, and will fit where you need it.
Handy features to look out for:
Adjustable racks/shelving
Energy saving
Quick wash
Dazzling first-time dishwasher
Wash your dishes and save energy with the Kenwood KDW60X20 Full-size Dishwasher. It has a Quickwash setting to get plates sparkling in half an hour. Plus, it's great for smaller households - as it takes 12 place settings.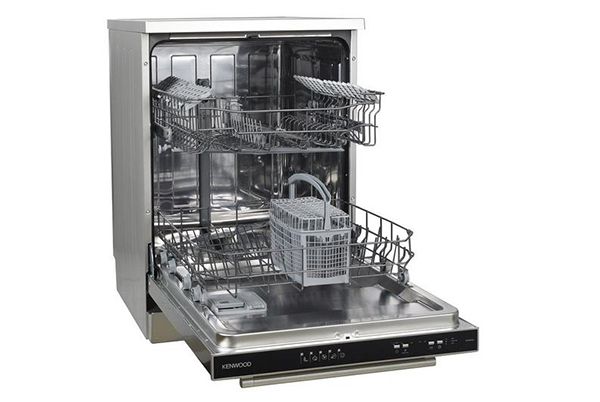 Need more help?
No matter your budget, our ShopLive experts can help you find everything you need to complete youe kitchen.