How to clean a washing machine - and keep it odour free
Washing machine lost its sparkle? Here's how to get your washing machine super clean.
28 Feb 2022

Because a washing machine gets your clothes clean, you might be tempted to think that it would keep itself clean too? Sadly not. The average family does about 10 laundry loads per week, and often more. That's a lot to put your washing machine through.
No wonder they can soon become a bit grubby and even start to smell bad. So, if you've got a smelly washing machine or it's just looking a bit grimy, read on to find out how to get it clean.
Identify the causes of washing machine smells
The great thing about being able to wash your clothes at a lower temperature is that it can save energy and cut down our environmental impact. The downside is that mould and dirt can build up in your washing machine. Not to worry. Here's what you should check to identify the cause of your smelly washing machine:
Door seals – the large piece of rubber between the drum and door can be a great place for mould to hide. Gently pull back the rubber flaps so you can clean your washing machine door seal.

Detergent drawer – open the detergent drawer and you'll probably find some residue of leftover liquids and powders. Left long enough and it'll start to smell. So it's another great area to target.

Washing machine drum – it may seem odd that the very place that cleans your clothes can get dirty too. But washing machine drum smells are real – so make sure you check the drum.

Washing machine filter – if your washing machine has a filter, it's important to keep it clean or you won't get good results. Your filter will catch any loose bits that come out of the wash – so you'll want to remove it and give it a clean. Just make sure to turn your washing machine off first.

Before you start
Before you restore your machine to its former glory, it's important to read the instruction booklet hat cam with your washing machine, because:
Some machines have a dedicated drum-cleaning programme.
Your manufacturer may recommend a specific cycle to clean their machines.
Cleaning or de-scaling products are advised against by some manufacturers, so it's wise to check.
Best way to clean washing machine
Lots of washing machines come with self-cleaning programmes so it's best to always use these before trying anything else.
Watch our video for a step-by-step guide to cleaning your detergent drawer, washing machine seals, filter and drum.
If you don't have a self-cleaning cycle, you can do it yourself with the help of special cleaning products. For a homemade option, you can try cleaning your washing machine with vinegar. Just pour two cups of distilled vinegar into your detergent drawer.
You can also use soda crystals (or baking soda) to clean your washing machine. Sprinkle half a cup into your drum and then let your washing machine run on a hot setting. Simple!
Troubleshooting tips
Got it clean? Here's how to keep your newly clean machine tip-top…
Leave the door open between washes to keep it smelling fresh
Run the empty machine on a hot wash once a month
Reduce limescale build-up with the right detergent
Clean the door seals regularly – mould left to fester sinks into the rubber
Cleaning only goes so far
How old is your washing machine? If you bought it as long as 5 years ago, it'll have long been left behind by the latest machines – no matter how clean you've made it. If you're looking for a new machine that can help you keep it clean, check out the Beko 7 kg 1200 rpm Washing Machine.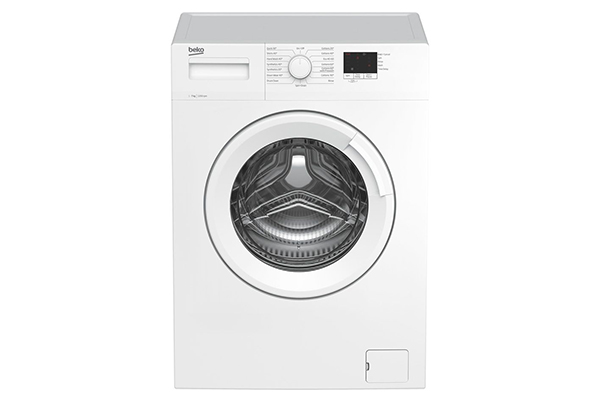 Its DrumClean program washes your machine at 70°C, so removes any bacteria build-up and other nasties from inside the drum. That way your clothes get cleaner too!
We've got a refreshing choice of brilliant self-cleaning washing machines and you can get a guide to more fresh features with our Washing Machine Buying Guide.
Your self-cleaning home helper...