How to clean a washing machine
Washing machine lost its sparkle? Here's how to get your washing machine super clean.
09 Aug 2021

Because a washing machine gets your clothes clean, you might be tempted to think that it would keep itself clean too? Sadly not. The average family does about 10 laundry loads per week, and often more. That's a lot to put your washing machine through.
No wonder they can soon become a bit grubby and even start to smell bad. So, if you've got a smelly washing machine or it's just looking a bit grimy, read on to find out how to get it clean.
Before you start
Before you restore your machine to its former glory, it's important to read the instruction booklet hat cam with your washing machine, because:
Some machines have a dedicated drum-cleaning programme.
Your manufacturer may recommend a specific cycle to clean their machines.
Cleaning or de-scaling products are advised against by some manufacturers, so it's wise to check.
Once you've checked the advice for your machine, you're ready to follow our handy step-by-step cleaning video - below.
Troubleshooting tips
Got it clean? Here's how to keep your newly clean machine tip-top…
Leave the door open between washes to keep it smelling fresh
Run the empty machine on a hot wash once a month
Reduce limescale build-up with the right detergent
Clean the door seals regularly – mould left to fester sinks into the rubber
Cleaning only goes so far
How old is your washing machine? If you bought it as long as 5 years ago, it'll have long been left behind by the latest machines – no matter how clean you've made it. If you're looking for a new machine that can help you keep it clean, check out the Beko 7 kg 1200 rpm Washing Machine.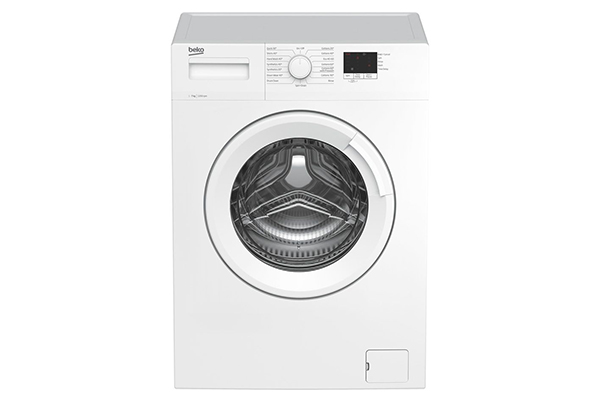 Its DrumClean program washes your machine at 70°C, so removes any bacteria build-up and other nasties from inside the drum. That way your clothes get cleaner too!
Your self-cleaning home helper...