How to clean an e-scooter
Keep your scooter shining!
07 Oct 2021

E-scooters are super fun, but they can get super dirty. It's really important to keep your e-scooter clean, so it keeps looking and working its best. And by keeping it clean, you'll also be able to keep your house clean when you want to store it away.
But electric scooters are called that for a reason – they are full of electrical components. And it might not be news to you that electrics and water? Not a good mix.
So, cleaning your e-scooter is all about being careful. Less is most definitely more. Follow our guide and you'll have an e-scooter that stays looking and working great!
You will need:
2 x microfibre cloths
A soft bristled toothbrush or paintbrush (optional)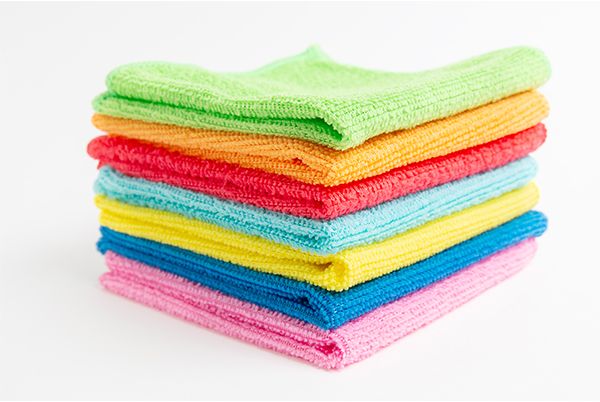 Don't get it wet
Lots of e-scooters have some level of water resistance, but you still shouldn't get them wet. That's why you should always scoot around puddles. So, it's just as true when it comes to cleaning.
Never hose them down with a garden hose or a pressure washer! E-scooters have lots of electrical components and bearings that are easy to damage.
Also be careful of using chemicals. Certain household chemicals could damage the scooter's battery or invalidate the warranty – so it pays to be cautious. Make sure your battery cover is firmly in place before you start the clean.
Tip:
If you're looking for an e-scooter that can take a bit of rain or the odd splash, check out the SEGWAY Ninebot E25E Electric Folding Scooter. It has an IPX4 rating which means it has a certain level of weatherproofing. But you should still absolutely avoid getting it wet.
Clean regularly
The longer you leave dirt to build up, the more ingrained it'll get and the tougher it'll be to remove. So, the best thing you can do is to give your e-scooter a wipe after every ride – rain or shine! It will also give you a good opportunity to check over your scooter to check that the tyres have enough air (if you have air-filled tyres) and that everything is working well.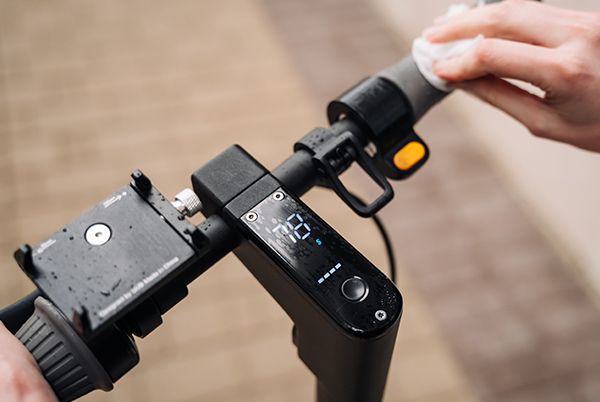 Use a microfibre cloth
Cleaning doesn't mean taking the paint off! Use a microfibre cloth to take off dirt and dust effectively without scratching your scooter. It's also great at removing any excess mud before you bring the e-scooter into the house.
Make sure the cloth is dry when you're wiping around LCD screen, brakes, controllers and other sensitive areas.
Use a toothbrush or paintbrush for more stubborn dirt
The only place where you might want to use something a bit tougher than a cloth is on the deck. Since it's the place you stand, it's easy for dirt to get into nooks. For this you can use a dry toothbrush or paintbrush. But again, make sure it has soft bristles to avoid damage.
Don't miss a spot
Mud has a way of building up in awkward places. Make sure you pay special attention to the inside of wheels, mud guards and the folding mechanism. And the longer you leave mud on your scooter, the tougher it will be to remove.
Dry off
You never want to leave your e-scooter wet, so dry your e-scooter thoroughly. Plus, water stains don't look great on your e-scooter.
A particular focus for drying should be anywhere that's prone to rusting. Fold down your scooter and check within the folding mechanism as this can be a spot where water can pool.
Polish to perfection
Once the mud is off and the scooter is dry, use a dry microfibre cloth to get your e-scooter shining. That way it'll look great when you next set off!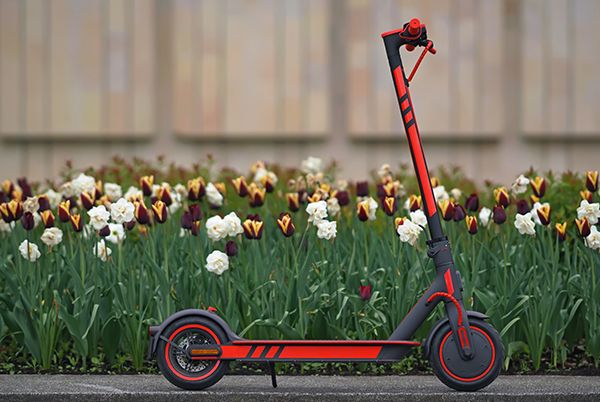 Need any more e-scooter advice?
We've got loads of helpful scooter articles covering all sorts. But if you'd like to talk face to face, why not video chat with a tech expert on ShopLive? Don't worry. You can see them but they can't see you!
It is the responsibility of the user to comply with local and country laws. E-scooters and hoverboards are to be used on private land only, with the landowner's permission, and not on public highways. Always wear protective gear.