How to cook the perfect Christmas turkey
Tackle your turkey with our step-by-step guide to a show-stopping Christmas dinner
25 Nov 2021

Aside from decorating the tree and giving presents, sitting down to enjoy Christmas dinner is one of the best parts of the festive season.
There's nothing like the crisp roast spuds, homemade gravy and you guessed it... brussel sprouts to get you in the mood for pulling crackers.
But perfectly cooked turkey isn't the easiest to achieve. We'll help you get it right with our graphic guide to preparing and roasting your turkey. And if you want to make a gourmet Christmas dinner, we've got tips from top chefs.
You will need:
100g Butter (softened)
2tsp Sea salt
2tsp Ground black pepper
4.5kg Turkey (with giblets removed)
3 large onions (halved)
Serves 6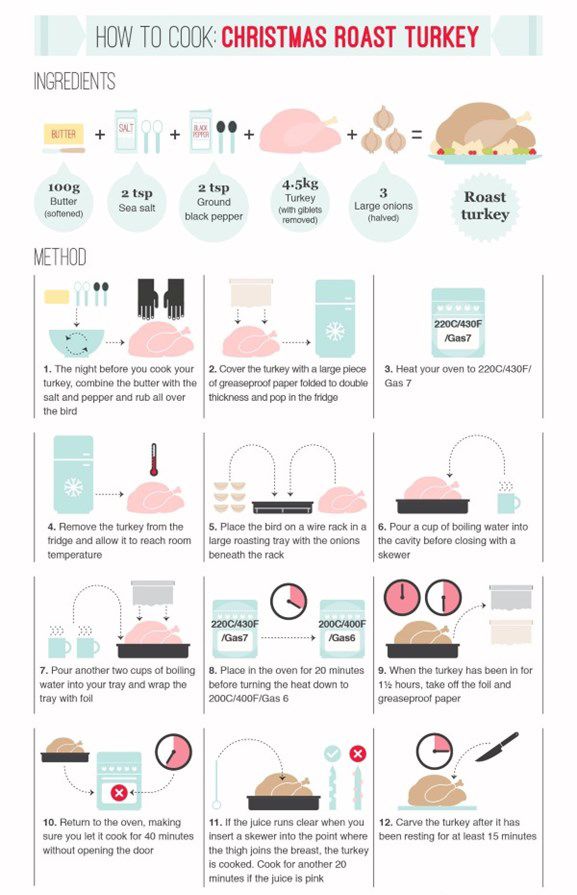 What size oven do I need to cook my turkey?
If you're ordering your turkey online or you're even trying to make your mind up in the supermaket, it can be tough to work out if you're going to be able to fit your turkey in the oven.
Bramble Farm has measured up turkeys by weight. Check out the chart below to make sure that the turkey you're going to buy will fit in your oven. The good news is that most oven cavities are bigger than this. It might just be a matter of removing oven trays to make enough space. And be sure to remember to give yourself enough room for the roast potatoes and all the other trimmings.
4kg – 22cm (w) x 30cm (L) x 15cm (h)

7.4kg - 27cm (w) x 35cm (L) x 19 cm (h)

7.5kg - 26cm (w) x 33cm (L) x 17cm (h)

10kg - 32cm (w) x 39cm (L) x 19cm (h)

11kg – 32cm (w) x 42cm (L) x 20cm (h)

12.5kg - 30cm (w) x 41cm (L) x 20cm (h)

13kg - 30cm (w) x 43cm (L) x 20cm (h)

15kg - 34cm (w) x 44cm (L) x 20cm (h)
Tech tip: A larger oven full of compartments is handy for cooking different parts of the Christmas meal at different temperatures. So if you're buying a new oven, just be sure that one of the compartments is big enough to fit in the turkey size you need.
But what if I don't like turkey?
We get that. It's not for everyone. Whether you're a vegetarian, vegan or you just want to try something different, you'll find some great nut roast tips plus recipes for people with dietary intolerances.
Christmas dinner winners...