How to make hot cross buns (and other Easter goodies) in a breadmaker
Take the ache out of baking with a brilliant breadmaker…
16 Mar 2021

There's not much that beats freshly baked Easter treats but the amount of work baking requires can be a turn off when you just want to relax over the Easter weekend. That's where breadmakers ride to the rescue. For most of these recipes you can just throw in your ingredients and let the breadmaker take care of the rest.
We've scoured the web and found some top Easter recipes. Why not give them a try?
Hot cross buns
Don't get hot and cross over hot cross buns. The bread maker method makes it much easier. Why? Well, most modern breadmakers have a dough raising mode which takes a lot of the elbow grease out of it. Once everything is mixed up and the buns get proving, all you'll need to do is add the icing crosses and give them 30 minutes in the oven.
Check out this Delia Smith recipe.
Hot tip: Don't be afraid to make a large batch. The great thing about hot cross buns is that they're irresistible out of the oven but incredible toasted when stale or out of the freezer. It's a win win win.
Easter bread
If you want the flavour of hot cross buns with way less work, give Easter bread a whirl. You get all those amazing smells of hot cross buns – cinnamon and ginger – but all you have to do is throw everything in the bread machine and let it do its thing.
Here's a great Easter bread recipe.
Hot tip: Great toasted or fresh with butter, honey or chocolate spread.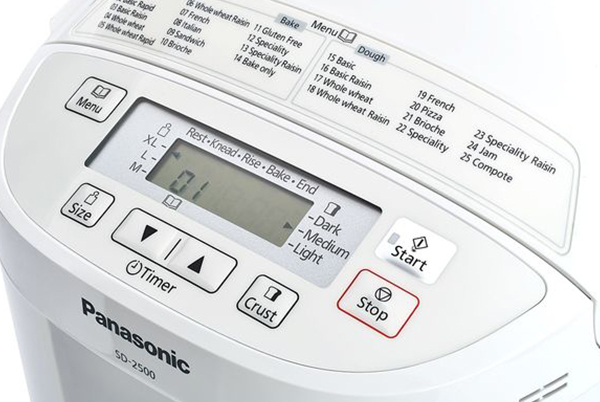 Carrot cake
If hot cross buns aren't to your taste, there are other types of cakey goodness that you can dash off in a breadmaker. Why not try carrot cake? It's got the name carrot in it which sounds healthy, but you can add icing – which doesn't.
Why not give this egg-free carrot cake recipe a whirl?
Hot tip: This is an eggless recipe, but if you want to go totally vegan just use a non-dairy milk.
Chocolate bread
Ok. Let's stop beating around the bush. What do we actually like eating during Easter? Chocolate. And we've found a chocolate bread recipe that only has eight ingredients in. So, throw everything in the breadmaker, switch on The Goonies and you'll have chocolate bread by the time they find the pirate ship!
Hot tip: There's no need to beat the eggs. Just crack them and they can go straight into the breadmaker.