How to make scorching meals on the BBQ
With warmer weather upon us, head to the garden for some brill grilling…
07 Jul 2021
Whether you've got a top-of-the-range George Foreman burner grill or you're using a little disposable number, you can't beat cooking outdoors when the weather's good. And since we can never rely on British Summertime, let's make the most of those sunny days with a memorable barbecue banquet. So, here are a few pointers to make sure that your next barbie is a certified sizzler.
Make sure your barbecue is just the right heat
Easy lighting charcoal makes it a cinch to get the barbecue going, but don't start throwing on the food until your BBQ is at just the right heat. Having lots of flames isn't the way to go. You'll want to wait until the flames die down and the coals have turned red. That way your food will get a nice even cooking without burnt outsides or uncooked middles.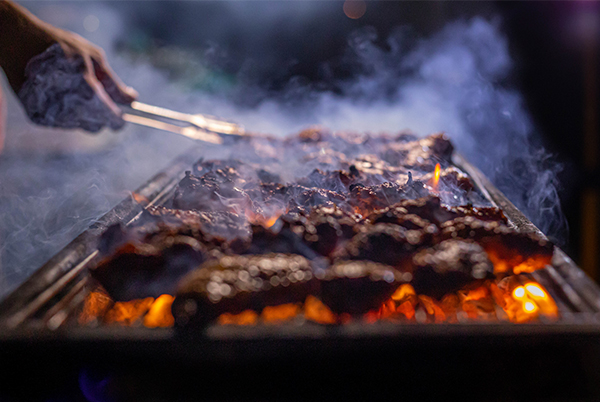 It's all about the marinade
Whether you're a lover of meat, fish or veg, start with a marinade. It'll bring out the flavour in your food and guarantee a lot of happy diners. The great thing about marinades is that they don't have to be complicated. Most of them can involve oil and a few herbs – but you can also be adventurous and not go too far wrong.
It's also easy. Just take your ingredients and whizz them up in a blender. Voila! Marinade in a flash. Here's an easy all-purpose marinade you can start off with: combine one-part brown sugar, one-part salt and a little rosemary, garlic and black pepper.
This will give everything you apply it to a lovely taste that will work well on the grill. Once you've mastered this, why not try a Jamaican jerk or spicy Asian marinade?
As a rule, the longer you can leave your food to marinate, the more flavour you'll get in there. Half an hour should be a minimum, but you can leave meat to marinate in a covered bowl overnight.
Pro tip: If that sounds like too much hard work, even seasoning with salt and pepper will make all the difference.
Let steaks warm up a little
For that perfect steak, make sure you take the meat out of the fridge and allow to warm on the kitchen side or next to the barbecue a little before being cooked. If the middle is cold, the surface of the meat will cook too quickly and dry out. Always remember to season your steaks before it goes on the barbie.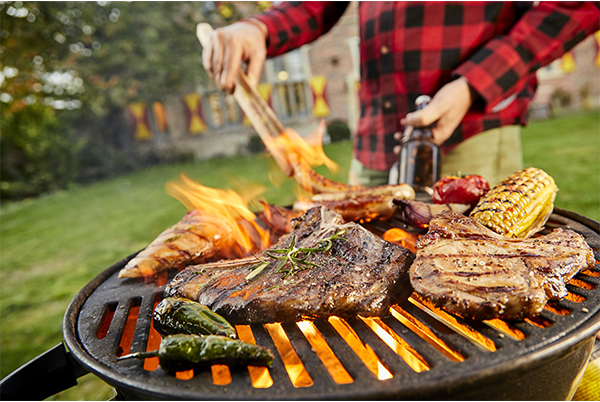 Use all of your grill
Fast cooking meat, like steaks, should go on the centre of the barbecue - where it's generally hottest. The cooler outer edge of the grill can be used for things that need a slower cook – like chicken legs and thighs. Also, make sure there's a spot on the grill just for vegetables – this is important if you've got vegetarians or vegans to feed.
There's more to BBQs than just meat
Basic barbecues sometimes just involve a burger, bun and sausage. Nothing wrong with that, but why miss out on a healthy, balanced feast? Cook an aubergine whole on the grill until the skin is burnt and the flesh inside will be perfect. It's an easy delicious side.
Wrap up corn on the cob and a little butter in tin foil. Thread some veg onto skewers. Portobello mushrooms are a great addition to burgers or can be served solo with a little balsamic. Or how about a few asparagus spears? Throw in that unmissable potato salad, and you've got a barbecue buffet to be proud of!
Have a rest
Don't be impatient with your cooking. Letting your meat rest midway through cooking or just after means that you'll lock the juices in. Then you can give it a quick flash cook on the barbie before serving.
Pro tip: Nervous about undercooked meat? If you're new to BBQ cooking, a digital cooking thermometer can be a handy bit of kit to have around.