How to make the perfect pancake
Check out our foolproof recipes for perfect pancakes and some great topping ideas in time for Shrove Tuesday.
11 Feb 2021
Who doesn't love Pancake Day? With the cold weather still upon us, there's no better way to keep entertained indoors than mixing, flipping, and serving up stacks of glorious pancakes.
But if previous years have been marred by lumpy, runny batter and flipping disasters, never fear. Our straightforward guide will help make this year different. With silky smooth batter and the perfect flipping technique – this year you'll nail it.
Our no-nonsense pancake recipe from scratch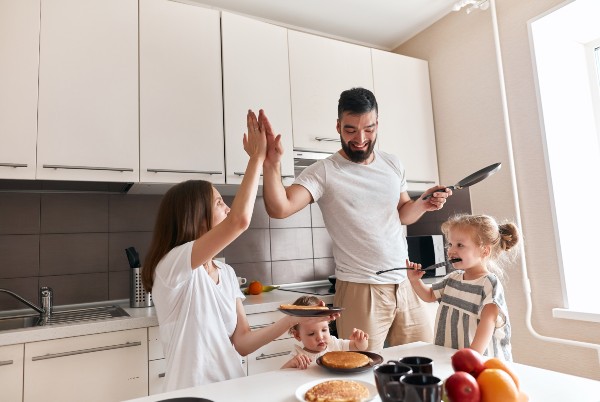 Ingredients (serves 4)
200g plain flour
2 large eggs
400ml milk
1 tsp vegetable oil
Utensils
Large frying pan
Whisk
Large bowl
Thin spatula
Prep (less than 30 minutes)
Put the plain flour in a bowl, before using your (clean) fingers to make a well at its centre
Crack the eggs into a saucer and pour into the well
Add 400ml of milk into the well
Beat the mixture with a hand mixer, working to incorporate all the flour until you have a smooth batter
Cooking (less than 10 minutes)
Put a large frying pan on the hob on a medium heat
Drizzle vegetable oil and swirl it around until it is hot and the pan evenly coated
Spoon 2 tbsp of pancake batter in the centre of the pan and swirl around until the base is coated in a thin layer of batter (depending on the size of your pan – you may need to vary the amount of mixture)
Cook for approximately one minute on each side, flipping them with the spatula – or toss them if you're feeling brave
Top it off
Dolloping on your favourite toppings is the best way to crown the perfect pancake. We've chosen a few of our favourite toppings for you to try out…
1. Cinnamon sugar and lemon
We've all been enjoying sugar and lemon pancakes for generations, but what about cinnamon sugar and lemon?
Just mix a quarter of a cup of sugar with 1tbsp of ground cinnamon. Then, when your pancakes are fresh out of the frying pan, sprinkle the mixture over them, roll tightly and tuck in - yum.
2. Banana and chocolate sauce
Bring the summer BBQ favourite inside for a winter twist - put them together inside your pancake and you have a filling that's simple, but undeniably delicious.
You can make a simple chocolate sauce, then slice up some banana, lay it in the centre of your pancake, drizzle over the chocolate sauce and fold closed.
3. Ham and mozzarella
If you don't have a sweet tooth, take some continental inspiration. You'll need around 100g mozzarella cheese and 80g smoked and shredded ham.
Once you've flipped your pancake, scatter some of the cheese and ham liberally over the cooked side. Once the pancake is cooked, fold over - flip again, and then slide onto a warm plate - when you cut into it the mozzarella will be stringy and the ham warm and crisp.
Feeling adventurous? Take a look at our list of 10 weirdly wonderful pancake toppings.
The perfect flipping technique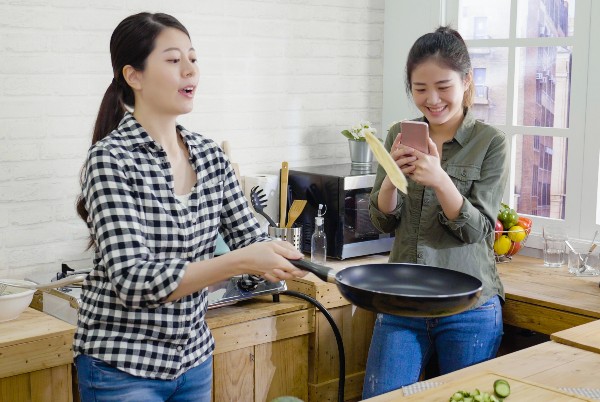 Researchers at Warwick University said you should be aiming to toss your pancake around 18 inches into the air to give it enough time and space to spin.
Dr Patrick Hadley, at Warwick University, said: "It's all about synchronizing the spin with the throwand making sure the elevation is high enough to get the best arc
Think you've got the process nailed? Now make sure you have the right kit. These helpful gadgets will fix you up some batter in no time...
Bye-bye lumpy, runny batters

The Kenwood Hand Mixer, with its tough and durable steel beaters, can mix up any ingredients with no fuss and barely a spot of mess.
It has three speed levels, which you can operate by thumb on its comfy palm-moulded handle, and clean-up is quick and easy.
Hello, flip-worthy pancakes

The Kenwood Multione Stand Mixer has a 4.3 litre bowl, so you can mix enough batter for your little ones and their friends without breaking a sweat.
The planetary mixing action means that none of the ingredients get left on the sides and wasted.
Mix the perfect batter with this solid unit
You'll be creating amazing pancakes for years to come with this durable and beautifully designed Kitchenaid Artisan Stand Mixer.
It's elegant, yet practical. Simply lift the mechanism up and out of the way when you need to move the bowl or change the attachment, and click it back into place after. It's easy to use and easy to clean.
And with a dough hook, whisk and beaters included, you can easily choose the attachment you need for every recipe – including, of course, yummy moreish pancakes.
Check out our range of cookware for everything you need to start cooking your perfect pancakes.