How to set up Samsung Kids on your Samsung tablet
Keep their digital world fun, educational and safe this summer…
04 Jun 2021

Helping your little ones take their first steps in the online world can be a daunting prospect. The digital world is a fantastic place to inspire creativity and inquisitiveness, but without any restrictions, there's no shortage of risks.
It's important that kids are able to use phones and tablets to learn, play, and discover, but it's equally important that they experience the best that tech has to offer in a completely secure environment. Samsung have come up with the perfect solution to keep the kids entertained throughout the summer, without needing to invest in a separate device.
Meet Samsung Kids Home. It's an area designed (as you might expect) for young kids with tons of child-friendly content to spark their imagination. Kids Home is an alternate interface that let's them explore the web safely, and give you peace of mind at the same time. There are great parental control features like website restrictions and daily playtime limits, but in the meantime, here's how to set it up on your Samsung tablet:
Get started with Samsung Kids Home
All you need to do to get Kids Home on your tablet is swipe down from the top to open the quick panel, then tap just tap Samsung Kids. Your tablet might need to download the alternative child-friendly interface first, so give it a second. Once that's done, tap on Next to set up a parental control PIN. Remember it, as you'll need it to manage controls and switch in and out of Kids Home mode.
Confirmed your parental control PIN? You're in!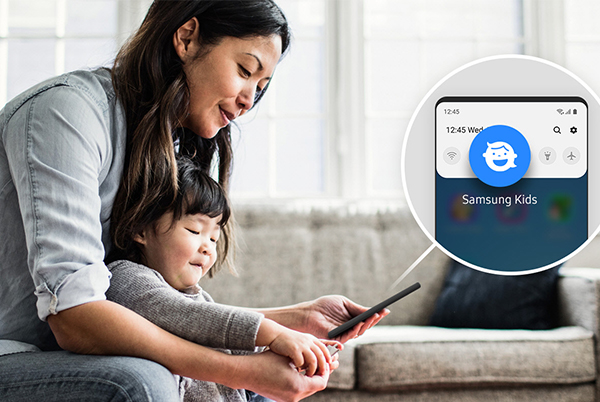 Setting limits
Don't surrender the tablet just yet - you'll want to set your controls first! You can find Settings in the top right of the screen, and you'll need that PIN you just set to access it. From there, there's a full range of parental controls.
Want them to put down the screens, get outdoors and enjoy the sunshine? You can use the slider to set playtime limits for weekdays and weekends to achieve a healthy balance. Want to see what they've been up to? Just open the settings and see what apps they've used, sites they've visited and people they've chatted to.
With all that info, you can make smart decisions to keep their Kids Home experience engaging and safe.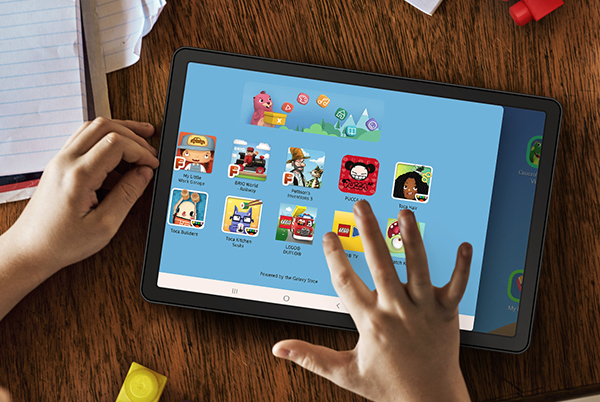 Browsing safely
Help them get used to browsing online without the risk of stumbling upon harmful content or viruses. With Kids Home, the websites you allow access to appear as single 'apps' on the home screen, instead of a single browser.
Adding new websites is easy. Just tap New website on the Kids Home screen, enter the PIN, then add the URL and the name of the page. It'll then appear as an icon. Simple!
Keep them happy
You don't need to approve every single app that they want to download during their daily playtime. With Galaxy Apps for Kids, they've got an app store with over 3000 fun, exciting apps to get stuck into. They're all 100% child-friendly, so you don't need to worry about any of the content they see.
There are voice changing apps, fun AR filters that make the most of your tablet's camera, and plenty of drawing apps, language-learning apps, and puzzles to put a smile on their face. Some even feature their favourite cartoon characters.
And, if you want to add more apps for them to use in the Kids Home interface like YouTube for Kids and Netflix, you can add them via the Settings menu. That's ideal if you've got existing apps on your tablet that you know they'll love.
With so much to see and do on Samsung Kids Home, that's their rainy-day summer entertainment sorted!