Hey Alexa, turn my Amazon Echo into a TV speaker
TV volume less than awesome? Then ask your Echo for a favour…
04 Mar 2021

If the sound on your smart TV doesn't exactly blow you away, there are ways of adding some oomph. Sure, you can shell out for a sound bar for cinema-quality sound. But there's a much more budget-friendly option.
Amazon Echo is a smart speaker packed with tips and tricks – and if you've already got one sitting comfortably in your home, you can turn it into a TV speaker. Fancy giving it a try? It's easier than you might think…
Make sure you've got the tech you need
To turn you Echo into a TV speaker, your TV and Echo both need to support Bluetooth.
All Echo models have Bluetooth built in, apart from the old Amazon Tap. So if your TV also has Bluetooth capabilities, you're sorted
You can also use a Fire TV stick, which will connect to your Echo over Wi-Fi rather than Bluetooth. We'll show you how to do this at the bottom of the article.
Connect your TV and Amazon Echo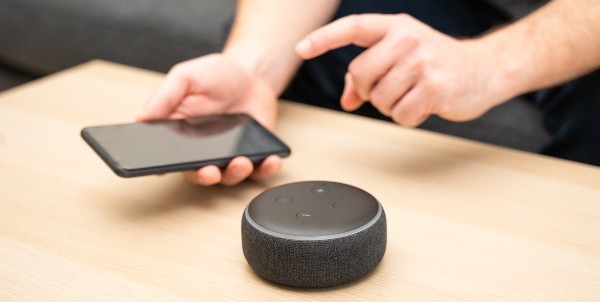 First of all, make sure that both your TV and Echo are within Bluetooth range of one another, ideally in the same room. You'll probably want to place your Echo near your favourite seat, so you can hear it when it becomes a TV speaker.
Check that both your devices are turned on.
Now say, "Alexa, connect", and your Echo will start checking for devices to connect to.
While this is happening, go to the Bluetooth settings on your TV, and find your Echo speaker. If you're the kind of organised person that gives their smart devices names like 'Dan's living room Echo', it'll be easy to find.
Depending on your TV settings, you might also be able to select an option that either plays sound through your TV and Echo at the same time, or just your Echo.
Now test it out!
It's time for a try out. Turn up the volume on your Echo nice and loud, and make sure there's something good playing on your TV.
Get up close to your Echo and listen for the sound coming through from your TV. If you can't hear anything, check your Bluetooth connection has worked. If not, give it another go.
Stay connected for as long as you want
When you turn your TV off, the connection with your Echo also shuts down. And when you turn your TV back on, it should automatically re-connect. When this happens, you'll hear your Echo saying it's connected to your TV. And if you no longer want to use it as an extra TV speaker, you can simply say: "Alexa, disconnect."
How to connect a Fire TV stick to your Echo
Like we said earlier, if you've got a Fire TV stick you can connect it to your Echo over Wi-Fi. This is actually Amazon's preferred method, as it uses a feature called Time Synchronization to avoid any latency issues (that's when the audio lags behind the on-screen action). To get started, follow these simple steps:
Open the Alexa app on your smartphone or tablet.

Tap the Devices icon in the lower right-hand side.

Tap the '+' icon on the upper right-hand side.

Choose the option to 'Set Up Audio System'.

Tap 'Home Theater'

Select your Fire TV device, and tap 'Next'.

Select your Echo you want use as a speaker, and tap 'Next'.

Give your new set-up a memorable name like 'TV sound system', and tap 'Next'.

Tap 'Save' and you're done.
Now play something on your TV, and you should hear it coming out of your Echo. Job done.
Treat yourself to some smart Amazon tech