How Windows 10 and Microsoft 365 help you get it all done
Make it work wherever you are
14 Apr 2021

Whether you're working from home, your office, or your garden… we all want a computer equipped to help us get the job done. And that might be having the power to nail that presentation or just design a brilliant birthday party invite!
And whether you want to shine in front of the clients or just create an invite that can't be refused, Windows 10 with Microsoft 365 makes it super simple to take on the challenge. How? Thanks to some brilliant apps, unbeatable battery life and plenty of processing power. And that's just for starters!
So, how to you conquer that to-do list? With a few clever Windows 10 hacks…
All day battery
A powerful PC doesn't mean being glued to a desktop anymore. And with all the power of a desktop experience in a form you can carry around, it's great to pair Windows 10 with a lightweight laptop with heavyweight performance.
Check out the Microsoft Surface Pro 7, for example. It's simple to switch from a desktop experience during the day to a tablet to have a fun with when your work is done. And whether you're getting your head down or just playing around, it's good to not have to stay hovering over the plug socket.
Touch screen magic
We're all used to the touch experience of apps – whether that's for sketching your next masterpiece or (for most of us) just to open Netflix without the wait! And if you're treating yourself to a new laptop or a new monitor, it's great that Windows 10 works seamlessly with touchscreen. Still love a pen? You can use a compatible stylus to make notes on apps like Word or unleash your creativity with sketches and drawings.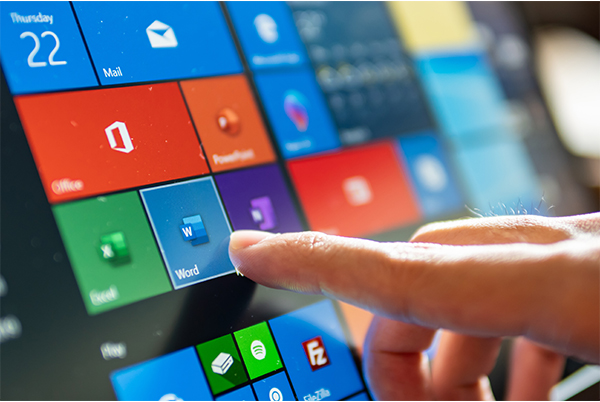 Microsoft 365 apps
No matter what you do, chances are you'll have used trusty Microsoft 365 apps. Writing a film script? You'll fire up Word. Got a killer proposal to put together? PowerPoint will help you get it done. Want to talk to collaborate with your work mates? Jump on Teams. Working on the same document at the same time? OneDrive has got you covered.
It's great to have everything you need in one place – which is why a Microsoft 365 is a brilliant all-in-one subscription for your new Windows 10 laptop.
Security without passwords
We've all sat in front of a locked screen pondering our password, but smartphones have got us used to features that makes it easy to be secure – like fingerprint readers or face unlock. Fortunately, Windows 10 gets that - meaning you can use Windows Hello to unlock your device with facial recognition and fingerprint reader. All the security, super convenient. No more struggling to remember 100s of passwords!
Speedy browsing
Whatever task you're taking on, it usually involves getting online – whether that's doing some research or making a booking. Windows 10 comes with the new Edge browser – which makes browsing the web so much faster. Say bye to buffering!
Want to make the switch to Windows 10? It's easy! We'll show you how to upgrade to a new Windows 10 computer.