Huawei Ascend G7 review
Our thoughts on Huawei's big and beautiful handset.
13 Feb 2015

Ascending to greatness
Huawei mightn't be the biggest name in the smartphone game here in the UK, but the Chinese company has a proven track record of producing great mobiles. Last year, we saw the arrival of the Ascend P7, which we were really impressed with, and now the Ascend G7 is here, too. This is what you can expect…
Pros
Chic, slim design
High quality 13MP camera
Massive battery
Cons
Quite big
Not Full HD
Unused space around the screen

Look and feel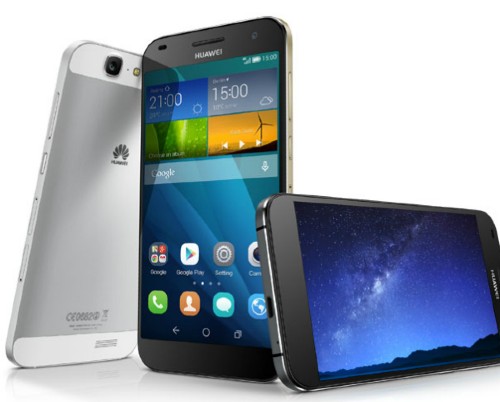 To kick things off, there's no escaping the fact that the G7 is a handsome phone. It's pretty slim at just 7.6mm, and the build quality is really premium – predominately featuring glass and metal. The volume rocker and power button are on the right hand side, also made of metal, and you'll find a microSD input and SIM port just underneath.
The G7's HD screen is bright and big at 5.5-inches. If you've got smaller hands, the G7 will seem a bit on the large side, but you shouldn't let that put you off. When it comes to phones with bigger screen, you will generally find that the advantages outweigh the negatives. Watching videos and films is a much more pleasant experience, and you won't need to do as much scrolling through messages and social media news feeds.
The phone comes with a protective plastic case, which you can choose to use or not. It's easy to get on the phone, but it's a slightly different story if you need to remove it. It of course will come off, it's just takes a bit of doing.
How it works
The Huawei runs on Google's mobile operating system (OS), Android KitKat. This isn't Google's current OS, but we hope an update will be announced soon. Sitting on top of KitKat is Huawei's own user interface called Emotion UI 3.0, which makes it look and run differently to the likes of Sony and Samsung.
There's some pretty smart tech inside the G7, and one of our favourites is called motion control. This allows you to do stuff with your phone by movements and gestures. For example, if you're in a meeting and you get a surprise phone call, you can turn the phone over so it's screen is flat to the table, and the call will go directly to voicemail. You can also draw a letter on the screen, without it being on, to be taken to different apps, ie. 'C' for camera or 'M' for Google Maps.
Also, when you unlock the phone you get an artsy lens flare as you swish your finger across the screen. It's ultimately useless, but we, and undoubtedly JJ Abrams, love it.
Camera
The main camera on the G7 is 13 megapixels, which is a very respectable spec. Alongside all the usual stuff you would expect a camera to do, there's a great feature called All-focus. This allows you to capture a photo, and then refocus it after it's been taken. It works really well for close ups if you want to add background blur like the pros.
If that's not enough, there's also a secondary 5MP front-facing camera, which has a few tricks up its sleeve, too. Beauty mode will airbrush your imperfections away in real time (although we're sure you don't have any), so you can always look your best in selfies.
Performance
Processing power is kind of like the G7's Achilles' heel. A mobile's processor looks after multitasking, and the smartphone's ability to run things like games and movies smoothly. As the G7 is so big we would have liked to see a bigger processor than a 1.2GHz quad core. It's not the end of the world, but maybe something Huawei might look at improving in the future.
Our verdict
We're very impressed with the Ascend G7. It's easy to use, got a lot of fun features and really stands out from the crowd. It may be a little on the large side, but it's finally looking like big smartphones are becoming the norm.