Introducing the Samsung Galaxy Tab S7 FE 5G and Wi-Fi
Super connected, super stylish.
03 Sep 2021

If you're looking for a tablet, you're ideally looking for a multi-purpose offering that can go from work to play in an instant. The Samsung Galaxy Tab S7 FE has loads to offer to suit your lifestyle- it's packed full of amazing tech, from lightning-fast internet connectivity to an outstanding display. To give you a better idea, here's how the Samsung Galaxy Tab S7 FE stacks up.
Check out our Samsung Galaxy Tab S7 FE video below!
Samsung Galaxy Tab S7 FE 5G
The Galaxy Tab S7 FE 5G is all about how good it looks and feels in your hands. It has a design that's really sleek and refined, with a nice slim form factor that helps your grip stay comfortable.
What has it got to offer?
5G connectivity
You get speed, and lots of it. With the 5G variant*, connectivity downloads are super quick and lag is minimised thanks to the low latency that keeps your connection strong and reliable. That means you can spend less time worrying about finding WiFi wherever you are and you won't have to wait around for email attachments to download when you're working on-the-go.
S Pen included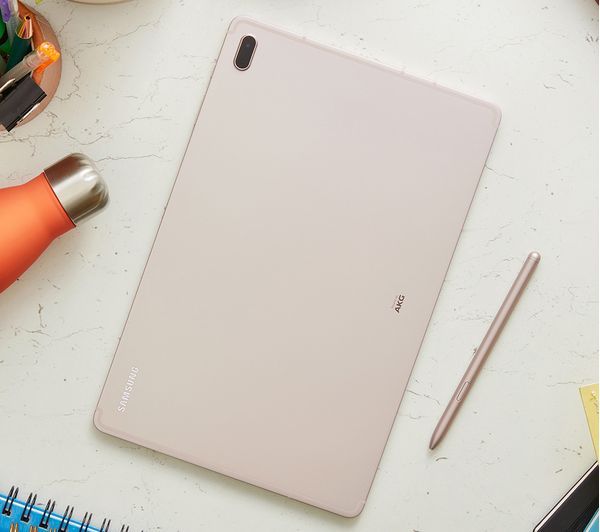 It comes with Samsung's latest S Pen, so you can make the most of more ways to get creative whether you enjoy casual drawing and doodling or design and illustrate for a living. It has a natural pen-to-paper feel thanks to its soft tip and low latency, so you can convert your handwriting to text in real time and dive into Samsung's creator community, PENUP.
12.4" display
ntertainment feels extra immersive on this tablet, which really allows your content to stand-out. Details shine and colours pop on the 12.4" display, and then to complement that you get outstanding audio with AKG and dual speakers with Dolby Atmos.
Stylish metal design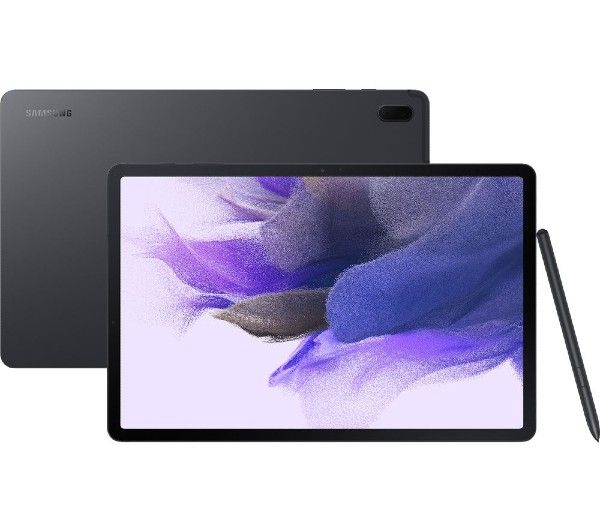 Not only is it built to look good, but it's built to last too. The metal design is sleek and stylish but still gives you some added durability and stays lightweight to maintain its portability, so you don't have to sacrifice style for convenience.
Immersive display and rich stereo
It cuts back on the bezels to give you more screen, so the 8.7" display feels even bigger. Your favourite shows and films feel extra cinematic with the dual speakers and Dolby Atmos, which give you impressive audio to back-up the picture.
Long lasting battery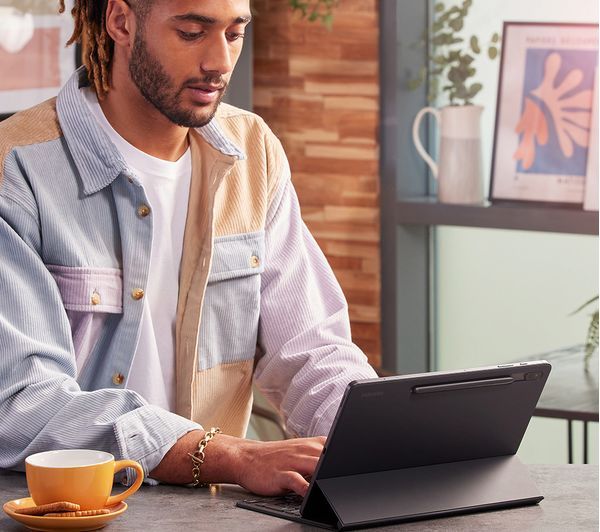 You get a battery life that doesn't hold you back, with a 10,090mAh (typical) 1 long lasting battery with 15W Fast Charging to keep you going all day long. Even with its sleek design, it carries plenty of power to make sure you won't need to worry about searching around for an available socket when you're playing games on the train or answering emails in a coffee shop.
Final thoughts
When you're choosing a tablet, it really comes down to what's best suited to what you want from it. Consider size and portability and think about the places you're most likely to use it. The larger screen and an S Pen from Galaxy Tab S7 FE 5G or WiFi can really come in handy if you're going to be binge-watching or getting some last-minute work done on your commute, while its durable design lets you take it on-the-go without worrying.
* 5G network connection and tariff required.
1 Typical value tested under third-party laboratory conditions. Minimum rated capacity is 9800mAh.
Shop the Samsung Galaxy S7 FE 5G