Get inspired by these retro kitchen appliances
Give your kitchen the classic look without the stone age tech!
18 Feb 2021

Retro kitchen ideas
If you love the classic kitchen look of the 1950s, you're not alone. Scroll around the Currys website and you'll find Smeg fridges that borrow stylings from classic Cadillacs, chrome and cream Swan kettles and Russel Hobbs toasters that look like they belong in a nuclear bunker… in a good way!
But what's great about all these appliances is that they combine some achingly hip retro stylings with all the modern features we love. Old school is cool, but we still expect top of the class.
You'll find loads of retro beauties in our kitchen range – from fridges to hand blenders to fans, but we've picked out a few of our faves to help you go back to the future!
Retro kitchen accessories
Swan Retro Traditional Kettle
What's cool and hot at the same time? This retro kettle. With such striking space age style, we're expecting this kettle to take off.
Yes, the chrome and cream make a 50s statement, but the automatic shut off and dry boil cut off features are all about 21st century safety. There's also a water level indicator on the side so you don't waste energy boiling too much water, because there's no reason to be old-fashioned about the environment.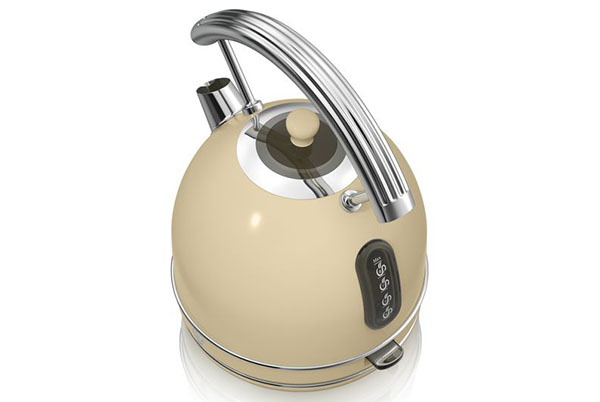 If you want to go full rocket ship, Smeg also do a stylish Retro Jug Kettle.
SMEG Mini Fridge
Come on! How great is this mini fridge? While Smeg are known for their stylish appliances, nothing says "Marty McFly has popped round for cocktails" like this red mini fridge.
And while this rad red box is a scene stealer, it's actually incredibly energy efficient and is super quiet at 37 dB. Just because it looks like a Cadillac Eldorado – you don't want it to sound like one. And there's no need for elbow grease either – since its 130-litre storage space comes with auto-defrost. This is just the tip of the iceberg! Find your perfect retro fridge and freezer.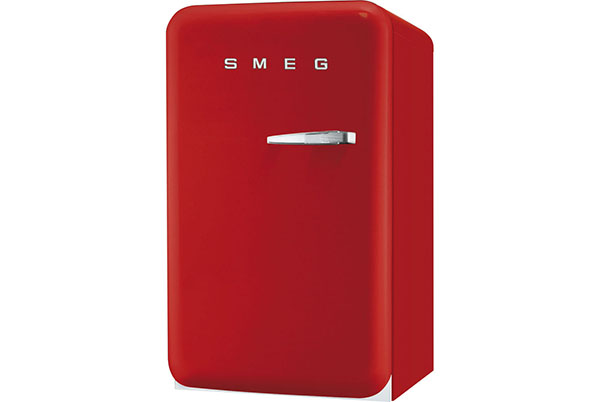 Russel Hobbs Retro 4-slice toaster
Actual 1950s toasters had some decent designs, but in reality you were taking your life into your own hands every time you went to grab your toast from a super-heated metal box!
This is why Russel Hobbs' toaster does it better in every way. Yes, you get a sleek piece of countertop design and some pleasingly retro features – like the speedometer-like timer gauge. But this thing is loaded with mod cons. In fact, it'll make your perfect slice of toast 65% faster.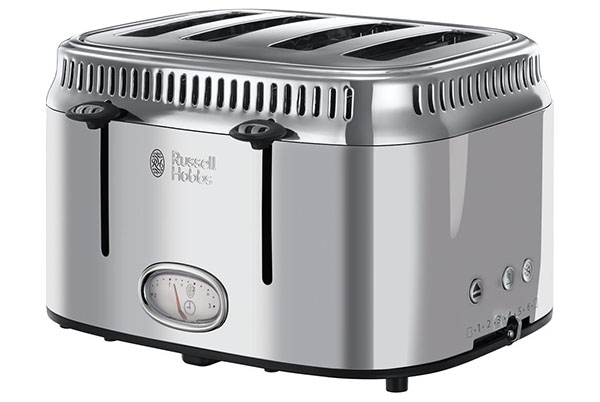 Looking for something in classic, racing red? Try the Swan retro toaster.
AKAI Portable DAB+/FM Retro Bluetooth Radio
Complete your kitchen chic with a retro radio. It certainly looks like yesterday's tech but beneath its stylish shell it's hiding FM, DAB and Bluetooth! So, you can stream your best jukebox playlist straight form Spotify!
It's portable, so you can take it to your bedroom as am alarm clock and comes in four classic colours – so you can match it to your décor. Far out!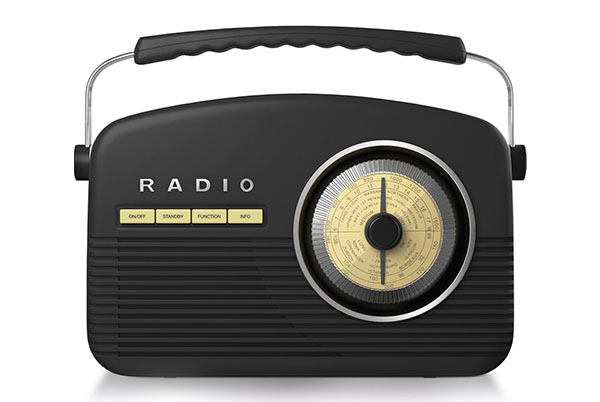 Vintage coffee machines
SMEG 50s Retro Filter Coffee Machine
The 50s gave us a lot of good things, but great quality coffee? Not so much. Thanks fully, you can get some barista magic with the fifties feel thanks to this Smeg 50's Retro Coffee machine.
You can have it switch on automatically and get your coffee ready for when you come sleepwalking into the kitchen. Pick your intensity, select whether you want a cup or a whole jug and then roleplay Diner all day long!