Keep your kids safe with this top tech
Whether they're chatting to friends online or tuning into cartoons, these gadgets will keep your kids protected. Find out how…
05 Jan 2022
Looking to treat your child to some top tech to help them study, socialise and keep busy? When it comes to new technology, kids are savvier than ever. And the more time we spend at home, the more time they spend in the virtual world on laptops, phones, tablets and consoles. That means it's never been more important to establish filters, take control of content and keep them safe.
So, here's a list of brilliant tech to keep them entertained, spark their creativity and curiosity while keeping you in the driving seat:
What they wear...
Spacetalk Kid's Smartwatch
Having a smartwatch is one of the best ways to stay connected to the digital world on the go. They can help you get fit with accurate health stats, let you chat to friends without digging your phone out, or simply check your social notifications. But all of those amazing features can be a distraction, especially when you need to focus.
The Spacetalk offers many features you'd expect from a smartwatch, but puts you firmly in control. You can switch it to silent mode remotely and it doesn't have open access to the web, so they can stay focused and motivated in school without the threat of cyber bullying and harmful content.
While there may be no open internet access, it does have GPS installed. When you download the AllMyTribe on your smartphone, you can check their location to make sure they're safe. You can even set up custom zones to get notifications when they arrive home, to give you peace of mind. And if they ever find themselves in danger, there's an SOS button on the side that'll call you and emergency services, whenever necessary, with a quick tap. Hopefully they never need it, but it's good to know it's there.
VTECH Kidizoom DX2 Smartwatch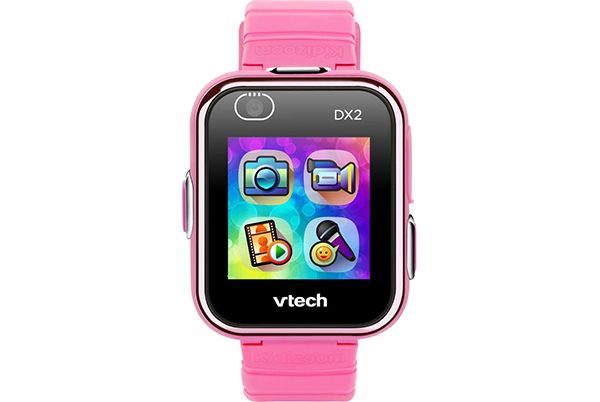 Because the Vtech Kidizoom DX2 Smartwatch has 2 cameras – one on the side and a selfie camera - it's a great way to let your little snapper have a camera without going down the smartphone route. It can take photos, videos and is full of fun filters.
It also includes games that encourage active play using the built-in motion sensor and step counter. Plus they can make it their own with 55 digital and analogue watch faces. This smartwatch's body is splash proof, so you don't have to worry about your child running through puddles or rain showers.
Check out our video below...
While they learn and laugh...
LEAPFROG Magic Adventures Interactive Globe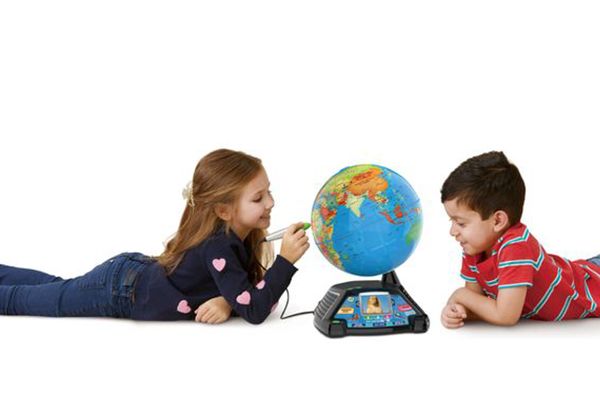 Rather than venturing online, some tech gives you an info-packed, fully interactive experience while staying safe. The Leapfrog Magic Adventures Interactive Globe lets them explore the world without heading to the worldwide web!
The globe includes a 2.7" LCD screen which is a wonderful window onto BBC videos and animations that guide your kids around the world and let them play loads of fun games and activities.
Kids can just tap on the globe with the sensitive stylus and hear facts in their thousands about the world's different cultures, animals and habitats. They can also learn new language skills while they do it!


Amazon Fire 7 Kids Edition Tablet
We love Amazon Fire tablets. They make diving into a great book as easy as watching a movie. All your must-see episodes and favourite novels all in one place. The Amazon Fire 7 Kids Edition offers a similar experience for younger users and it's a brilliant way to introduce them to the online world in a safer, more childproof environment.
You've got full parental control, with the option to block videos and games until reading targets are met (handy on homework nights). Since it's the Amazon Fire Kids Edition, it also has a child-friendly web browser and YouTube content is tailored to their age. So, you don't need to set strict filters right out of the box. It comes with a tough rubber case too, so it can take a few drops.
Pebble Gear Kids Tablet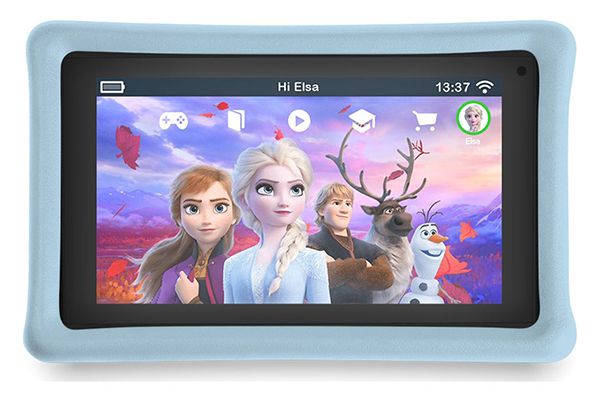 These days, kids are getting into tech from an earlier age. And if you're ok with a child-friendly tablet that lets you stay in control, Pebble Gear kids tablets are a good bet.
With its special OS, you can control what the kids see, set timers for how long they can use the tab for and has customisable security levels depending on the age of your child. An added bonus is the OS ensures that kids can't access or download any games that need to be purchased or have in-app purchases.
Plus it's available in the theme of some of your kids fave cartoons: Disney Mickey & Friends, Toy Story 4 and Frozen. These tabs are also sturdy and play-proof, so don't be afraid to "let it goooo!"
Looking for face-to-face advice?
Want to talk more about how tech can keep kids safe? Why not pop in-store or chat to a tech expert via video call on ShopLive.