Make baking sessions cool with the KitchenAid mixer
From families to footie fans, Britain's getting baking!
27 Sep 2021

Thanks to TV shows like Bake Off and Celebrity Best Home Cook 2021, baking has been called the new rock and roll. And since we've been spending more time at home, home baking just keeps on rising.
A survey from Britain Loves Baking says that 51% are now baking more post-lockdown and half of us in the East of England, East Midlands and Northern Ireland are baking daily, with 71% of us saying we bake more than once a week.
There's nothing more retro and wholesome than baking a cake and the perfect style match is the KitchenAid Artisan food mixer – perfect for hipster bakers and family cooks alike.
Rock out in the kitchen
If baking is the new rock and roll, the KitchenAid is its Fender Stratocaster. With 10 different speeds you'll be knocking out cakes like the Rolling Stones bang out riffs.
With a flat beater, dough hook and wire whisk included, you'll be ready to have a go at any task set by Paul Hollywood and Mary Berry.
And with the KitchenAid Artisan mixer featuring on the show, you know it'll be up to the challenge - even under the scrutiny of your harshest critics (be it flatmates, kids, or partners).
Retro vibes
Vintage baking doesn't come much cooler than London-based Hummingbird Bakery. Its tasty cupcakes have helped make baking hip with kids who surf the web for handmade jewellery and vintage clothes and deck out Pinterest boards with the things they love.
Piled high with bright icing, the cupcakes are the kind you'd expect Betty Draper to serve up to her kids in an early episode of Mad Men.
And the mixer sports the same vintage styling of the show and the scran - all curves, colour and classic coolness.
Fire up the KitchenAid and scour the Hummingbird cookbook for a retro afternoon in the kitchen.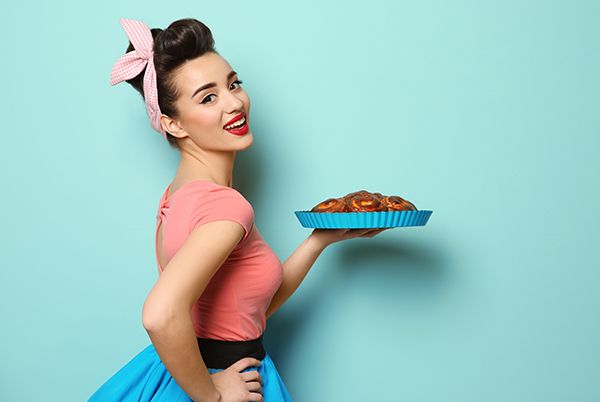 Boys get baking
In days gone by baking was all about the girls, but last year's Bake Off final was made up of two boys to one girl – showing that baking is a lad's game too.
In fact, 39% of respondents were male bakers - meaning 6.2 million men! According to the survey, 53% of the guys asked said that they bake at least once a week. And with less than 2 million men playing football weekly in the UK, it seems that lads are more likely to bake rolls than score goals.
Although we don't doubt this is because baking is good clean fun, there could be another motive.
Apparently knowing your way around a Battenberg can cut a dash with the opposite sex. Tom Herbert of the Fabulous Baker Brothers said: "Put an effort into learning to bake and your fortunes in love will improve."
And because the Artisan's old-fashioned good looks show off impeccable style to any potential new partner. According to Helen Fisher in Psychology Today:
"Around the world men have given women presents prior to lovemaking. A fish, a piece of meat, sweets and beer are among the delicacies men have invented as offerings."
And why not a freshly baked loaf?
The KitchenAid mixer: great whether you're baking a flan for the family, cupcakes that make you look cool or a pie to pull a new partner.